Political Notes: Oakland council president Kaplan kicks off reelection bid with slew of endorsements
Thursday Jun 4, 2020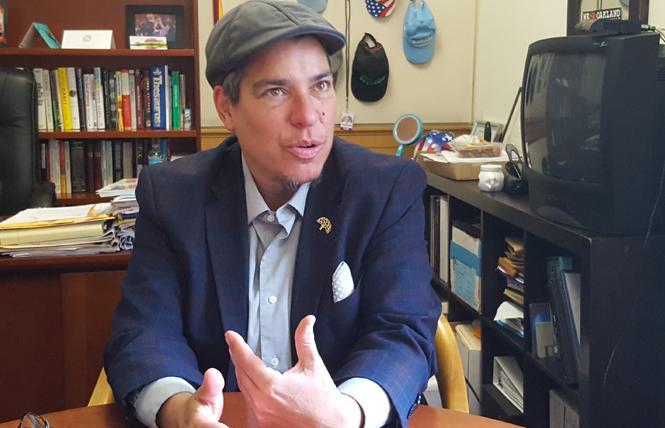 Lesbian Oakland City Council President Rebecca Kaplan kicked off her reelection campaign for the city's at-large council seat Thursday by releasing a broad list of endorsements from her colleagues and community leaders.
Those backing her bid for a fourth term include fellow council members elected by district Larry Reid, Noel Gallo, Sheng Thao, Nikki Bas, and Dan Kalb. The California Nurses Association, Northern California Carpenters Regional Council, and Alameda County Building Trades Council also endorsed her, according to a statement Kaplan's campaign released June 4.
"I am honored to endorse Council member at-large Rebecca Kaplan. She is smart and effective, and cares deeply about the people of Oakland," stated Reid, who is retiring from his council seat this year. "Kaplan is also serving as our council president, and she has provided vital leadership in these challenging times."
Added Gallo, who along with Kalb is also up for reelection this fall, "I appreciate serving together with Rebecca Kaplan on our City Council and endorse her for reelection. Kaplan is a strong advocate to improve response on illegal dumping and homelessness and working together with our community."
Gay opponent
Her announcement followed the news last week that Oakland Mayor Libby Schaaf was backing gay restaurant owner and political newcomer Derreck Johnson in the race for the at-large council seat. Schaaf defeated Kaplan in the 2014 mayoral race and the former city council colleagues have often been at odds over policy and personnel issues ever since.
Johnson, 55, is an Oakland native and opened Home of Chicken and Waffles in the city's waterfront Jack London Square district in 2004. He helped found the group Oakland Indie Alliance with other small business owners to serve as a voice for their needs and concerns at City Hall.
"I don't have a political background. But I felt the needs of and voice of the people really need to be heard," he told the Bay Area Reporter when asked why he chose to run against an incumbent.
The B.A.R. had contacted Kaplan last Tuesday regarding Schaaf's endorsement of her opponent and what her plans were for kicking off her reelection bid. But she did not respond, and several sources had said they had not heard from her in months regarding her campaign plans. As of last week, her campaign website still had 2016 listed on it.
Her campaign consultant did not immediately respond to the B.A.R.'s query Thursday, June 4, on if she is planning to host a virtual kickoff event. In light of the novel coronavirus outbreak, candidates have pivoted to using phone banking and online platforms to reach their supporters and voters in order to adhere to the shelter-in-place orders instituted to help control the spread of the virus.
Ousting a sitting lawmaker is no easy task, particularly in local elections. And despite her mayoral race defeats — she also ran for mayor in 2010 — Kaplan is a formidable campaigner who has fended off challengers in past races for her council seat with more name recognition than Johnson.
"Council President Kaplan is one of the most innovative and effective public officials in the Bay Area," noted Michael Colbruno, a gay man who serves on the Oakland Port Commission, in endorsing her reelection bid. "She combines a passion for social justice with practical governing, and her leadership has made Oakland and the greater Bay Area a better place for all of us."
Criticism
But Kaplan has faced harsh criticism over the recent firing of the city's police chief and response to the health crisis from former council president Ignacio De La Fuente, who lost his bid to unseat Kaplan from the at-large seat in 2012. On Facebook he has railed against both Kaplan's and Schaaf's leadership of the city.
"November is coming! 5 seats in the City Council and the City Attorney are up for reelection: Rebecca Kaplan at large, Dan Kalb D1, Lynette Gibson McElhaney D3, Noel Gallo D5, Larry Reid D7(open) and Barbara Parker City Attorney. Let's make them accountable for their actions! Make your vote count!" he wrote in a May 5 post.
Kaplan, 49, is currently the sole LGBT community member on Oakland's council and one of only a handful of out women currently serving on a city council in the Bay Area. She and her former wife, Pamela Rosin, separated in 2018 and finalized their divorce last year.
Prior to winning her seat on the Oakland council in 2008, Kaplan spent seven years as an elected member of the board that oversees the AC Transit District, which provides bus service in Alameda and Contra Costa counties.
In late 2018 she had sought to be hired to lead the Bay Area's regional transportation agency, the Metropolitan Transportation Commission, due to its longtime executive director deciding to step down last year. Instead, Kaplan was elected council president at the start of 2019, the first LGBT community member to hold the powerful post.
There had been speculation that she might run for Oakland city attorney this November, as Barbara Parker is also up for reelection in November. But Kaplan pulled papers last July to seek another four-year term on the council.
Her securing another four-year term would set her up to potentially run again for mayor in 2022 as Schaaf will be termed out of office in January 2023. Kaplan's broad list of endorsers she released shows she remains a popular figure among progressive circles in the East Bay city.
Others supporting her campaign include Cat Brooks, who ran against Schaaf for mayor in 2018, Igor Tregub with the California Young Democrats National Committee, the Asian Pacific American Labor Alliance, Firefighters Local 55, and Sprinkler Fitters Local 483.
"At the Sierra Club, we value an inclusive Oakland that not only preserves its public parks and open space, but also its status as a town that values affordable housing and environmental justice for all of its residents. Rebecca Kaplan has consistently and unapologetically been the environmental community's champion on a range of issues from fighting for more funding for our city parks, to being a recognized affordable housing leader on the city council. During this unprecedented time, we need Rebecca Kaplan's leadership at City Hall," stated Sierra Club Northern Alameda County Executive Committee Member Chris Jackson on the club's endorsement of her re-election bid.
Keep abreast of the latest LGBT political news by following the Political Notebook on Twitter @ http://twitter.com/politicalnotes
Got a tip on LGBT politics? Call Matthew S. Bajko at (415) 829-8836 or e-mail m.bajko@ebar.com.
Editor's note: If you liked this article, help out our freelancers and staff, and keep the B.A.R. going in these tough times. For info, visit our Indiegogo campaign. To donate, simply claim a perk!
Comments on Facebook