News Briefs: Meow to receive Peacemaker Award
Wednesday Jun 3, 2020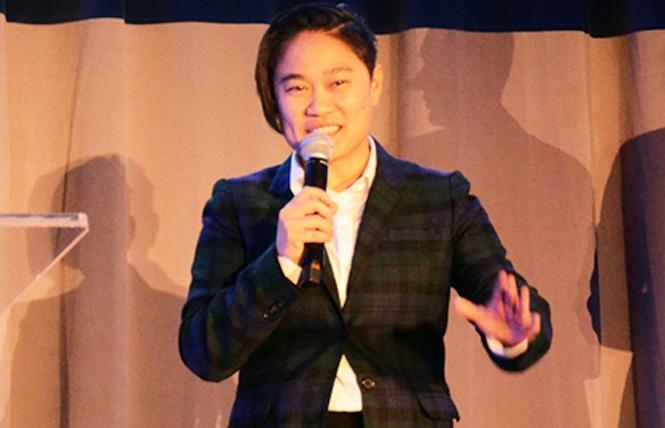 Michelle Meow, the longtime host and producer of "The Michelle Meow Show," will receive an award from Community Boards during its virtual event Friday, June 5.
Meow, a lesbian, is a former president of the San Francisco LGBT Pride Celebration Committee. She will receive the Raymond Shonholtz Visionary Peacemaker Award.
In addition to her show, Meow also has a partnership with the Commonwealth Club of California, where she serves on its Board of Governors. Her programs focus on the LGBTQ community
Community Boards is a San Francisco agency that operates the longest-running nonprofit conflict resolution center in the United States.
Meow's mission is constructing opportunities for people to listen in to deep conversations to develop understanding and empathy, Community Boards' website states. "We simply don't have enough opportunities to talk and not enough moments to listen," she stated.
Meow's show can be heard in San Francisco and nationally on the Progressive Voices Network and her local TV show can be seen on KBCW TV and Channel 44.
The online Community Boards ceremony is free, and takes place from 10 to 11 a.m. After that, Kenneth Cloke will host an online workshop about what people can learn about conflict resolution from the novel coronavirus pandemic. It requires a ticket purchase.
Other honorees include Ana Villareal, a student at Mission High School who is involved with its peer mediation program, who will receive the Gail Sadalla Rising Peacemaker Award; and La Raza Community Resource Center, which will receive the Leadership Peacemaker Award.
Community Boards also has an online auction that goes until Sunday, June 7, at 10 p.m.
For more information and to sign up, go to https://communityboards.org/in-the-community/sfpeacemakerawards/
B.A.R. makes fundraising goal
The Bay Area Reporter this week announced that it has made its $30,000 goal via a fundraising effort on Indiegogo.
As of June 1, when the two-month campaign ended, the paper received $30,021 from 367 backers.
The LGBT newspaper launched the effort in early April shortly after the stay-at-home order was issued for the state. Since the Bay Area went into lockdown March 17, the paper has seen a majority of its advertising disappear as businesses closed or saw drastic drop-offs in customers.
With the San Francisco LGBT Pride parade and festival going virtual this year, the B.A.R. continues to face financial hurdles.
"The cancellation of Pride will be devastating," publisher Michael Yamashita wrote in a response to a question from Press Pass Q, a newsletter about LGBT publications. "It's the year's biggest issue and helps to carry us through the third and fourth quarters. It's the same for any LGBTQ business where Pride is canceled. This year is our Pride's 50th anniversary, so it's particularly painful for San Francisco."
The B.A.R. continues to apply for various federal, city, and private loans and grants. It recently received a loan through the federal paycheck protection program.
He thanked all those who contributed to the Indiegogo fundraiser.
"On behalf of all of us at the B.A.R., thank you to everyone who rallied to help us reach our goal, especially when many are in need too," Yamashita stated. "The outpouring of support has been amazing, from donations by authors and artists to generous contributors. The fundraising campaign helped raise awareness and inspired others to advertise with us during this difficult period. The funds raised will allow us to continue operating through the summer as we attempt to weather the economic downturn. We are all grateful for the support from the community, family, and friends."
The campaign is still able to accept donations but people have to claim a perk. To do so, go to Indiegogo Interested readers can subscribe to the B.A.R.'s daily newsletter via www.ebar.com
Pride Month online recovery meetings
Pride Month can hold unique triggers for those in recovery and Lionrock Recovery will be offering free virtual LGBTQ meetings during June.
Beginning Tuesday, June 9, the virtual CommUnity support group/recovery meetings will take place from 5 to 6 p.m. (Pacific Time). The sessions are open to all members of the queer community (co-ed) and all paths of recovery.
Lionrock, which has offices in the Bay Area and elsewhere, has been treating substance use disorder virtually for the last decade.
A news release noted that people who identify as a sexual minority are twice as likely as heterosexuals to have a substance use disorder and between 20 and 25% of the LGBTQ community have moderate to severe alcohol dependency.
For more information, and to sign up for the Pride Month meetings, go to https://www.lionrockrecovery.com/online-aa-meetings-and-support-groups
Applications open for AIDS grove arts award
The National AIDS Memorial Grove has announced that applications are now being accepted for the Mary Bowman Arts in Activism Award.
The new program offers support to young artist-activists who are working and committed to making a difference in the fight against HIV/AIDS.
The award is named after Bowman, a poet, advocate, author, and singer who was living with AIDS. She died in early 2019 at the age of 30.
"This award honors Mary's pioneering work to end bigotry, discrimination, and to advance social justice, particularly around the issue of HIV/AIDS," John Cunningham, executive director of the grove, said in a news release.
Bowman was born with HIV and lived out her experience of growing up and living with HIV (and losing a mother to AIDS) through her art.
According to the release, the $5,000 award is intended to support one young artist, 27 years of age or younger. The award is being funded through a grant from ViiV Healthcare.
"Mary Bowman was an icon of hope and resilience, and performed at the 2018 ViiV Healthcare Youth and Community Summit, where she inspired leaders across the movement," stated Marc Meachem, head external affairs North America ViiV Healthcare.
Details about the application process and requirements for the award can be found at http://www.aidsmemorial.org
The deadline to apply is July 20. The first recipient will be announced in August.
Muni Art call for artists
San Francisco Beautiful has issued a call for artists for its Muni Art 2021 program.
The theme will be "San Francisco United" and will recognize people, communities, and heroes who united the city through the novel coronavirus pandemic, a news release stated.
Interested artists can get complete rules and details at www.sfbeautiful.org
The deadline to apply is July 17.
Call for SF poet laureate
The San Francisco Public Library and the San Francisco Poet Laureate Selection Committee are seeking nominations for the city's eighth poet laureate, to succeed Kim Shuck, whose term is expiring.
"During this crisis, it remains important to support and celebrate poets," Mayor London Breed said in a news release announcing the call for nominations. "Since the creation of the San Francisco poet laureate position in 1998 by Mayor Willie Brown, our poet laureates have brought the beauty and joy of poetry to the lives of our city's residents."
Poet laureates must be San Francisco residents and have a substantial body of work, among other requirements.
The nomination period is open-ended for now, library spokeswoman Michelle Jeffers wrote in an email. Given the shelter-in-place order, the library, which administers the selection process, wanted to get the word out broadly so that people know about it.
Nominations can be submitted online at http://www.sfpl.org/poetlaureate
Editor's note: If you liked this article, help out our freelancers and staff, and keep the B.A.R. going in these tough times. For info, visit our Indiegogo campaign. To donate, simply claim a perk!
Comments on Facebook