Virtual events ramp-up as Pride Month nears
Wednesday May 20, 2020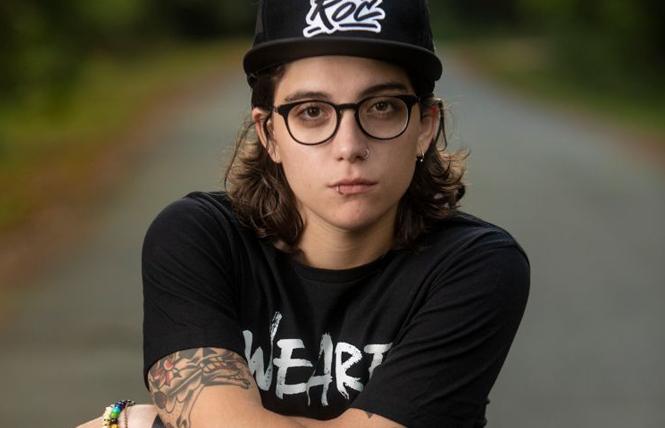 As Pride Month approaches, events celebrating the LGBT community the world over are adapting to the novel coronavirus outbreak by moving from the streets into virtual space.
San Francisco Pride announced its line-up of events May 20. It includes a kick-off with Mayor London Breed on June 5, live and pre-recorded musical performances on Saturday, June 27, from 1 to 9 p.m. and Sunday, June 28, from 2 to 7 p.m. on SF Pride's website, and a four-hour retrospective titled "Fifty Years of Pride" that will air on KPIX-TV and KCBW-TV from 11 a.m. to 3 p.m. on June 28.
As part of the countdown to Pride weekend, the Pride committee is hosting virtual Lavender Talks in partnership with the Commonwealth Club of California.
The Lavender Talks were initially planned as in-person events with a livestream component, SF Pride Executive Director Fred Lopez said, until they had to be completely moved to the digital format due to shelter-in-place restrictions.
The first was held May 14 and featured longtime activist and the first African American chair of the San Francisco LGBT Pride Celebration Committee board Ken Jones; former chairs Michelle Meow and Jacquelene Bishop; and Teddy Witherington, a former longtime Pride executive director.
"It went really well," Lopez said in a May 19 phone call with the Bay Area Reporter. "It was really interesting and great to hear historical perspective from early Pride organizers."
The next Lavender Talk is scheduled for May 28 at noon. Titled "The State of SF's LGBTQ Cultural Districts," it will feature Aria Sa'id, executive director of the Transgender District; Bob Goldfarb of the Leather and LGBTQ Cultural District; cultural districts manager Julia Sabory; and A. Sparks of the Castro LGBTQ Cultural District.
There will be a talk on June 11 about queer immigrants, refugees and asylum seekers, and another on June 25 featuring this year's Pride awardees.
Lopez said that SF Pride is going to announce more virtual events soon.
SF Pride is doing some work in collaboration with InterPride's 24-hour Global Pride scheduled for the same weekend.
"They're ... figuring out the details in terms of technology and streaming," Lopez said. "They put out a call for content to 350 Prides throughout the world."
Pride flags will still fly on light posts along Market Street during June, as they have for years, Lopez said.
"It's been great to see the community rally around to make sure that June is still recognized as Pride Month," Lopez said.
SF Travel celebrates city's queer heritage
The San Francisco Travel Association has put together a YouTube video titled "San Francisco PRIDE is a State of Mind."
The video highlights how the struggle for LGBT rights is honored in San Francisco, featuring Harvey Milk Terminal 1 at San Francisco international Airport; the Rainbow Honor Walk; the AIDS Memorial Quilt, which recently returned to the Bay Area after many years; and the GLBT History Museum in the Castro.
"We worked closely with Grants for the Arts and for the 50th anniversary we wanted to make sure we had content," Brenda Tucker, a straight ally who is director of arts marketing for the association, said in a phone call with the B.A.R. May 18. "We'd long been planning this promotion and since Pride will not be held this year this video is a way to celebrate what it's all about."
The video was planned before the pandemic led to the cancellation of many in-person Pride events; SF Travel was planning on initiatives to highlight the parade and festival for its 50th anniversary, according Tucker, and has moved these efforts online.
Tucker said that there is more to expect from SF Travel as it teases people about what they can do when San Francisco opens up again.
"We'll be doing some aspirational content about what we can do when people travel to San Francisco again," Tucker said. "We're going to be promoting a lot of the content our partners are putting out — for example, the Twitch channel with The Stud."
Joe D'Alessandro, a gay man who is CEO of SF Travel, said that the group tries to integrate content and information about the LGBT community in everything that it does.
"(Canceling) was heartbreaking to people who look at Pride as such an essential part of San Francisco's scene," D'Alessandro said. "But it's something that we celebrate year round, take action on year round, and San Francisco can be a leader in promoting equality and justice year round. It's still very much part of the DNA of San Francisco — more than just a month or a weekend."
OUTLOUD: Raising Voices
Los Angeles-based production group JJ/LA, which produces Los Angeles Pride festivities, announced that an event intended to highlight queer artists at the South by Southwest music festival will be moving to a digital format.
"OUTLOUD: Raising Voices" will now be occurring in 10 episodes spread across five weeks, beginning May 26 at 5 p.m. Pacific Time on JJ/LA's Facebook page and on the Facebook page, which has a following of about 21 million users.
The first night will feature trans YouTuber Ryan Cassata, Bang Bang Romeo, and Pineappleciti with special guest Pabllo Vittar.
"OUTLOUD originated as a live event concept we have been trying to get off the ground for a couple of years now," Jeff Consoletti, the founder of JJ/LA, told the B.A.R. via phone May 18. "We have this big roster of LGBT artists that usually get big exposure at Pride events. It was a way of promoting LGBT and allied performers outside of Pride events."
Consoletti said that after South by Southwest was canceled, they decided to make the event virtual. Many of the featured artists will feature streams on their Facebook pages as well.
"Each week we will be featuring the artists, special guests, and presentations on Pride organizations around the country," Consoletti said.
Consoletti said that Pride organizations scheduled to be featured include those in Los Angeles, Chicago, and Houston. He reached out to Lopez at SF Pride but as of May 18 had not heard back.
On May 19, Lopez said he didn't respond yet because he wanted "to make sure efforts weren't being duplicated" and that "someone will be reaching out today."
Consoletti said he is proud to give exposure to LGBT artists who'd otherwise be hurt by the cancellation of in-person pride events.
"There's a lot of digital content happening right now and what makes OUTLOUD special and unique is that these are people who'd be at Pride events," Consoletti said. "We don't get to know all the ways that not having a Pride affects a community and a city but the point is to promote the artists who'd be discovered at these events."
There will be a donate button on Facebook adjacent to the stream and 100% of the proceeds will go to the featured artists, Consoletti said.
On May 14, it was announced that Revry, the first global LGBTQ streaming network, will be partnering with Brightcove Inc. to create an LGBTQ+ television platform for Pride.
"The new Revry apps create a cable TV-like environment streaming multiple live TV channels in real time to its diverse and multi-faceted audiences," a news release states.
Revry original programming includes a comedy series "Sink Sank Sunk" starring Laura Linney, a documentary series about ballroom culture titled "The Category Is," and "Submission Possible," which explores kink culture and sex positivity.
To register for the Lavender Talks, which are free, visit https://bit.ly/3g6bxdq
Editor's note: If you liked this article, help out our freelancers and staff, and keep the B.A.R. going in these tough times. For info, visit our IndieGoGo campaign.
Comments on Facebook