Anderson Cooper announces birth of his son on CNN
Wednesday May 6, 2020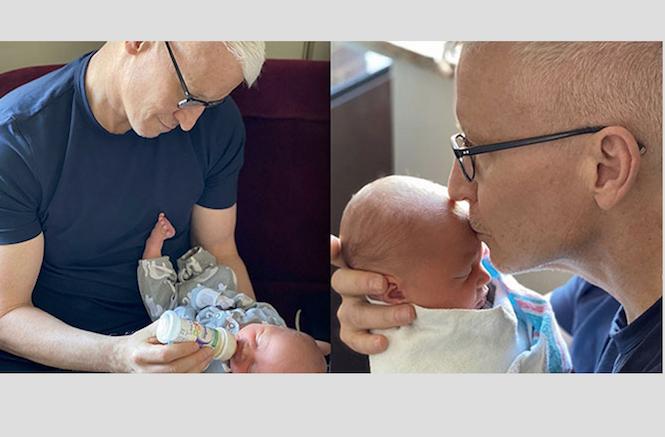 It was a five-tissue event when Anderson Cooper signed off from his most recent CNN coronavirus town hall with surprising news.
"On Monday, I became a father," Cooper said. "I never actually said that before out loud, and it still kind of astonishes me. I am a dad. I have a son, and I want you to meet him."
The CNN anchor then told the story of his son's birth as tear-inducing video rolled of Cooper with his newborn.
"He is named Wyatt after my father [the writer Wyatt Cooper], who died when I was ten," Cooper said. "I hope I can be as good a dad as he was."
Cooper told the audience, "As a gay kid, I never thought it would be possible to have a child, and I'm grateful for all those who have paved the way, and for the doctors and nurses and everyone involved in my son's birth."
Cooper added his thanks to "a remarkable surrogate who carried Wyatt, and watched over him lovingly, and tenderly, and gave birth to him. It is an extraordinary blessing--what she, and all surrogates give to families who can't have children."
Cue the full-on sobs.
The CNN anchor, who lost his mother, the heiress and author Gloria Vanderbilt last year to stomach cancer and his brother Carter to suicide in 1988, said, "I do wish my mom and dad and my brother, Carter, were alive to meet Wyatt, but I like to believe they can see him. I imagine them all together, arms around each other, smiling and laughing, happy to know that their love is alive in me and in Wyatt, and that our family continues."
Stopping briefly to regain his composure and wipe away tears, Cooper said, "It is, I think, especially important in these times of trouble to try to hold onto moments of joy and moments of happiness." He said Wyatt "is sweet and soft and healthy. And I am beyond happy."
We are beyond happy for Cooper. Seek joy where you can. Stay safe and stay tuned.
Watch the video on CNN.
Editor's note: If you liked this article, help out our freelancers and staff, and keep the B.A.R. going in these tough times. For info, visit our IndieGoGo campaign.
Comments on Facebook