Online Extra: SF agency cancels 2020 Petchitecture fundraiser
Thursday Apr 30, 2020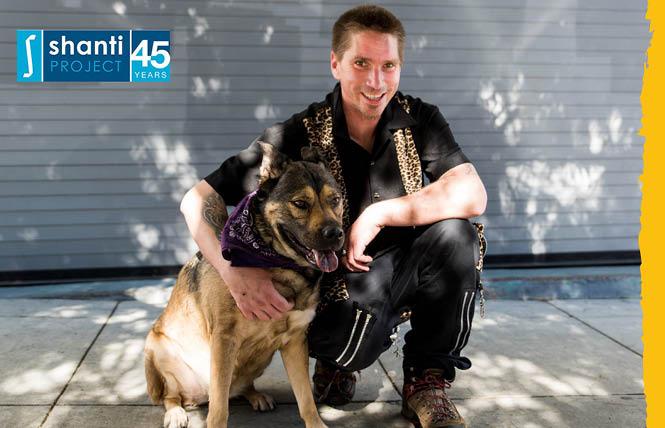 A San Francisco program that helps LGBT people and others with health conditions care for their pets has canceled its annual fundraiser due to the novel coronavirus pandemic.
Pets Are Wonderful Support, also known as PAWS, announced Thursday that its popular Petchitecture event, originally scheduled for June 4, will not take place this year. Not only are attendees allowed to bring their canine companions with them, but they also bid on elaborate doghouses and structures for other pets to raise money for PAWS, which is part of the nonprofit Shanti Project.
"Each year, we look forward to coming together to celebrate the work PAWS does to keep our vulnerable neighbors together with their beloved animal companions. We are truly disappointed that we won't be able to share this very unique and special occasion with our community — humans and dogs alike — this spring," stated Shanti spokeswoman Bethany Silvestri in announcing the decision. "We appreciate your continued support as we navigate these uncharted waters. Looking forward to seeing you and your canine pals in the spring of 2021!"
So far there is no evidence to suggest that people can contract COVID-19, the illness caused by the virus, from the fur of their dogs or cats. There have been sporadic reports of people passing on the disease to animals, such as a Pug named Winston in North Carolina who preliminarily tested positive for the coronavirus this week.
It followed reports of a number of tigers and lions at the Bronx Zoo that became ill from the virus, as well as two dogs infected in Hong Kong and a cat in Belgium. The World Health Organization is investigating transmission of the disease in animals.
For now, the Centers for Disease Control and Prevention has advised that "based on the limited information available to date, the risk of animals spreading COVID-19 to people is considered to be low." Nonetheless, the health agency is suggesting that pet owners take precautions to protect their own health and that of their animals.
It recommends people do not let pets interact with people or animals outside their household and to avoid dog parks or other places where large numbers of dogs congregate when out on walks. And if a person inside the household becomes sick, they should isolate themselves from not only other people but also their pets.
Pet owners can find more information from the CDC here.
The U.S. Food and Drug Administration also has created a special page for pet owners with questions about the virus here.
As for the news about the Petchitecture event, it had been expected in light of the multiple cancellations or postponements of other LGBT nonprofits' fundraisers and galas that are normally held in the spring. While the shelter-in-place orders issued in the Bay Area are now set to expire May 31, it is likely they will be extended again in a modified form into June. Governor Gavin Newsom has already said all large social gatherings held in the summer months are unlikely to take place this year due to the pandemic.
Shanti Executive Director Kaushik Roy had told the Bay Area Reporter in a phone interview in early April that he expected the Petchitecture fundraiser would not be able to take place as planned this year.
"In terms of how that impacts the PAWS funding, we are not sure," Roy had said at the time. "It is too soon for a lot of nonprofits to know how donors and funders are going to respond, nor just in the moment but over the next six to 12 months."
PAWS costs roughly $1 million per fiscal year for Shanti to run. It delivers pet food for the roughly 800 pets, mainly dogs and cats, owned by PAWS' 600 clients. It also provides cat litter for those with feline companions and helps cover veterinarian costs for its clients.
As the B.A.R. reported earlier this month, PAWS has continued to operate during the health crisis but has changed its procedures to protect the health of its staff, volunteers, clients, and their pets. All PAWS staff and its upward of 700 volunteers were instructed to adhere to the new safety protocols health officials have instituted due to the pandemic, such as remaining six feet away from people, wearing face masks, and using hand sanitizer.
It has teamed with the mobile pet care service Full Belly Bus to provide free pet food to homeless and marginally housed people in the Tenderloin. Shanti is also working with the city on its COVID-19 Emergency Response Volunteer (CERV) Program, through which it has been recruiting people who have time to walk dogs for those pet owners unable to do so right now or can help make deliveries as PAWS is no longer allowing most people to come pick up their pet food and other supplies. Those clients who can leave their house may make an appointment to drop by the PAWS office to get their pet supplies.
It has long been known that pets are an especially vital source of emotional support for LGBT seniors and others who live alone and are isolated from their families. Dogs, in particular, help get their owners out of the house to socialize and exercise.
"Throughout the pandemic, we are reminded of how critical our mission of reducing isolation and supporting marginalized communities is," stated Silvestri. "Not only are we continuing to provide our essential services throughout Shanti and PAWS, but we have expanded them to reach even more San Franciscans in need of support at this time."
For more information about the city's volunteer program or the services that Shanti and PAWS provide, visit www.shanti.org
Editor's note: If you liked this article, help out our freelancers and staff, and keep the B.A.R. going in these tough times. For info, visit our IndieGoGo campaign.
Comments on Facebook