Online Extra: New shelter-in-place order eases some restrictions
Wednesday Apr 29, 2020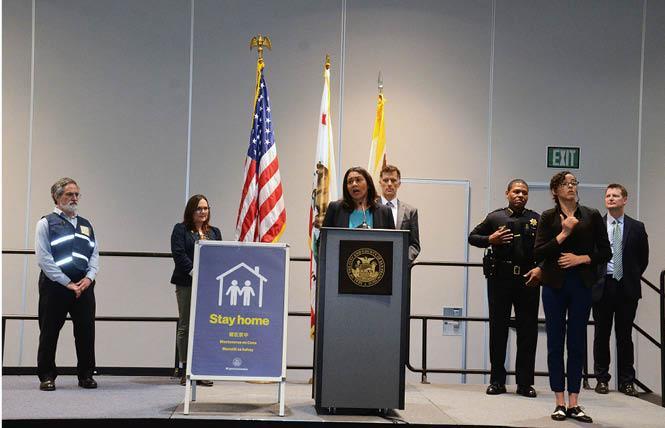 The shelter-in-place orders for six Bay Area counties and the city of Berkeley have not only been extended through the month of May, but also ease some of the restrictions that have been in place since shelter-in-place was first instituted last month.
"The small changes to loosen restrictions on some lower-risk activities are the result of the outstanding job by our residents of abiding by the rules and precautions that have helped keep our community safe," San Francisco Mayor London Breed stated in an April 29 news release. "I know this is hard for everyone, but we have to keep our focus on protecting public health every step of the way. Our focus now must be on continuing to strengthen our system and track progress as we plan for the future steps we can take if we continue to see improvements."
Beginning May 4, construction projects will be allowed to resume with certain conditions. Outdoor recreational facilities that do not require shared equipment with physical contact may be allowed to reopen — think golf courses and skate parks.
"Certain businesses that operate primarily outdoors, such as plant nurseries, car washes, and flea markets, may reopen under San Francisco's order," the news release states. All real estate transactions will also now be able to resume, but with continued restrictions on open houses and limitations on in-person viewings, according to the order.
Still, physical distancing as much as possible and face masks will be crucial as the Bay Area determines how to move to further re-openings. Face masks are still required in public.
"For this next phase to be successful, it is essential that all San Franciscans and Bay Area residents continue to stay home as much as possible, practice social distancing, wear face coverings when around other people, wash hands frequently, and stay vigilant in fighting the spread of the coronavirus," Dr. Grant Colfax, a gay man who is the head of the city's Department of Public Health, stated in the news release. "We will be watching the data very carefully, and do not want to see an erosion of our progress that could reverse everyone's hard work and sacrifice."
As the Bay Area Reporter previously reported, California Governor Gavin Newsom announced six indicators earlier this month that public officials will be looking at when determining how and what to reopen.
The criteria are based on how well the state can do the following six things: monitoring COVID-19 cases through testing and contact tracing; preventing infections in people at greater risk for adverse outcomes; preventing surges in the hospital and health systems; developing therapeutics at a rate to meet demand in the absence of a vaccine; ensuring that schools, child care facilities, and businesses can support safe social distancing; and determining when some of the more restrictive orders can be re-introduced if the health systems are overwhelmed.
On Tuesday, Newsom said that those criteria will be applied in four phases: currently the state is in the first phase, which consists of shelter-in-place and stay-at-home orders.
At stage two, non-essential manufacturing, retail with curbside pickup, schools, and offices where social distancing is possible will be able to reopen.
At stage three, high-risk workplaces and congregate venues can reopen. These include barbershops, nail and hair salons, movie theaters, and churches. Sporting events can occur at this stage if they do not have a live audience.
At the final stage, large gatherings at sporting events, parades, concerts, and convention centers will be allowed to occur. Newsom had previously said that the events described in this stage will likely be impossible in the state of California until or unless enough people are immune to the novel coronavirus, either via vaccinations or infection (called herd, or natural, immunity).
In just under two months, the novel coronavirus has shut down American public life in unprecedented ways and has killed more Americans than died during the Vietnam War. Scientists are looking for potential vaccines and treatments.
Editor's note: If you liked this article, help out our freelancers and staff, and keep the B.A.R. going in these tough times. For info, visit our IndieGoGo campaign.
Comments on Facebook