Editorial: Newsom must help LGBTQ nonprofits
Wednesday Apr 29, 2020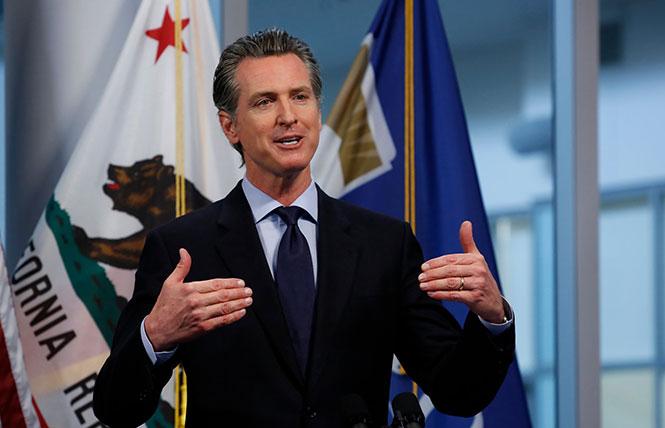 While just about every sector of the economy is cratering under the coronavirus pandemic, we cannot forget that nonprofits are confronting financial ruin and need help too. Agencies that aid and serve the LGBTQ community need emergency financial assistance, which has been slow to arrive. These organizations often provide a safety net for vulnerable populations, and we know that LGBTQs and people living with HIV/AIDS are among those at higher risk for graver outcomes if they get COVID-19, the illness caused by the virus, and are at risk of worse financial impacts due to sudden unemployment. We have reported on how some organizations, like Shanti Project's Pets Are Wonderful Support and the AIDS Legal Referral Panel, continue to provide vital services to clients; others, like the GLBT Historical Society, provide valuable cultural programs. These are among the people and organizations that form the fabric of our community — and they are hurting.
Last week, 137 California-based LGBTQ and allied nonprofits signed a letter to Governor Gavin Newsom from Equality California, pleading for targeted financial support. "The economic fallout from COVID-19 has upended our budgets by forcing us to cancel fundraising events and preventing us from completing reimbursement-based grant deliverables that require face-to-face interaction and outreach," EQCA Executive Director Rick Chavez Zbur wrote. "Meanwhile, many of our generous sponsors and donors have been impacted by the crisis themselves and are no longer in a position to support our work financially."
Most nonprofit organizations operate on razor-thin margins and the loss from spring fundraisers might be enough to shut their doors for good. Staff who have been furloughed or laid off could lose their health insurance, "a devastating decision to be forced to make during a public health crisis," the letter states.
Gay state Senator Scott Wiener (D-San Francisco) told us last week that he is extremely concerned about the matter. "LGBT nonprofits play a unique role in our community to address needs that have not been met," he said, ticking off groups that serve people living with HIV, homeless youth, transgender people, and LGBT seniors.
"It would be very damaging for these nonprofits to fail," he added.
"And we know that LGBTQ people are at heightened risk for serious COVID-19 symptoms, due to higher rates of HIV, cancer, smoking, and homelessness," he said in a statement. "Yet, despite those facts, the Trump administration is proposing to make it legal for health care providers to refuse to treat LGBTQ people."
Wiener was referring to the administration's latest attack on LGBT people. As we reported online, the Human Rights Campaign noted that according to a recent report in Politico, the Department of Health and Human Services is one step closer to finalizing a major change to the federal regulation implementing the civil rights provision, Section 1557, of the Affordable Care Act. If successful, the department will remove from health care programs and activities explicit protections for LGBT people, who will also be prohibited from making a legal claim of discrimination based on sex stereotyping and gender identity.
Additionally, while nonprofits were supposed to be eligible for the federal paycheck protection program, it is unclear if any received funds. As the letter to Newsom pointed out, "the Small Business Administration loan application process has been chaotic, the stimulus is insufficient, and for most of us, aid still has not arrived."
Wiener told us that he plans to advocate for nonprofit assistance as part of this year's state budget, which will be focused on addressing the effects of COVID-19. The state Senate has set up a special committee to respond to the pandemic and he said that he wants to ensure the state does not forget overlooked communities, like LGBTQs, that need help with housing, worker protection, senior isolation, and homelessness.
Newsom himself must address the dire situation facing LGBTQ nonprofits. He could direct some of the federal money the state receives through the Coronavirus Aid, Relief, and Economic Security, or CARES, Act to LGBTQ nonprofits of all kinds. During his daily briefings, he could point out that the state's queer community needs help, that we're especially vulnerable to the virus, and need health care access just like everyone else.
Newsom's been doing a good job responding to the challenges presented by the pandemic. His early shutdown of the state has likely saved lives. But he needs to acknowledge that our community is in crisis — and we need help from state leaders.
Editor's note: If you liked this article, help out our freelancers and staff, and keep the B.A.R. going in these tough times. For info, visit our IndieGoGo campaign.
Comments on Facebook