Updated: Online Extra: Bay Area shelter-in-place to be extended through May
Monday Apr 27, 2020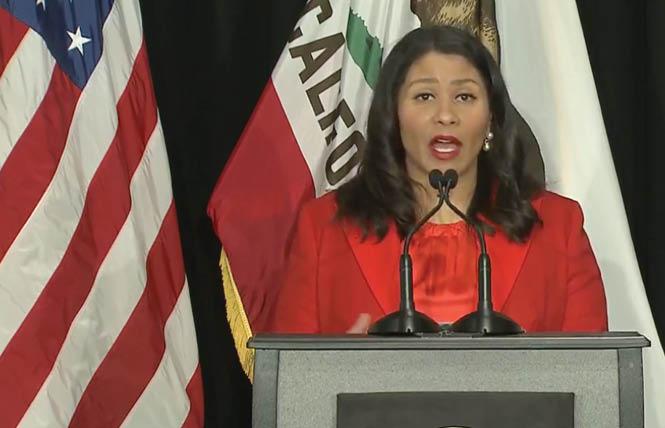 The shelter-in-place orders of six Bay Area counties and the city of Berkeley will be extended again — this time through May, according to a news release from the San Francisco Department of Emergency Management that was a joint statement from the municipalities.
The current shelter-in-place orders across Alameda, Contra Costa, Marin, San Mateo, Santa Clara, and San Francisco counties expire May 3. The health officers of those counties promulgated them on March 17 in order to slow the spread of the novel coronavirus, which at press time has killed over 56,000 Americans in just weeks.
"Thanks to the collective effort and sacrifice of the seven million residents across our jurisdictions, we have made substantial progress in slowing the spread of the novel coronavirus, ensuring our local hospitals are not overwhelmed with COVID-19 cases, and saving lives," the news release states.
The April 27 extension isn't exactly a surprise — San Francisco Mayor London Breed said April 24 that an extension "is very likely." During an afternoon news conference, Breed said that implementing the shelter-in-place order has been "the most difficult thing I've had to do."
"I know this is, again, very challenging," Breed said. "It's been challenging for me personally."
The health officers intend to release "a set of broad indicators" to determine what a future easing of restrictions will look like, in line with those announced by California Governor Gavin Newsom earlier this month. (Newsom's statewide stay-at-home order does not have an expiration date, and supersedes any orders given by local jurisdictions.)
During Monday's news conference, Dr. Grant Colfax, a gay man who serves as the director of the San Francisco Department of Public Health, highlighted at least four of those indicators.
"One is a sustained decline in the number of people hospitalized — a significant reduction in a period of two weeks," Colfax said. "We also need to increase our testing rates to two or three times what it is."
"The more we test, the more cases we will find, which is why it's so important to look at the hospitalization rate," Colfax added.
Colfax said that city hospitals must also be able to "maintain surge capacity to some degree" and have enough personal protective equipment for emergency workers.
The health chief encouraged San Franciscans to stay the course while giving a timeline of government efforts to flatten the curve.
"We have led the country in taking aggressive, early action to flatten the curve of the coronavirus," Colfax said. "At this time, none of us can get complacent. Make no mistake: the virus is still out there and it is a threat."
Colfax said that when the city gradually reopens, staying six feet apart, wearing face masks, washing hands frequently, and staying home as much as possible will still be part of a new normal.
"These actions are based on science, data and facts, and they are working," Colfax said.
Even after the shelter-in-place orders are lifted, it will probably not be for another 12 to 18 months that large-scale events like concerts and street fairs can resume, Newsom and other officials have stated.
Police Chief William Scott expressed surprise at the level of compliance with the health order in San Francisco, considering relatively high temperatures that saw increased numbers of people in public. He said that the police department is still working on enforcing the order through education, and has been passing face masks out to people who don't own them.
Scott said that there was a 19% decline in violent crime and a 24% decline in property crime in the most recent week for which numbers are available compared with the prior week, but that burglaries are up.
To help improve the capabilities of the general public to physically distance while getting exercise, Breed said that beginning April 28 at 6 a.m. a portion of John F. Kennedy Drive in Golden Gate Park and John F. Shelley Drive in John McLaren Park (near the Excelsior neighborhood) will be closed to vehicular traffic for the duration of the shelter-in-place order.
"We hope this new opportunity — this new adjustment — will make this time easier for each and every one of you," Breed said.
There have been 1,424 people in San Francisco who have tested positive for the novel coronavirus, according to Monday morning's numbers from the San Francisco Department of Public Health. Of those, 23 have died.
During a Facebook Live chat with members of the Castro Merchants business association Monday that began just after the extension of the stay-at-home order was announced, San Francisco Assessor Carmen Chu told storeowners in the city's LGBT district that when the restrictions on people's movements and business operations are lifted, they likely will be done so in a gradual manner and the reverse of how they were implemented. Thus, those businesses and activities that present the least risk for transmitting COVID-19 will likely be the first ones to open, Chu surmised.
But she stressed the decision would be determined by health officials looking at the data on new cases, hospitalizations, and health care workers' ability to respond.
"Those with the less risk and less interaction will potentially be the first to come back," Chu speculated.
Local leaders, she stressed, will be looking to "restart the economy in a way that is thoughtful, smart, and grounded in reality."
And she advised business owners to start thinking now about how they can revamp their procedures, setup, and how they provide their services and products when they are allowed to reopen their doors so that customers will feel safe patronizing them.
"We should be imagining the way we interact and go about our business is going to be different for awhile," noted Chu, until there is a vaccine or large-scale immunity to the virus in the community. "Retail is going to have to be rethinking what does it mean for my particular retail space. Is there other ways for you to be delivering goods and services?"
Whatever happens on the West Coast in terms of restarting the economy is being coordinated between five western states, as the governors of Colorado and Nevada Monday joined the Western States Pact that was launched this month by the governors of California, Oregon and Washington. The working group of the five governors is collectively deciding how to modify stay at home orders and fight the spread of COVID-19.
"Coloradans are working together to slow the spread of COVID-19 and have important information to share with and to gain from other states. I'm thrilled Colorado is joining the Western States Pact," said Colorado Governor Jared Polis, a gay man who has led the Centennial State since January 2019. "There's no silver bullet that will solve this pandemic until there is a cure so we must have a multifaceted and bold approach in order to slow the spread of the virus, to keep our people safe and help our economy rebound."
In a statement, Newsom thanked his counterparts in Colorado and Nevada for joining the pact. In addition to himself and Polis, the leaders of the group include Oregon Governor Kate Brown, who is bisexual, Washington Governor Jay Inslee, and Nevada Governor Steve Sisolak.
"COVID-19 doesn't follow state or national boundaries, and it will take every level of government, working together to get the upper hand on this virus," stated Newsom.
Matthew S. Bajko contributed reporting to this story.
Updated, 4/27/20: This article has been updated to include comments from the mayor's press briefing.
Editor's note: If you liked this article, help out our freelancers and staff, and keep the B.A.R. going in these tough times. For info, visit our IndieGoGo campaign.
Comments on Facebook