Online Extra: Political Notes: In memoir, Ammiano spills some political tea
Monday Apr 27, 2020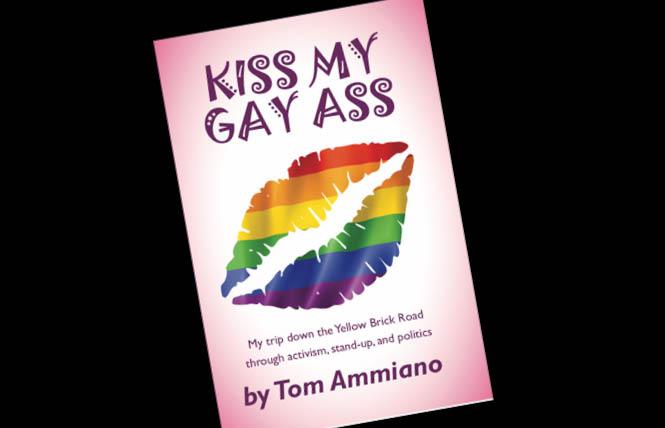 Some scores are indeed settled. And the zingers do fly.
But more than anything Tom Ammiano confirms one maxim about politics in his memoir: your political ally one day can turn into your frenemy the next. One chapter is even titled, "Keep Your Friends Closer."
In his breezy and dishy "Kiss My Gay Ass: My trip down the Yellow Brick Road through activism, stand-up, and politics," Ammiano spills plenty of political tea about his decades-long career as an elected official in San Francisco and Sacramento. With help from his collaborators journalist Tim Redmond, whose Bay Guardian Books published the 240-page book, and Jon Golinger, a political consultant and author, Ammiano spares no punches when it comes to his fellow progressive, moderate, and conservative colleagues he had to work with over the years.
One figure targeted by Ammiano's acerbic wit, honed throughout his career as a stand-up comic, is the late former state Senator John V. Briggs, who died April 15 at the age of 90, according to the Mountain Democrat newspaper in Placerville, California, where Briggs had lived since 2009.
Briggs' push to adopt a ban on LGBT people and their straight allies from working in the state's public schools was rejected by voters in the 1978 November election. As the first gay teacher to come out in San Francisco, Ammiano worked with other LGBT advocates to help kill the anti-gay Proposition 6, known as the Briggs initiative.
"Briggs was totally a buffoon, but even complete clowns can be dangerous. Right? Remember Pennywise?" writes Ammiano in his memoir, referring to the murderous main character in Stephen King's hit book "It" that was recently turned into a two-part smash movie franchise.
But Ammiano is also critical of the Bay Area Committee Against the Briggs Initiative, which he writes was funded by David Goodstein, the late former publisher of The Advocate LGBT newsmagazine. He recounts how the late San Francisco supervisor Harvey Milk, the first gay person elected to public office in the city and state who became the public face of the anti-Prop 6 campaign along with lesbian activist and college professor Sally Gearhart, had inquired why the committee had no gay people as its spokespeople.
As an out teacher, Ammiano would have been the logical person for the job. But as he recounts in his book, due to his effeminate mannerisms and voice he was deemed too gay.
"I'm always too gay," writes Ammiano, 78, who would go on to win a seat on the San Francisco school board in 1990 and became its first gay president.
Sadly, the same situation of LGBT leaders being too timid to put LGBT people front-and-center in a campaign to defeat a statewide ballot measure would occur in 2008 with the No on Prop 8 campaign. It lost its battle to defeat Proposition 8 that November, leading to the re-imposition of the ban on same-sex couples marrying. (In June 2013 the U.S. Supreme Court upheld lower federal court rulings that struck it down.)
"The official No on Prop 8 campaign took a lot of fucking money and then blew off people of color who wanted to help them. Their literature hardly had any gay couples. They lost. It was terrible," writes Ammiano, who married his longtime partner Carolis Deal in 2014.
An early instance of being disappointed by a politician he supported, writes Ammiano, came from former San Francisco District Attorney Arlo Smith, who served in the post from 1980 to 1996. Without going into specifics, Ammiano writes, "Smith promised everything and then did very little. Another lesson we had to learn."
He acknowledges the hurt he and others felt for many years — some still to this day — by Nancy Pelosi's defeating fellow Democrat Harry Britt, a gay man who was appointed to Milk's supervisor seat after his assassination in 1978, in their race for an open House seat in 1987. Pelosi would go on to become the first female speaker of the House in 2007 and reclaimed the position last year.
"It felt like the chance to elect the first gay person to Congress from San Francisco was stolen from us," writes Ammiano. "It still hasn't happened even now. In time Pelosi came through for the gay community on a lot of issues so that helped the healing."
Throughout the book Ammiano aims his invective at the San Francisco Chronicle, which he battled with while on the school board and then Board of Supervisors, to which he was elected in 1994, during his mayoral runs in 1999 and 2003, and while serving in the state Assembly from 2008 through 2014.
He criticizes several reporters assigned to cover him and pokes holes in the paper's contention that the 2000 election of nine supervisors he had endorsed in addition to his being re-elected amounted to an "Ammiano machine" controlling City Hall. One editorial from the time struck such a nerve that he refers to it in his book as an attempt to "delegitimize" the progressives' victory.
"Motherfuckers! Delegitimize this!" writes Ammiano.
Yet, he also reveals how he used the paper for his own political gains, recounting one episode from his first term as board president in 1999 when his moderate colleagues were refusing to accept the committee assignments he had given them, which was his prerogative as president. Fed up, Ammiano writes how he called Chronicle columnist and political reporter Phil Matier one Sunday morning to tip him off about his colleagues' obstinacy, despite also contending that Matier and his former column co-writer Andy Ross always "screwed everything up."
But his tip paid off.
"Then they all got embarrassed because they didn't want what they were doing made public. Mostly they capitulated," writes Ammiano of his then board colleagues.
As for the progressives he helped elect years later, Ammiano explains the reason why the newspaper's false narrative of them being a bloc he controlled was so infuriating because they "flaked out on me all the time. When it came to a really high-profile progressive vote, everyone was great. But other than that flake."
And he reveals his animosity for former supervisor and Green Party member Matt Gonzalez following their failed bids for mayor in 2003. Gonzalez's supporters would "angrily harass" his then legislative aide Angela Calvillo, a lesbian who is now clerk of the board, because he didn't immediately endorse Gonzalez in the runoff against the eventual winner and their board colleague, Gavin Newsom.
With Gonzales then the board president, Ammiano writes, "I used to sit there in the Board Chambers fantasizing that he would suddenly self-combust. When I stood up to talk about issues, I could hear my voice and feel my lips moving but my mind was watching him go up in smoke. Poof."
As expected since she is featured in one title chapter, former mayor and current U.S. Senator Dianne Feinstein (D-California) makes a cameo appearance in the book but comes off relatively unscathed. Ammiano does joke about her liking "cops' brass" due to her penchant for dating police officers when she was single and having a "'Planet of the Apes' hairdo."
He also writes about his legislative dustups with Republican former Governor Arnold Schwarzenegger. But it is the movie-star-turned-politician's lesbian chief of staff in the governor's office, Susan Kennedy, who comes under particular scorn from Ammiano.
He labels her "a total sellout" for advising Schwarzenegger to veto several marriage equality bills that the state Legislature sent him while he was in office.
"History is never kind to sellouts," writes Ammiano.
And the state's current governor, Newsom, also comes under fire in the book, with Ammiano writing that he "was always truculent" when the two served together as supervisors. Ammiano also devotes an entire chapter to the charges that Newsom took credit for the city's adoption of a universal health care program known as Healthy San Francisco when it was really himself who was instrumental in its passage and helping to defend it in court.
Contending Newsom "was nowhere to be found during all of that," Ammiano writes that, "after Healthy San Francisco took effect and became popular, he said it was his idea all along."
Those unmentioned
Who isn't mentioned in the book is perhaps just as interesting as those who are. For instance, founding Bay Area Reporter publisher Bob Ross is merely referred to as one of the "others" that Milk had recommended in his political will be named as his successor should he be killed in office. Despite Ross hiring Milk as a columnist in the pages of the B.A.R. and supporting his political career, he and Ammiano would later be in opposite camps within the city's Democratic Party.
And Ammiano refuses to refer by name to Beryl Magilavy, who later changed her name to Simone Thomas, when writing about the progressive sweep of the 2000 supervisor elections, when all 11 of the seats reverted back to being elected by district. In a mea culpa, Ammiano writes he should not have endorsed her in the District 6 supervisor race that fall over the eventual winner, Chris Daly.
"In District 6, I fucked up. Really bad," writes Ammiano.
Throughout the book Ammiano drops such nuggets about his time in the city's notoriously rough and tumble politics. It makes for a fascinating and fast read.
There are also touching reminiscences about his family back in New Jersey and his chosen San Francisco family, including his first partner he lost to AIDS and the daughter he helped father as an anonymous sperm donor and later agreed to meet. Readers will also discover a number of surprising tidbits, such as a demographic mix-up on one of Ammiano's early government records and the time he introduced one now retired politician's son performing in the buff.
To order a copy of the book, go to go to www.kissmygayass.com
Keep abreast of the latest LGBT political news by following the Political Notebook on Twitter @ http://twitter.com/politicalnotes
Got a tip on LGBT politics? Call Matthew S. Bajko at (415) 829-8836 or e-mail m.bajko@ebar.com
Editor's note: If you liked this article, help out our freelancers and staff, and keep the B.A.R. going in these tough times. For info, visit our IndieGoGo campaign.
Comments on Facebook