Online Extra: Electeds give tips to Castro-area residents facing business, child care needs
Friday Apr 24, 2020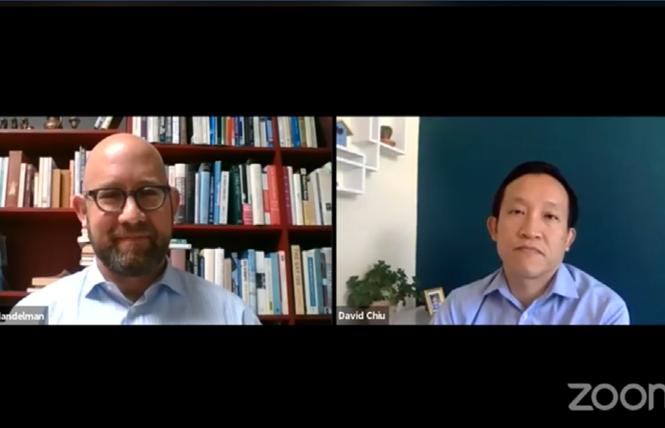 During a virtual town hall meeting April 24, gay District 8 Supervisor Rafael Mandelman and San Francisco Assemblyman David Chiu (D) discussed three top concerns of district residents amid the coronavirus shelter-in-place, which has changed daily life for people around the world in ways once considered unthinkable.
These are education, child care, and the survival of small businesses, Chiu said.
"Coronavirus has been the proverbial black light," Chiu said. "It has spotlighted the inequalities in society and the social safety net, the incredible bifurcation in our society of folks who have savings, health care and access to social services, and those who don't."
Mandelman said that while he "prefers life before coronavirus," the inequality of incomes and opportunities revealed by the pandemic shows that it "wasn't that great."
"The aspiration should not be to return to where we were," Mandelman said.
Small businesses
One issue facing District 8 merchants is small business relief, with many facing potentially devastating losses, including the layoffs and furloughs of employees.
Chiu discussed various local, state, and federal measures such as the CARES Act, eviction moratoriums and tax deadlines which have been pushed back.
Further, he encouraged people with business insurance to file those claims even if they can't afford a lawyer at the moment.
California Insurance Commissioner Ricardo Lara (D), a gay man, may be visiting San Francisco soon to see what can be done for small businesses here, Chiu said.
Chiu assured people that although the first federal payroll protection program quickly ran out of money, there will be more money available soon due to a replenishment recently approved by Congress and signed by President Donald Trump.
People who traditionally couldn't get unemployment benefits, such as gig economy workers, will now be able to apply.
"It's a different way to get relief but we want to get the word out about it," Chiu said, adding that these claims will hopefully be turned around in two to three days instead of the timetable of weeks that unemployment benefits usually take.
Californians also will not have to tell the state every two weeks that they are continuing to look for work through the duration of the crisis.
Chiu was optimistic that in the future, proposals such as universal health care and a universal basic income won't be seen as radical, saying that he was considering proposing the latter several years ago but was called "crazy."
He said that the coronavirus outbreak has shown that the health of one individual, both physically and economically, impacts the entire society.
Mandelman said that while San Franciscans should be proud that they have been able to fight the spread of the virus effectively, cases have been "disproportionately impacting low-income folks."
Indeed, maps released by the city show exceptionally high numbers of cases in the Mission and Bayview-Hunters Point neighborhoods.
"The mass outbreaks we've seen have been among people in shelters and (single-room-occupancy hotels)," Mandelman said. "It's shining a bright light on inequality."
Education
On education, Chiu said that the state appropriated $100 million toward "the challenges school systems face in COVID-19 efforts."
While these include additional disinfecting of school campuses, many schools have since closed and that much of the funds are going toward distance learning and food programs.
"This is the most significant challenge in our school system — making sure distance learning is happening," Chiu said.
Mandelman noted that in San Francisco over 95% of students in grades three through 12 are still logging into online courses — "a measure of pretty broad participation," he said — but that distance learning has been a challenge for many families.
"Not all families have access to either a computer or internet connectivity," Mandelman said.
One way the San Francisco Unified School District has been combating this is by distributing laptops to students in need of one. The district has given out over 10,000 so far, Mandelman said, and his office can provide people further information about how to get a laptop.
The city is also in partnership with private organizations to provide internet connectivity and hotspots to those in need of them.
Mandelman also stated that parents in need of help navigating SFUSD resources can call the family resource link hotline at 415-340-1716 on Monday-Friday between the hours of 9 a.m. and 1 p.m., or email the district at familylink@sfusd.edu
"Food insecurity was a problem before coronavirus, and it's now much more intense," Mandelman said.
The city is providing grab-and-go lunches at several schools and other locations.
Mission High School on 18th Street between Dolores and Church streets is providing lunches between 11 a.m. and noon on Mondays and Wednesdays, and is hosting a pop-up pantry on Tuesdays from 9 a.m. to 1 p.m.
James Lick Middle School on Noe Street between Clipper and 25th streets is providing lunches from 11 a.m. to noon.
Child care
Chiu said that earlier this month, Governor Gavin Newsom (D) released over $100 million to support child care services, both to keep facilities clean and to create 20,000 additional spots for the children of people needing child care due to the coronavirus outbreak.
These include the children of people in vulnerable populations and medical workers.
Congress has increased child care block grant funding by $3.5 billion, though advocates have said this is not enough to support the increased need.
One of the hurdles being faced by child care services is that background checks for temporary workers need to be done both relatively quickly but accurately.
The Upper Noe Recreation Center on 30th Street between Church and Whitney streets is operating as an emergency child care center for first responders, health care workers, and essential city employees, Mandelman said.
Editor's note: If you liked this article, help out our freelancers and staff, and keep the B.A.R. going in these tough times. For info, visit our IndieGoGo campaign.
Comments on Facebook