Remdesivir promising for COVID-19; malaria drugs, not so much
Wednesday Apr 22, 2020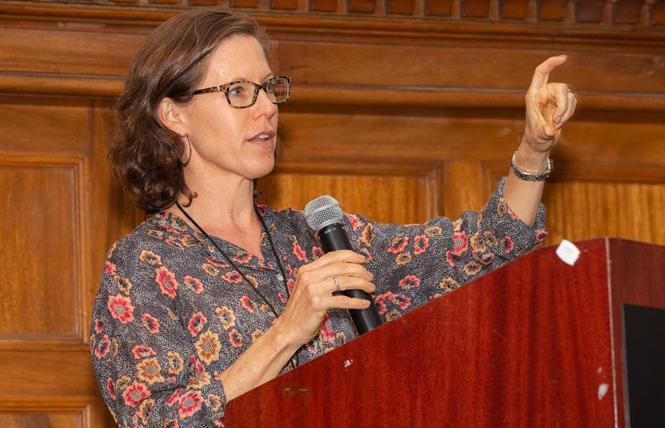 Remdesivir, an experimental antiviral drug from Gilead Sciences, has shown promise based on early results in people with severe COVID-19, the disease caused by the new coronavirus. But experts caution that data from randomized studies are still needed to determine if the medication is safe and effective.
"While it is reassuring to hear reports of cohorts with good outcomes, it is impossible to interpret the impact that remdesivir is having on a group that has been treated with this drug in the absence of a control arm," UCSF professor of medicine Dr. Annie Leutkemeyer told the Bay Area Reporter.
On April 16, the medical news site STAT leaked comments made by study investigator Dr. Kathleen Mullane of the University of Chicago during a video discussion with colleagues. Her remarks were not intended for the public and the findings have not yet been peer-reviewed or published.
Mullane reported preliminary findings from a group of 113 people with severe COVID-19 treated with daily intravenous infusions of remdesivir as part of a late-stage clinical trial at a Chicago hospital.
Remdesivir is a nucleotide analogue, in the same drug class as the HIV medication tenofovir and the hepatitis C drug sofosbuvir, both also manufactured by Gilead. These drugs interfere with a viral enzyme and prevent the viruses from copying their genetic material.
The Chicago patients showed rapid decreases in fever and improvement in respiratory symptoms. Some were able to come off ventilators soon after starting treatment, most were discharged within a week, and only two died, Mullane reported.
Although these patients recovered quicker than expected, a majority of people with COVID-19 do recover without treatment, though this is less likely among those with severe disease.
"Even without a control, if those results hold up, that's awfully promising," Dr. Bob Wachter, chair of the Department of Medicine at UCSF, tweeted after seeing the findings.
Earlier this month, the New England Journal of Medicine published outcomes from Gilead's compassionate use program, which provides remdesivir to people with advanced disease outside of formal trials. This analysis included 53 patients hospitalized with COVID-19, 30 of whom were on mechanical ventilators. They were treated with IV remdesivir for 10 days.
More than two-thirds of the treated patients needed less oxygen support, including 17 who were able to come off ventilators. Everyone who was taken off a ventilator survived.
Nearly half were discharged from the hospital, but seven died. The treatment was generally safe, though some patients developed elevated liver enzymes.
Gilead urged caution about interpreting these observational findings.
"We understand the urgent need for a COVID-19 treatment and the resulting interest in data on our investigational antiviral drug remdesivir," the company said in a statement. "Anecdotal reports, while encouraging, do not provide the statistical power necessary to determine the safety and efficacy profile of remdesivir as a treatment for COVID-19."
Just as antiretrovirals for HIV work best when used early, before the virus causes severe immune system damage, remdesivir may be more effective if given before severe lung damage occurs.
The National Institute of Allergy and Infectious Diseases announced this week that early treatment with remdesivir, compared with a placebo, significantly reduced breathing difficulty, virus levels in the lungs and lung damage in monkeys infected with the new coronavirus.
Gilead chairman and CEO Daniel O'Day said that results from a study of people with severe COVID-19 will be available at the end of April, with results from a randomized trial of patients with moderate disease following in May.
Update
On April 23, STAT leaked new result from a randomized clinical trial of remdesivir in China, which was stopped early because there were no longer enough patients once the COVID-19 epidemic there was brought under control.
The results were accidentally posted to the World Health Organization website but quickly taken down. The new findings show that remdesivir did not speed up improvement of symptoms or reduce the likelihood of death compared with a placebo. According to a Gilead spokesperson, the company still believes "trends in the data suggest a potential benefit for remdesivir, particularly among patients treated early in disease."
Safety issues seen in malaria drugs
In contrast, studies of chloroquine and hydroxychloroquine (Plaquenil), two inexpensive medications long used to treat malaria, have yielded mixed but largely disappointing results.
These medications became the subject of political controversy after President Donald Trump touted chloroquine and a combination regimen of hydroxychloroquine and the antibiotic azithromycin on Twitter and at his daily COVID-19 media briefings.
Although Trump suggested the treatments could be a "game changer," NIAID director Dr. Anthony Fauci countered that controlled clinical trials — not just anecdotal reports — are still needed to determine the drugs' safety and effectiveness.
An early study in China suggested that COVID-19 patients treated with chloroquine fared better than untreated people, and the drug went viral when Tesla founder Elon Musk and others tweeted about previous research. A small French study of 26 patients with asymptomatic or moderate disease found that a majority were cured after receiving hydroxychloroquine alone or with azithromycin, but some worsened despite treatment and there was no untreated control group for comparison.
In the absence of proven alternatives, some hospitals in the United States are already treating severely ill patients with these medications while randomized clinical trials are underway.
But a growing body of evidence suggests this approach is not very effective and may be harmful, as chloroquine and hydroxychloroquine can cause serious side effects. A small study in Brazil was recently halted after it became apparent that people treated with high doses of hydroxychloroquine plus azithromycin were at higher risk for potentially fatal heart rhythm abnormalities.
The most recent study, available as a preprint but not yet peer reviewed, looked at 368 COVID-19 patients treated at Veterans Health Administration medical centers nationwide. The researchers "found no evidence" that hydroxychloroquine alone or with azithromycin reduced the need for a ventilator or the likelihood of death. In fact, those treated with hydroxychloroquine alone were more likely to die than untreated patients.
What's more, a group of rheumatologists who use hydroxychloroquine to treat people with rheumatoid arthritis or lupus recently reported that nearly 200 such patients who used the drug have developed COVID-19, showing that it does not prevent the disease.
Updated, 4/23/20: This article has been updated with information on a trial in China.
Editor's note: If you liked this article, help out our freelancers and staff, and keep the B.A.R. going in these tough times. For info, visit our IndieGoGo campaign.
Comments on Facebook