Political Notebook: Contra Costa LGBT Dem club elects new president
Wednesday Apr 22, 2020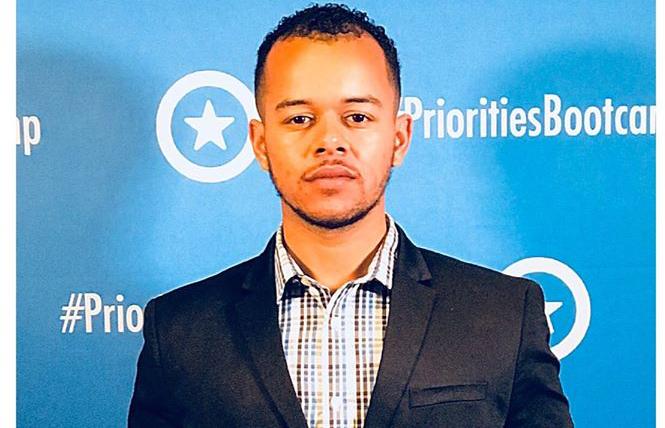 The Lambda Democratic Club of Contra Costa County has elevated its former treasurer, Devin Murphy, to be its new president. He is the third person to hold the position since the group's founding in 2017 and succeeds past president Robyn Kuslits.
The LGBTQI political club, which has 30 dues-paying members, met virtually Saturday, April 11, to elect its new slate of leaders. Serving as vice president is Kelliane Parker, while Kuslits is now the club's secretary.
Murphy, 26, is the first gay black man and second person of color to lead the club. Richmond resident Cesar Zepeda was the club's first president. By being the public face for the club, Murphy aims to give voice to the sprawling county's LGBTQI community.
"There has not been a lot of visibility for LGBTQI people in this county and in particular in elected office," said Murphy, who grew up in San Francisco's predominantly African American Bayview neighborhood.
His maternal great-grandparents hailed from the Caribbean countries of Trinidad, Cuba, and the Barbados, while his paternal great-grandparents came from Indiana. When he was a child, his parents separated and his father relocated to the East Bay city of Pinole.
After graduating from UCLA with a degree in African American studies in 2015, Murphy decided to return to Northern California and moved in with his dad, while his mom now lives nearby in Pittsburg. He has been sheltering in place with his father along with one of his five brothers and his nieces due to the health crisis.
In addition to taking on the club presidency role, Murphy is considering running for one of the two seats on the Pinole City Council that are up for election this November. He told the Bay Area Reporter he plans to make a decision in May. Should he be elected, Murphy would be his city's first out LGBTQ council member.
"It is important we have folks who represent our democratic values in office," said Murphy, who serves on his city's planning commission.
A political campaign consultant who is CEO of DTM Strategies, which he launched in late 2015, Murphy also advises nonprofits on how to wage campaigns to advance their goals and objectives. He has worked with the League of Conservation Voters and #Cut50, a criminal justice reform nonprofit.
He assisted Kimberly Ellis when she sought to become chair of the California Democratic Party and was a campaign manager early on for Matt Haney when he launched his ultimately successful bid to become a San Francisco supervisor representing District 6 in 2018. Murphy left Haney's campaign team after being hired by Priorities USA, a national super PAC for Democrats, to work on its electoral efforts that year in Wisconsin, Michigan, and North Dakota.
When he returned to the Bay Area in late 2018, Murphy joined the Lambda club and was elected to its board the next year. As president he will be focused on helping to elect LGBT and pro-equality candidates this fall, among them gay El Cerrito City Councilman Gabriel Quinto who is seeking reelection and Zepeda, who was appointed to a seat on the West County Wastewater District board last year and is now seeking a full four-year term.
Also up for re-election this fall is gay Hercules City Councilman Roland Esquivias, currently serving as his city's mayor. He told the B.A.R. this week he has yet to make a decision on if he will seek a second four-year term.
While the Lambda club didn't endorse in the races on the March primary ballot, Murphy expects the club to make endorsements in the fall races. It will be meeting this month to discuss its process and schedule for doing so.
"We usually do that in August for out candidates," said Murphy, adding that he would like to do it even sooner this year "to make sure our voice is kind of out there."
Zepeda, now president of the West County Democratic Club, told the B.A.R. that he expects Murphy will revitalize the Lambda club as president.
"He is going to bring a new perspective to the club and new energy," said Zepeda, adding that the group is "going in a good direction. He wants to try to activate it and bring in more people. We are still fairly young as a club."
Murphy will be picking up on one of the main priorities that Zepeda and Kuslits focused on during their presidential terms, seeing that cities throughout Contra Costa County issue proclamations celebrating Pride Month and fly the rainbow flag in front of their city halls throughout June. Working with club members and supportive citizens throughout the East Bay jurisdiction last year, the Lambda club helped to see all but two cities in the county either raise the flag or issue a Pride proclamation or do both.
With San Francisco's and Sonoma County's Pride parades canceled this year due to the health crisis, Murphy said having local cities honor the annual LGBT celebrations is even more important this year. He is hoping to see every one of his county's cities mark Pride in June.
"We know the visibility of raising the Pride flag across Contra Costa County is more vital than ever, especially since we don't have the in-person experiences of Pride this year," noted Murphy. "It is a really important conversation our club is having already, to see our school districts, our water board district, our city councils raising that Pride flag for visibility. But also to make sure the Pride flag is a representation of a welcoming and inclusive jurisdiction."
The first city to take up the matter was Clayton, whose City Council voted Tuesday night for the first time to issue a Pride proclamation this year and fly the rainbow flag not only in front of City Hall but also the town library and a public park, as the B.A.R. first reported online late April 21.
Also at the top of Murphy's agenda this year is encouraging every LGBTQ resident of Contra Costa County to take part in the 2020 census count. The results will impact how much federal funding is allocated to the county for a wide array of social services utilized by LGBTQ people.
"It is important to us as a club and as members of the LGBTQ community because when we think about funding for local LGBT community centers and any governmental funding for social programs, it will impact LGBTQI people," said Murphy.
Membership in the Lambda club costs $20 a year. To learn more about the group, visit is website at https://lambdademocrats.com/
Victory Fund endorses CA candidates
Three more out candidates running in November races in Southern California picked up endorsements Monday from the national LGBTQ Victory Fund.
Democrat Abigail Medina, a lesbian who also identifies as queer, secured the Victory Fund's support for her bid for the state's 23rd Senate District seat. She is one of two LGBTQ women of color aiming to be the first to serve in the state Senate.
Should Medina defeat her Republican opponent, Rosilicie Ochoa Bogh, she would also be the first person who identifies as queer and the first out lawmaker from San Bernardino County serving in the Legislature. And she could help the Legislative LGBTQ Caucus, now at seven members, expand its ranks to a historic level come December.
At the municipal level, the Victory Fund endorsed transgender Palm Springs City Councilwoman Lisa Middleton's bid for re-election. After being elected citywide in 2018, Middleton is now seeking the city's newly created District 5 seat.
It also endorsed queer National City Council candidate Marcus Bush, a policy adviser for queer San Diego City Council President Georgette Gómez, who is running for Congress this year. If elected, Bush would be his city's first out LGBTQ and first Afro-Latino council person.
Web Extra: For more queer political news, be sure to check http://www.ebar.com Monday mornings for Political Notes, the notebook's online companion. This week's column reported on advice for pet owners in light of the novel coronavirus outbreak.
Keep abreast of the latest LGBT political news by following the Political Notebook on Twitter @ http://twitter.com/politicalnotes
Got a tip on LGBT politics? Call Matthew S. Bajko at (415) 829-8836 or e-mail m.bajko@ebar.com
UPDATED 4/22/2020 to correct where Murphy's great-grandparents hailed from.
Editor's note: If you liked this article, help out our freelancers and staff, and keep the B.A.R. going in these tough times. For info, visit our IndieGoGo campaign.
Comments on Facebook