Seeing in the Dark: 'In the Dark' gets the blind experience wrong
Wednesday May 1, 2019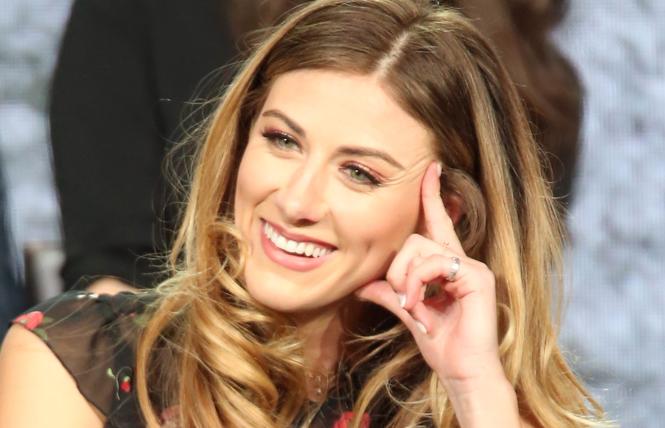 Over the past year, there has been a lot of public debate on able-bodied actors playing characters with disabilities. From Dwayne Johnson playing a below-the-knee leg amputee in "Skyscraper" (2018) and Joaquin Phoenix playing a quadriplegic in "Don't Worry, He Won't Get Far on Foot" (2018), to, more recently, Bryan Cranston being cast as a quadriplegic in "The Upside" (2019).
Some claim it's an actor's job to play roles outside their own experience, while many people with disabilities and their allies argue able-bodied actors are taking jobs away from actors with disabilities — a group that is already underrepresented in the workforce across several industries.
As an accessibility consultant and a blind consumer of entertainment, I can say a lot of films and TV shows not only lack disability representation, but also accessibility features.
A few weeks ago, the internet erupted with outcries over the casting of Perry Mattfeld in the leading role of Murphy — a blind woman in the CW's new series "In the Dark." The National Federation of the Blind protested outside CBS Studios, which owns the CW, in New York City and launched the hashtag #letusplayus.
While I was disappointed that, yet again, my community would be represented by an outsider, I was happy to hear the show did have one blind supporting character and a blindness consultant on staff. Thus, I decided to give the show a chance. Using Comcast's audio description feature, which automatically plays the narration for the blind for shows and commercials that offer it, I sat on my couch to listen to the first episode during its Thursday night airing.
None of the CW's shows offer descriptive audio for the blind, and "In the Dark" was sadly not an exception. Still, I was surprised because Calle Watson, the visually impaired actor who plays Chloe, a blind teen, and Lori Bernson, the show's blindness consultant, who is also legally blind, did an interview where they emphasized the importance of descriptive audio.
Some networks, such as Fox, TNT, and TBS, are wonderful about descriptive audio for the blind, while ABC and NBC are hit and miss. I reached out to gay, blind writer Robert Kingett, who singlehandedly got Netflix to add descriptive audio to the streaming service, to weigh in on film and TV access.
"Most of the time, people see audio description, especially on federally mandated TV, for example, as a chore they have to do or else — whoops! — don't want to get a fine from the FCC," he said. "This, in turn, causes studios and others to plunk down the bare minimum."
Kingett believes financing plays a major role when it comes to accessibility features for film and TV. Also, the studio must have the desire not to do a sloppy job when it comes to access. It took Kingett five years of calling, emailing, and blogging to get Netflix to add descriptive audio, and now it is the leader in providing access to films and shows to the blind.
With the second episode I took a different approach. I recorded it with my Comcast DVR, which also would have recorded the descriptive audio feature had it been available, to help me understand the events in the scenes. A 42-minute show turned into an hour and a half of constantly hitting the rewind button. Ultimately, I got frustrated and stopped listening to it.
Up to this point, I had enjoyed the acting of Watson. The banter between her and her father is heartwarming and fun, while Murphy, played by Mattfeld, came across as forced and very stiff. I was also horrified by how Murphy treated her guide dog, and was unclear why her mother did not know how to interact with her blind daughter. Yet, based on Watson's performance alone, I recruited Peter Gawtry, who works at the Center for Academic Excellence at Metropolitan State University in St. Paul, Minnesota, and is well-versed in working with students with disabilities, to provide me with descriptive audio for the third episode of the show.
Over the phone, Gawtry narrated the scenes and described the characters to me. I soon learned the show has flashbacks, and that was one of the reasons why so many of the scenes were unclear. I also discovered that Murphy slept on a mattress without a bed frame, and confirmed that she was physically distant from her guide dog — even though she ran a guide dog school her parents opened up just so she would have a place to work.
I could not help but wonder: how can a show with a blindness consultant get the blind experience so wrong? I contacted Greg Shane, artistic director at CRE Outreach, an arts nonprofit that provides performing opportunities to underserved populations, and is the home of Theatre by the Blind, to shine some light on this topic. He said, "I would recommend for studios wanting to do disability-themed productions, to hire at least two or three consultants. It is limiting to think that one person alone can hold the experiences of an entire community."
"Hiring multiple disability consultants," he continued, "will not just provide a representative range, but also give jobs to people with disabilities."
I reached out to "In the Dark's" publicist, Cyndee Ellefson, for comment, but did not get a reply. I also took a look at the show's viewership and was not surprised to see it was not doing so well.
Mattfeld was described to me as tall, thin, and pretty, and if the show gets canceled, she will have the ability to go on and get roles playing all types of characters. In fact, we may see her on another CW show playing a sassy friend, strict teacher, demon, super hero, or beautiful enchantress. However, Watson, the stronger actor, will have limited roles to audition for over the next few years. Studios may see her talent but, ultimately, pass on her because she would have limited credits to her name — a result of also losing parts to sighted actors.
Belo Cipriani is an award-winning author and prize-winning journalist. His new book, "Firsts: Coming of Age Stories by People with Disabilities," is now available. Learn more at www.olebbooks.com.
Comments on Facebook