SF Public Defender Jeff Adachi dies
Wednesday Feb 27, 2019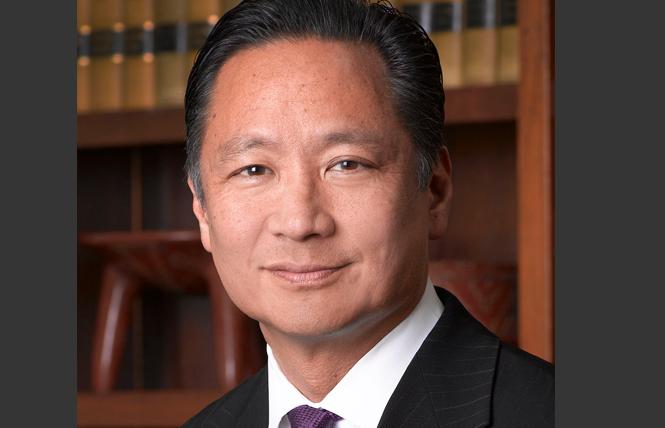 San Francisco Public Defender Jeff Adachi died Friday, February 22, leaving a void in an office that is dogged in its representation of indigent clients. He was 59.
According to media reports, Mr. Adachi was with an unidentified female friend in North Beach when he apparently suffered a medical emergency. He was rushed to a hospital where he was pronounced dead.
San Francisco police are investigating the case, but do not suspect foul play.
Mr. Adachi, a straight ally who was the only elected public defender in the state, was a staunch advocate for those needing legal representation in criminal cases.
Mayor London Breed announced Mr. Adachi's death late Friday.
"As one of the few elected public defenders in our country, Jeff always stood up for those who didn't have a voice, have been ignored and overlooked, and who needed a real champion," Breed said. "He was committed not only to the fight for justice in the courtroom, but he was also a relentless advocate for criminal justice reform."
The mayor noted that Mr. Adachi "led the way on progressive policy reforms, including reducing recidivism, ending cash bail, and standing up for undocumented and unrepresented children."
Gay District 8 Supervisor Rafael Mandelman called Mr. Adachi's unexpected death "terribly sad."
"He was a tireless public servant, and a great champion of his office, the attorneys who worked for him, and the clients they represent," Mandelman told the Bay Area Reporter in a text message Tuesday.
Niki Solis, a deputy public defender who is a lesbian, said Mr. Adachi was a mentor and friend.
"He was always there, answering my late night texts and picking up midnight or early morning phone calls," Solis said in a statement issued by the public defender's office. "He broke the mold, not making decisions based on political expediency, but on simply what was right. There is no replacing a man of his magnitude, but he, of all people, would be the first to say, 'keep fighting on.'"
Mr. Adachi began in the office in 1987 as a deputy public defender and became a five-time elected public defender for San Francisco.
"He revolutionized our office, bringing in much-needed technology and greatly increasing crucial support staff such as paralegals, investigators, and social workers," the statement from the public defender's office said.
Mr. Adachi was also a constant thorn in the side of police, and would not hesitate to call attention to alleged misdeeds, such as the racist and homophobic texting scandal in 2016.
District Attorney George Gascón, who frequently tangled with the public defender's office, said he was stunned by the news.
"I am deeply saddened by the unexpected news today," Gascón wrote on Twitter late Friday. "Jeff was a passionate advocate who always fought for what he believed in. He represented the underserved and gave his career to public service."
Breed is expected to soon appoint an interim public defender. Matt Gonzalez, the office's chief attorney, is overseeing day-to-day operations.
The public defender's race will now be added to the November 5 election, and the winner will serve the remainder of Mr. Adachi's term. He was just re-elected last fall and ran unopposed.
Garrett L. Wong, presiding judge of the San Francisco Superior Court, issued a statement calling Mr. Adachi a "tireless advocate for all San Franciscans."
"This truly is a sad day for all who benefited from his ardent pursuit of justice," Wong added.
Breed's office announced that a public memorial service for Mr. Adachi will be held Monday, March 4, at 11 a.m. at City Hall, 1 Dr. Carlton B. Goodlett Place. The service will be open to the public.
Mr. Adachi is survived by his wife, Matsuko, and his daughter, Lauren.
Comments on Facebook