Appel, Bernstein moved to rehab and healing
Wednesday Feb 20, 2019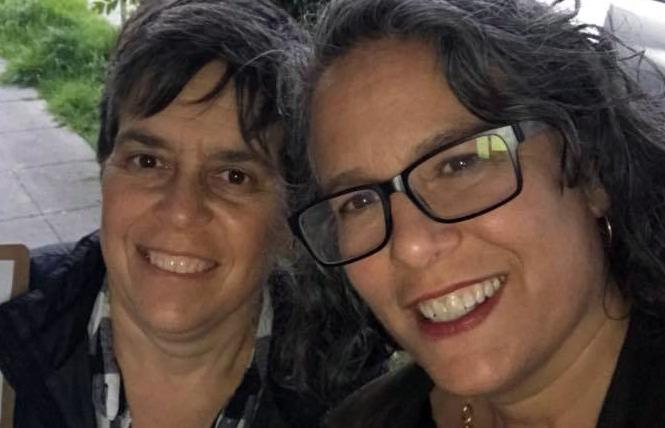 After being hit by a car over a month ago, Judy Appel, president of the Berkeley school board, and her wife, attorney Alison Bernstein, have both been moved into rehab from the intensive care unit at Highland Hospital in Oakland and are healing well, according to friends of the couple.
"Their care team is saying that Judy and Alison are continuing to work with their speech, occupational, and physical therapy. Judy is still not able to walk on her injured leg, but is now able to stand, and Alison is steadily working on her recovery from her traumatic brain injury," Martin Rawlings-Fein, a friend of the women, who have two children, told the Bay Area Reporter last week.
Appel and Bernstein, ages 53 and 54, were hit by an 81-year-old male driver January 5 when they were walking to their Berkeley home. They were crossing Martin Luther King Jr. Way in a crosswalk near Stuart Street shortly after midnight. Appel had just begun her term as the board's president prior to the accident.
Berkelyside.com published a lengthier statement that was released by an online community group set up by friends and family of the couple at http://www.lotsahelpinghands.com. It stated that the women are "recovering incredibly well" but "each have a long road of rehab ahead of them. We now expect both of them to make a complete or almost complete recovery."
The statement also revealed more details about their injuries. Appel "sustained countless fractures on the left side of her body," while Bernstein suffered skeletal fractures along with a brain injury. Both women have been moved to the rehab unit after spending weeks in the intensive care unit at Highland.
"Judy is now able to stand and move herself around a bit. It won't surprise any of you who know Judy that she's the very definition of persistence and resilience," the statement continued.
Bernstein is currently "walking, talking, and sounding a lot like herself," thanks to a "strict rehab regimen," the update also said. "As is common when recovering from brain injury, Alison is tired and really focusing all of her energy on recovery."
The driver who hit Appel and Bernstein has continued to cooperate with police. The Berkeley Police Department is waiting for blood results of the driver and no arrests have been made, BPD spokesman Officer Bryon White informed the B.A.R. last week. White previously told the B.A.R. that the primary cause of the collision was a "failure to yield the right of way to a pedestrian crossing the roadway within any marked crosswalk."
The pedestrian and auto collision was just one of nine pedestrian-vehicle collisions in Berkeley that left 11 pedestrians injured, as of late January, as previously reported by the B.A.R. Last year, the city averaged nine to 10 pedestrian-involved collisions a month. The incident has brought renewed attention to an issue city officials say they are creating an action plan for with a Vision Zero policy.
On February 5, Berkeley City Council held a special meeting on its process to update the city's pedestrian master plan, according to Berkeleyside.
Appel was the first out lesbian to be elected to the Berkeley school board in 2012. She was re-elected in 2016 and in December began her latest term as president. In June 2018, Appel unsuccessfully ran in the primary for the 15th Assembly District seat. Former Obama staffer Buffy Wicks was elected to the position in November.
Bernstein is a senior deputy attorney with the Office of the State Public Defender, where she represents capitally sentenced men and women in both direct appeal and state habeas proceedings. She has spent over 16 years at the office, according to her LinkedIn profile.
A GoFundMe account was set up for the women's medical costs and raised over $14,000. The site is no longer active due to reaching its contribution goal.
Comments on Facebook