Business Briefing: Gay-owned Berkeley bakery takes a stand for AAPIs
Wednesday Jun 9, 2021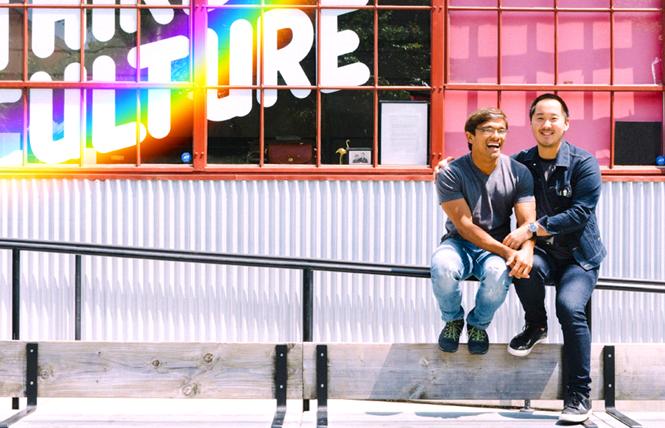 Husbands Sam Butarbutar and Wenter Shyu, co-owners of Berkeley's Third Culture Bakery, are using their culinary skills to stand up for the Asian American and Pacific Islander community in light of the wave of attacks against API people and the overt discrimination the AAPI community has faced since the start of the COVID pandemic.

With the disease first seen in Wuhan, China, and former President Donald Trump using racist language to refer to the novel coronavirus, API communities across the country have experienced increased hostility since March 2020. This past March rallies and protests broke out in myriad cities, including San Francisco, in response to multiple incidents of AAPI seniors being beaten in the Bay Area and the shooting deaths of eight people, including six Asian women, in the Atlanta region.

In response Butarbutar, 32, and Shyu, 31, themselves Asian immigrants, launched a fundraiser and created safety kits to hand out to AAPI individuals, particularly those over 40 years of age, transgender individuals and other members of the LGBTQ+ community. Each kit comes with an "extremely loud" keychain alarm, one keychain pepper spray container, a lanyard and wristband. Instructions on how to use the items come in Chinese, Vietnamese, Thai, Japanese, Korean, Spanish, and more.

They have raised more than $40,000 and, as of June 1, have assembled and distributed 7,400 safety kits across multiple states and cities. They are nearing their goal of distributing 12,000 kits and plan to soon start handing them out in New York City and other locations.

Shyu said the couple "felt so hopeless" at first and personally donated to several nonprofits and GoFundMes that were set up. Then they came up with the idea for the safety kits and reached to Chinatown leaders in San Francisco and Oakland for help with handing them out.

"Money is great and helps support the families," he said. "For us, we wanted to do something more fungible. People wanted these families to feel safe."

Butarbutar was born in Indonesia and grew up in New York; Shyu is from Thailand and grew up in Los Angeles. They chose the name of their bakery purposefully for its reference to children with mixed identities influenced both by their parents' culture and the culture in which they are raised.

"I was too white for Asian kids and too Asian for white kids," recalled Shyu. "In high school I identified with it — third culture — because it helped me grapple with my identity."

Butarbutar added that the term resonated with him as he missed the different flavors and tastes he grew up with overseas. He purposefully incorporated tropical ingredients, such as coconut and rice flour, into his baking to satiate those cravings.

"No one was making it, and I selfishly wanted to eat those things," he said.

It is bittersweet in a sense, as when the men came out to their families a year after opening their bakery it led to Butarbutar no longer being on speaking terms with his parents. Their staff of 26 and growing has become the couple's chosen family.

"Now we have our family here to take care of. They are my priority now," he said.

Shyu, whose family embraced his being gay, said the couple is using the success of their business to be role models for other LGBTQ AAPIs who may not be accepted by their families.

"We are using the bakery as a platform to further images of inclusivity," he said.

The safety-focused fundraising drive coincided with the 4th anniversary on April 1 of their launching Third Culture Bakery. The couple, together since 2016, each had started their own East Bay bakeries in 2014: Butarbutar ran Sam's Patisserie in Berkeley, Shyu's owned We the Minis in Oakland.

Having met at a bakers' brunch, the couple merged their operations in 2017 and their mochi donuts and muffins quickly became beloved desserts by a loyal fan base. They have expanded out of state to open locations in Aurora, Colorado last year and Denver this April, and will be opening their second Bay Area location this summer.

In July the couple plans to open a new matcha cafe in downtown Walnut Creek at 1310 S. California Boulevard. Their fourth location will feature the green Japanese tea in everything from drinks to desserts in addition to their mochi treats.

The butter style mochi muffins and donuts, which are baked not fried, were inspired by Butarbutar's mom's cooking with rice flour to make special treats for Christmas and New Year's. Her desserts were very coconut centric, he recalled, and used the pandan leaf, as the plant grows wild throughout Southeast Asia. Securing enough of the fragrant leaves took some doing in the U.S. for the couple.

"We found a family shop in the Bay Area and from Los Angeles," said Shyu, who they are now regular customers of as they can handle the ingredient volume they require.

When they first started they were making 10 dozen pastries a week; today they crank out 25,000 a month. The mochi donuts have been especially popular.

"The donuts have been a huge addition. It kind of blew up," recalled Shyu.

Each season they incorporate different flavors into the mix, noted Butarbutar.

When the COVID pandemic first hit, just as they opened their Aurora location, the couple faced a difficult March and April last year when they closed their physical locations and only provided curbside pickups or deliveries.

They survived, partly by their ability to ship many of their pastries to customers across the country who can place orders via their website. Last June, they were able to reopen for in-person orders and their sales "shot up," mainly because they were one of the few places open in their neighborhood.

"They call it the new Gourmet Ghetto," said Shyu, as there are a dozen other food businesses in their building known as the Berkeley Kitchens. "It is a little hidden gem."

To learn more about Third Culture Bakery and to order their products online, visit https://thirdculturebakery.com/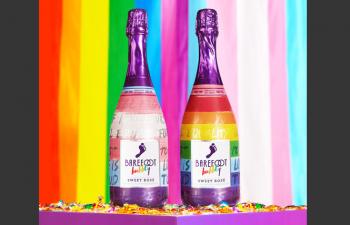 A rosé toast to LGBTQs
Longtime supporter of the LGBTQ+ community Barefoot Cellars is toasting Pride Month with limited-edition bottles of its brand new Barefoot Sweet Rosé Bubbly. One design features the colors of the rainbow Pride flag, while another sports the pink, white and blue colors of the transgender Pride Flag.

The bottles range in price from $7.47 at Total Wine & More, $8.99 at Target, and $9.99 at other retailers. For up to 100,000 cases sold between March 1 and January 31, 2022 the Modesto-based company will donate $1 of the proceeds toward two LGBTQ charities. Thus, Free Mom Hugs and the National Center for Transgender Equality both stand to receive $50,000.

Free Mom Hugs is an Oklahoma-based nonprofit consisting of parents and allies who love the LGBTQ+ community and work toward full affirmation and equality. The Washington, D.C.-based nonprofit National Center for Transgender Equality fights for the rights of transgender people across the U.S.

Outside of Pride Month Barefoot is planning to launch a digital content campaign later this summer as part of its special rosé promotion and additional efforts throughout the year.

For more information and to order the special Pride bottles online, visit https://www.barefootwine.com/

Got a tip on LGBTQ business news? Call Matthew S. Bajko at (415) 829-8836 or e-mail m.bajko@ebar.com



Help keep the Bay Area Reporter going in these tough times. To support local, independent, LGBTQ journalism, consider becoming a BAR member.