SF supervisors back Eagle bar landmark request
Tuesday Feb 2, 2021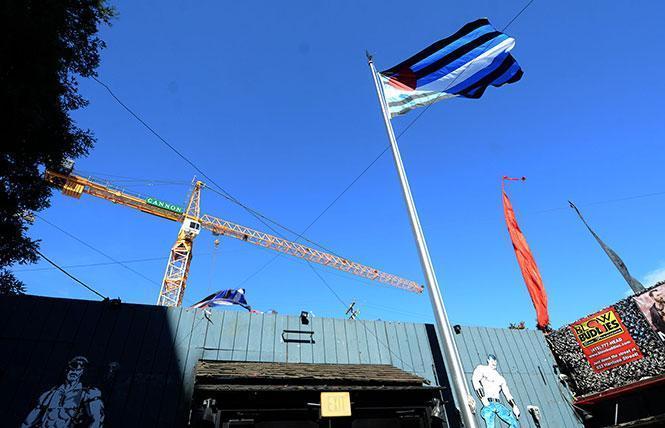 The San Francisco Board of Supervisors is supporting a request to landmark the gay-owned Eagle bar in the city's South of Market district.
The supervisors unanimously voted 11-0 Tuesday to back District 6 Supervisor Matt Haney's resolution initiating the process to designate the Eagle as a city landmark. It would be the third gay bar location in San Francisco given such status if approved, and the first LGBTQ city landmark located in SOMA and related to queer leather culture.
The city's historic preservation commission now has 90 days to take up the matter. Following its decision, the supervisors would need to vote on officially designating the bar at 398 12th Street a local landmark.
"The city needs to do more to acknowledge the critical role that places like the Eagle continue to play in making San Francisco such a special place, and I am proud to put forward one of SOMA's most beloved Legacy Businesses and gay bars for this important distinction," stated Haney following the board vote.
The nightlife venue is seen as a focal point for the Leather and LGBTQ Cultural District. It provided the name for the Eagle Plaza public parklet honoring leather culture in the city built into the street in front of it.
"Not only is it a landmark and a safe haven for everyone, they continuously do work on fundraising," noted Tammy Lg Hatter, the first and reigning Ms. SF Eagle, of the money the bar has raised for numerous community groups at last week's hearing of the supervisors' land use and transportation committee that also voted 3-0 in support of Haney's resolution.
The Eagle opened in May 1981 and closed in 2011. At the time LGBTQ community leaders had called for the city to landmark the site, but their suggestion was not taken up back then.
Lex Montiel and his late business partner, Mike Leon, who died in 2019, bought the business in 2012. They reopened in March 2013, reviving the Eagle's enormously popular Sunday beer busts held on its spacious outdoor patio until the COVID pandemic forced it to close last March.
"Why I got personally invested in saving it," Montiel told the committee last week, "was to continue the tradition of fundraising for the community and provide a safe space for everybody in San Francisco and everybody from across the world who comes here."
The sale of the property on which the bar is located at the corner of 12th and Harrison streets last September spurred Haney, who represents SOMA, to seek landmarking the bar. Doing so would afford it some protection, as any development proposals would need to be approved by the city's oversight bodies.
According to property records Robert G. Scypinski purchased the site. He has yet to speak publicly about his plans for it.
Help keep the Bay Area Reporter going in these tough times. To support local, independent, LGBTQ journalism, consider becoming a BAR member.
Comments on Facebook