Updated: Online petition asks SF supes, mayor to rename SOMA street for Harvey Milk
Wednesday Jan 15, 2020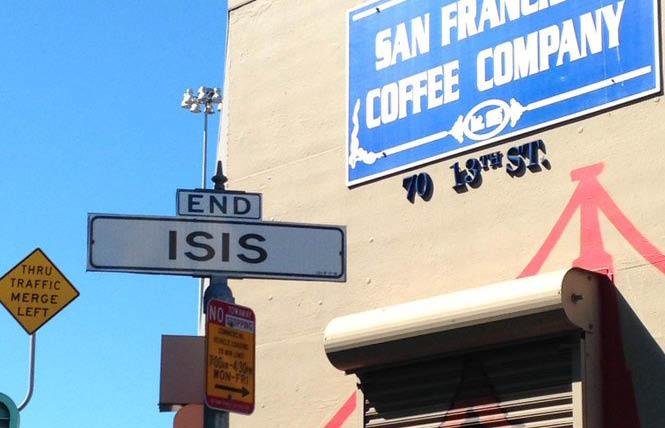 A nascent effort has been launched to add San Francisco to the list of American cities with a street named after the late gay Supervisor Harvey Milk. The first such proposal to award such an honor to Milk failed to gather steam back in 1999.
Several days ago a change.org petition (https://bit.ly/2uNuSg9) was created that asks Mayor London Breed and the San Francisco Board of Supervisors to change the name of Isis Street in South of Market to Harvey Milk Street.
As of Thursday, it had garnered 36 signatures toward a goal of 100.
At least two San Francisco supervisors expressed their support for the idea. District 6 Supervisor Matt Haney (Isis Street is in his district) wrote to the Bay Area Reporter over text message, "I love it."
"I'm definitely for more streets named after our local LGBT heroes, and it'd be amazing to have a street named after Harvey Milk in West SOMA," Haney wrote. "It's a great location for that. I'll check in with the community about it and next steps."
Gay District 8 Supervisor Rafael Mandelman, the lone LGBT member of the board, wrote to the B.A.R. that he supports having a street named for Milk, but would prefer it if such a street would be in the Castro neighborhood that Milk represented.
"I'm a fan of naming everything we can after Harvey Milk! Naming a San Francisco street after Harvey certainly seems appropriate, though I'd obviously love for it to be in the neighborhood he represented on the Board of Supervisors," wrote Mandelman, who now represents the Castro at City Hall. "I'm happy to have discussions about any possibilities with community members and friends and family of Harvey's."
David Collins, 59, who started the petition, wants Isis Street, a side street between 12th and Division streets, named after Milk. It is near the SF Eagle leather bar and the under-construction Eagle Plaza in the Leather and LGBTQ Cultural District.
"Its name presumably had paid homage to 'Isis,' a goddess from the polytheistic pantheon of Egypt," states the petition. "Unfortunately, Isis has taken on a new, maleficent meaning, referencing the Islamic State of Iraq and Syria.
"This petition will be presented to San Francisco Mayor London Breed and the San Francisco Board of Supervisors in hopes that they will take action and change this street name to Harvey Milk St.," the petition reads.
Collins, a straight ally, spoke with the B.A.R. by phone early Thursday. He owns a 10-unit building on Isis Street.
"How would you like to be a disabled American veteran in your wheelchair on Isis Street?" he asked.
Collins said that his proposal is primarily about getting the Isis name off the street while honoring Milk, saying his LGBT relatives and friends might not have come out if not for Milk. The gay leader, both in his political columns he wrote for the B.A.R. and in his campaign stump speeches, implored LGBT people to come out of the closet.
"This isn't about me," Collins said. "If someone in the LGBT community wants to take the mantle, I don't mind. But if it starts with me, it's OK. I just want a more positive name for the street and neighborhood."
Collins feels that the location is appropriate because of the historic LGBT presence in the South of Market neighborhood.
"We have the Eagle Plaza on one side and Folsom Street on the other side," Collins said. "Harvey Milk would fit right in."
Robert Goldfarb, a gay man who serves as the president of the Leather and LGBTQ Cultural District board, wrote in an email to the B.A.R. early Thursday he will see what people in the area think of the proposal.
"Naturally, we are in favor of ways to honor Harvey Milk and we're also interested in what the residents think of the change," Goldfarb wrote. "Additionally, we believe that on other streets in the leather & LGBTQ district, there are many ways to commemorate leather leaders and the neighborhood's rich history which would benefit everyone who visits, works, or lives in the district."
Collins said that he reached out to then-District 6 Supervisor Jane Kim "four or five years ago" about the possibility of a name-change for Isis Street and she said she would support it if Collins got a petition started. But at the time he thought that ISIS would fade from people's memories, and he was occupied with other things.
"I thought ISIS would go away, but in the meantime it's only gotten worse," he said.
Kim did not immediately respond to a request for comment.
Collins said in a January 17 phone call with the B.A.R. that he'd be open to renaming Isis Street after something related to the military instead, in light of comments from LGBTs that a street named for Milk should be in the Castro neighborhood, and that a street in South of Market would be more appropriately named for a member of the leather community.
"Maybe instead of Isis Street, it could be something that has a patriotic connotation like Veterans Street," Collins said, adding that he may rework his efforts to reflect that. "The most compelling thing is to take the Isis name off.
"The LGBT community is in a better position to name Harvey Milk street, and i would support that," he added.
Past effort unsuccessful
San Francisco — where Milk in 1977 became the first gay elected official in California — does not have a street named for the slain LGBT civil rights icon. San Diego had the first street named for Milk, in 2012. Salt Lake City named a street for the gay icon in 2016, followed by Portland, Oregon in 2018.
Twenty-one years ago a proposal to rename a stretch of Market Street from Octavia Boulevard to Portola Drive — a main artery through the heart of the city's LGBT Castro district — after Milk went nowhere. A resident and business owner of the Castro, Milk represented the neighborhood at City Hall for 11 months in 1978 until he was assassinated November 27 that year.
That proposal from the Castro Citizens Congress, a neighborhood improvement group, needed 10,500 signatures to make the November 1999 ballot, according to a contemporaneous story in the San Francisco Examiner.
It didn't make it, according to the San Francisco Department of Elections website.
But in the City by the Bay, and especially in the Castro neighborhood, Milk's name is still omnipresent.
The San Francisco Public Library branch in the Castro is named for Milk, as is the plaza above the Castro Muni station, and the LGBTQ Democratic club he founded after his 1976 election defeat (originally called the Gay Democratic Club).
Milk's name appears on Terminal 1 at San Francisco International Airport, the building that houses a Job Corps center on Treasure Island, an elementary school in the Castro, and an arts center in Duboce Triangle.
Milk also has an F Market streetcar, a bust in City Hall, a United States Postal Service stamp (2014), and a state holiday of special significance on May 22, Milk's birthday.
The U.S. Navy announced last month that it began construction on a ship named for Milk.
Street names
Any request for a street renaming faces a lengthy process. It would need to be scheduled for a supervisors committee and voted on by the full board.
Several street names in San Francisco have changed in recent decades to reflect the diversity of the city's population. Most notably, there was a bitter fight in 1995 over Army Street.
The Board of Supervisors voted to rename the street after Latino labor leader Cesar Chavez in 1995. But the name change came at a time of racial discord in California in the aftermath of the anti-immigrant Proposition 187, and many white residents wanted the name changed back to Army.
A ballot proposition to remove Chavez's name went down in defeat November 7, 1995 54%-45%, according to the elections department.
In more recent years, there was considerably less controversy when Phelan Way was renamed in 2018 for Latina bisexual artist Frida Kahlo, and when a block of 16th Street was renamed 1 José Sarria Court, after the first openly gay candidate for public office in the United States. Sarria, a legendary drag queen, ran unsuccessfully for a seat on the San Francisco Board of Supervisors in 1961 and founded the Imperial Court system.
That block, where the Eureka Valley/Harvey Milk Memorial Branch Library is located, was renamed for Sarria in 2006, when he was still alive. (Sarria died in 2013.)
The city has also bestowed honorary street names that recognize LGBT community members, meaning that they do not impact the mailing addresses for businesses and residences on that block.
The 100 block of Taylor Street was renamed Gene Compton's Cafeteria Way after the business where a transgender-led uprising against police brutality occurred in 1966, three years before the more famous Stonewall riots in Manhattan.
The 100 block of Turk Street was named Vicki Mar Lane, after trans performer Vicki Marlane, who died in 2011 at the age of 76 due to AIDS-related complications.
Marlane had hosted a popular drag revue show at gay bar Aunt Charlie's Lounge, which is located at 133 Turk Street. She is the first transgender person to be honored with a street naming in San Francisco.
In 2014, Lech Walesa Alley between Polk Street and Van Ness Avenue was renamed Dr. Tom Waddell Place, due in part, to the former Polish leader making homophobic comments. Waddell was the founder of the Gay Games.
A block of Myrtle Street near City Hall is named for lesbian author Alice B. Toklas, who was born nearby. And Jack Kerouac Alley in North Beach honors the bisexual Beat Generation writer.
Comments on Facebook