Online Extra: Political Notes: Field set for Palm Springs area CA Senate seat
Monday Jan 13, 2020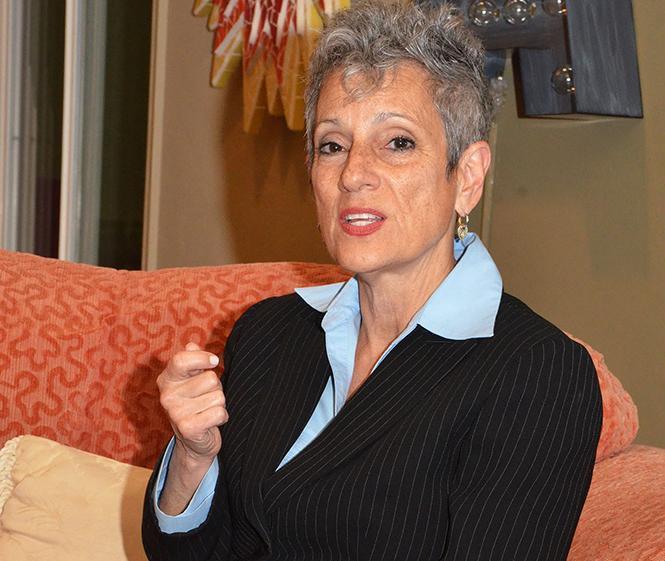 With the field now set in the special election for a Palm Springs area state Senate seat, speculation is growing that the lesbian candidate in the race will compete against a Republican in the May runoff.
Two GOPers and three Democrats filed to seek the 28th Senate District seat by the January 9 deadline to do so. The district includes a large swath of Riverside County, including several Coachella Valley cities that attract LGBT retirees and vacationers.
It became vacant last year when former state Senator Jeff Stone (R-La Quinta) resigned to take a job with the Trump administration as the western regional director in the Department of Labor. A special election to fill the seat was combined with the March 3 primary.
If none of the five candidates captures more than 50% of the vote, then the top two vote-getters regardless of party will face-off May 12. It is widely expected that Assemblywoman Melissa Melendez (R-Lake Elsinore) will advance to the runoff if she fails to win the seat outright in March. Fellow Republican John Schwab, a small business owner, is also running.
Due to Joy Silver securing the state Democratic Party's endorsement this month, the aging policy expert and affordable housing advocate has seen her odds of competing against Melendez in the runoff significantly improve. Also seeking the Senate seat are Democrats Elizabeth Romero, who serves on the Riverside County Board of Education, and nurse Anna Nevenic.
"We have the opportunity to defeat Assemblywoman Melissa Melendez, a Trump Republican, who is out of touch with the real concerns of real people," stated Silver in a recent email to supporters. "She does not share our Democratic values and has not delivered for us — instead, she has consistently voted against the safety of this community."
Silver narrowly lost to Stone in 2018 and had already announced she planned to run again in 2022 for the seat. She and her partner, Atma Wiseman, live in Palm Springs.
Over the last month Silver has picked up endorsements from LPAC, which aims to elect lesbians to public office, California Lieutenant Governor Eleni Kounalakis, state Treasurer Fiona Ma, and civil rights icon Dolores Huerta.
Kounalakis, in announcing her support of Silver, stated, "A woman of vision, she is a powerful advocate for equality and inclusion, and I am proud to endorse her."
Should Silver win, she would be the first out member of the state Legislature from the Coachella Valley. And she would increase the ranks of the Legislative LGBTQ Caucus, which will see two of its seven members leave the statehouse in December. Lesbian Senator Cathleen Galgiani (D-Stockton) is termed out of office, and gay Assemblyman Todd Gloria (D-San Diego) is running to be mayor of his city rather than seek re-election.
Victory Fund backs queer CA House candidate
The LGBTQ Victory Fund has endorsed queer San Diego City Councilwoman Georgette Gomez's bid for an open House seat. If she wins, Gomez would be only the third LGBT community member elected to Congress from California.
She would also become one of the first two openly LGBTQ Latinx members of Congress from any state, along with Victory Fund candidate Ritchie Torres, who's running for Congress in New York's 15th District.
Gomez, president of the council, is seeking the 53rd Congressional District seat as Congresswoman Susan Davis (D-San Diego) opted not to run for re-election in 2020. Having secured the state Democratic Party's endorsement in the fall, Gomez is increasingly seen as the candidate to beat in the race.
Also running are former Hillary Clinton campaign adviser Sara Jacobs and political newcomer Janessa Goldbeck, who is queer and a military veteran. In December, statewide LGBT advocacy organization Equality California dual endorsed Gomez and Jacobs, a straight ally who sits on its board.
A total of 11 Democrats qualified for the ballot, as did three Republicans and one independent.
"In a crowded field, Georgette Gomez has demonstrated that she's the candidate best prepared to represent San Diego in the U.S. Congress," stated Annise Parker, the victory fund's president and CEO and a former Houston mayor. "San Diego has long been home to talented, dedicated LGBTQ officials, and we think it's time that its congressional delegation reflects this diversity. Rooted in her experience as a local advocate and elected official, Georgette will fight for all her constituents as she seeks to expand healthcare and combat the climate crisis."
In an email to her supporters announcing the endorsement, Gomez noted how important it is to her being that she is San Diego's first LGBTQ Latina City Council president.
"When I first decided to run for public office, I wanted to make sure I was open about my queer identity. It was my experience coming from the LGBTQ community, as well as the inspiration of the amazing women before me, like LGBTQ trailblazers (former state Senator) Christine Kehoe and Senator Toni Atkins, that gave me the courage to enter the political arena," she wrote. "I'm hopeful that my campaign for Congress will also send a message to aspiring LGBTQ public servants that they too can serve at the highest levels of our government."

Gay candidate dinged by CA watchdog agency
An out candidate who lost his bid for an Assembly seat in 2016 is set to be fined $6,000 by a state watchdog agency this month due to failing to properly disclose and report donor information.
Palm Springs resident Greg Rodriguez, a gay married father who is HIV-positive, lost his bid to oust then-freshman Assemblyman Chad Mayes from his 42nd Assembly District seat, which covers most of Riverside and San Bernardino counties. Mayes, from Yucca Valley, at the time was a Republican but last month registered as an independent when he filed to seek re-election this year.
According to the California Fair Political Practices Commission, Rodriguez and his campaign committee were found to have failed to maintain adequate records for contributions and expenditures, failed to timely file three 24-hour reports of significant donations, and failed to timely report the required contributor information on campaign statements. The oversight body is expected to approve the fine against Rodriguez when it meets Wednesday, January 15.
In its report of its audit of Rodriguez's campaign account, the agency noted that he informed the auditor that after he lost the election, he closed the campaign accounts and shredded the records. He also informed the agency he was unable to obtain the missing records from the bank due to the deposits being done via an ATM machine, which does result in electronic copies, and that he did not have slips for those donations made online via credit cards.
The report also noted "Rodriguez claims the anonymous contributors donated small cash amounts and did not fill out envelopes to report their names and information. Due to the lack of recordkeeping, we are unable to determine if each of the cash deposits were from a single source and required contributor information to be reported on the Committee's campaign statements."
The maximum penalty could have been $15,000 for the reporting errors. The FPPC decided to recommend the lesser amount since its audit determined "there was no evidence to support an intent to conceal, deceive or mislead the public."
But it did fault Rodriguez for shredding his records and felt a large fine was necessary since he should have been aware of the reporting requirements having worked on political campaigns for more than three decades.
Due to the MLK Jr. holiday, the Political Notes column will return Monday, January 27.
Keep abreast of the latest LGBT political news by following the Political Notebook on Twitter @ http://twitter.com/politicalnotes
Got a tip on LGBT politics? Call Matthew S. Bajko at (415) 829-8836 or e-mail m.bajko@ebar.com
Comments on Facebook