Online Extra: Buttigieg surge in Iowa 'forever changes what is possible'
Monday Nov 18, 2019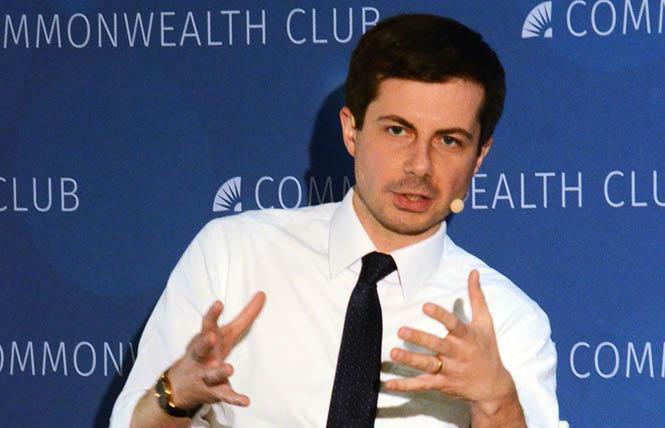 In a historic first, a gay presidential candidate for a major party nomination has topped the polling in Iowa, the first state that will select its delegates to the party nominating conventions.
A Des Moines Register-CNN poll of likely Democratic caucusgoers found 25% support South Bend, Indiana Mayor Pete Buttigieg, compared to 16% for Senator Elizabeth Warren (Massachusetts), and 15% each for Senator Bernie Sanders (I-Vermont) and former Vice President Joseph R. Biden Jr.
But it wasn't just Buttigieg's first-place polling that snared the headlines. He's done that before. It was the fact that his support in Iowa constituted a 16-point leap in less than two months that drew notice.
"This is a real surge," said an article in the conservative National Review. Now, pundits are analyzing the why and how behind that surge.
Buttigieg has spent considerable time in Iowa, a factor that often translates into better polling. In early November, for instance, he made 11 appearances in four days — compared to seven each by Warren and Sanders and four by Biden. He's also aired an "aggressive" number of television ads, according to www.fivethirtyeight.com. And CNN attributed the improvement to Buttigieg's strategic decision to position himself as a moderate alternative to Warren and Sanders.
Whatever the reason, for the LGBT history books, the polling carries extra significance.
"That an openly LGBTQ presidential candidate is leading in one of the most important primary states is a revolution in American politics, and it forever changes what is possible," said Annise Parker, president of the LGBTQ Victory Fund. Parker herself made history in 2009 when she became the first openly gay person to be elected as mayor of Houston, one of the top five most populated cities in the United States. The Victory Fund endorsed Buttigieg in June.
"Pete's run — and the tremendous success he's having on the campaign trail — will certainly inspire more LGBTQ people to run in communities they once thought impossible to win," said Parker. "The floodgates have been opened — and we will see the effects of that in 2020."
In addition to the general public's feelings about gay people, Buttigieg has had to overcome other hurdles: being essentially unknown to most voters nationwide, being the mayor of a small Midwestern city, and carrying a hard-to-pronounce name into the public arena. But Buttigieg has polled and fundraised well enough to stay on the national debate stage and as a steady contender when better known Democrats have had to bow out (like former Texas Congressman Beto O'Rourke and Senator Kirsten Gillibrand of New York) or have failed to break into the top five in a field of 18 candidates (Senators Cory Booker of New Jersey and Amy Klobuchar of Minnesota).
The Des Moines Register-CNN poll released November 16 came just two days before a CBS poll found Buttigieg essentially tied in Iowa with Biden and Sanders. A Monmouth University poll two days before that showed him in the lead in the Hawkeye State, but by only 3 points that the margin of error essentially neutralized.
The Des Moines Register and CNN called 2,012 "active registered voters," including 500 "likely Democratic caucusgoers." The survey was conducted November 8-13 and has a margin of error of plus-or-minus 4.4 points in the Democratic sample. So, Buttigieg's 9-point lead is significant.
The Iowa poll immediately increased the amount of media attention and consideration being given to Buttigieg's bid for president, as well as tougher scrutiny. The Washington Post did an article noting that a stock photo used as an illustration for Buttigieg's "Douglass Plan for Black America" was a photo of a Kenyan woman. The Associated Press examined whether Buttigieg might be "overstating" his military service in Afghanistan. The New York Post reported criticism of a photo of Buttigieg in front of a Holocaust memorial. And NBC did a story saying Buttigieg was "struggling with black voters," which has been the case for months. That was heightened this summer after an officer-involved shooting in South Bend left a black man dead.
Speaking of black voters, a poll released Monday of likely voters in South Carolina, which has a much greater percentage of black voters than Iowa or New Hampshire, showed Buttigieg stalled at 6%, compared to previous polls. Buttigieg came in a distant fourth among the candidates with all South Carolina voters; Biden took 33%, Warren 13%, and Sanders 11%. And Buttigieg garnered less than 1% of the vote among black voters specifically.
Voters saying they didn't know which candidate they would vote for accounted for 18% of those surveyed in South Carolina. The Quinnipiac University poll surveyed 768 likely Democratic primary voters; the margin of error was 4.8%.
Buttigieg's performance in both the Iowa and South Carolina polls could well be topics for increased discussion at the next national Democratic presidential debate, Wednesday, November 20. Another issue could be reports that his campaign overstated the number of black South Carolinians supportive of his "Douglass Plan" to address myriad issues in the African American community.
The top 10 Democratic presidential candidates face off for their fifth nationally televised debate, this time on NBC, with lesbian political commentator Rachel Maddow and three other female reporters asking the questions.
One new Democratic candidate —former Massachusetts Governor Deval Patrick — entered the race last week. Former New York City Mayor Michael Bloomberg is preparing to enter the Democratic race. Neither will be on the debate stage because they have not yet collected the necessary number of contributors, dollars, and polling numbers required by the Democratic Party for participation in the debates.
Meanwhile, the latest national poll, released Monday, shows Buttigieg hanging onto fourth place, with about 7% of the vote, well behind frontrunner Biden (with 30%), Warren (with 18), and Sanders (with 15).
Comments on Facebook