News Briefs: PRC gala to feature Frenchie Davis
Wednesday Oct 2, 2019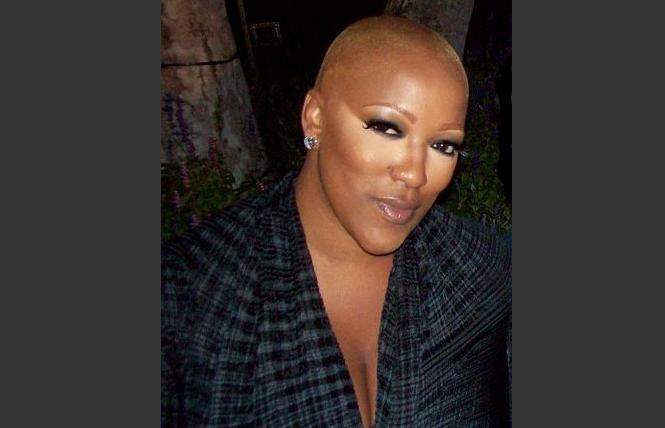 Grammy nominee Frenchie Davis will deliver a special musical performance at PRC's Mighty Real gala Friday, October 11, beginning at 6 p.m. at the Four Seasons Hotel, 757 Market Street in San Francisco.

PRC helps people affected by HIV/AIDS, substance use, or mental health issues by providing integrated legal, social, and health services that address a broad range of social risk factors that impact wellness and limit potential. A few years ago, when it was known as Positive Resource Center, it merged with the AIDS Emergency Fund and Baker Places and now provides services out if its new facility at 170 Ninth Street.

The evening will also feature a video presentation from six-time Grammy winner Dionne Warwick.

Brett Andrews, CEO, said the evening would celebrate the agency's new location.

"We are excited to welcome Frenchie Davis as our signature entertainment for the evening to help us celebrate the opening of our new integrated service center," Andrews said in a news release. "This facility helps us expand our vital community services to those who need them most. Frenchie is a consummate performer who exemplifies many of the same values as PRC. We are looking forward to her performance and to hear her share her story."

The PRC release noted that Davis rose to popularity in the early 2000s with her debut on "American Idol." After being disqualified from the show, Davis refused to let this adversity impact her future. In 2011, she reached the top five in the singing competition "The Voice," and later performed on Broadway. Following her debut on "The Voice," Davis shared her experience as a bisexual woman of color, performing regularly around the country at Pride festivals and marches.

The evening begins with a cocktail reception and will be followed by dinner, drinks, entertainment, a raffle, and auction. An after-party featuring music by DJ Lamont rounds out the evening starting at 9:30.

Four of PRC's clients will be recognized during the event and will be presented with a special award by one of the agency's sponsors: Gilead Sciences, Quest Diagnostics, Morgan Lewis, and Chevron.

Individual tickets are $300. For tickets and more information, visit www.prcsf.org

WCRC Swim a Mile event
The Women's Cancer Resource Center will hold its 24th annual Swim a Mile for Women with Cancer Saturday and Sunday, October 5-6, from 9 a.m. to 3 p.m. at Mills College, 5000 MacArthur Boulevard in Oakland.

Swim a Mile is a fun activity in which swimmers raise money for a wide range of free programs and services offered by Berkeley-based WCRC. The all-ages pool party includes food, music, and sometimes, costume contests and impromptu dancing.

Organizers said that if people don't think they can swim a mile, they are welcome to walk in the shallow end or shorten their distance.

People can form a team, find a team to participate with, or swim as an individual.

For more information, visit http://www.wcrc.org

SF early voting starts Monday
Early voting starts Monday, October 7, for San Francisco's consolidated municipal election.

Between October 7 and November 4, the voting center on the ground floor of City Hall will be open weekdays from 8 a.m. to 5 p.m. The voting center will also be open the two weekends before the November 5 election, October 26-27 and November 2-3, from 10 a.m. to 4 p.m., and on Election Day from 7 a.m. to 8 p.m.

"All eligible San Francisco residents, including non-citizens eligible to vote in the Board of Education election, may visit the voting center to register to vote, update registration information, mark and cast ballots, or obtain replacement ballots," Department of Elections director John Arntz said in a news release. "Voters may choose to vote a ballot in English, Chinese, Spanish, or Filipino, each available in paper, accessible touchscreen, and audio formats."

The department provides ballot facsimiles in Vietnamese and Korean for voters to use as reference when marking their official ballots.

The elections department has begun mailing the voter information pamphlets, which is expected to be completed at the end of this week. Absentee ballots will start going out early next week.

City Hall is located at 1 Dr. Carlton B. Goodlett Drive. For more information, contact the elections department at (415) 554-4375 or sfvote@sfgov.org

Fleet Week vets benefit
The Alexander Hamilton Post 448 of the American Legion will have a biscuits and gravy brunch benefit Thursday, October 10, from 11 a.m. to 3 p.m. at 440 Castro Street in San Francisco.

The predominately LGBTQ post will also welcome Fleet Week sailors and marines with raffles, an auction, and go-go dancers.

Tickets are $10 at the door.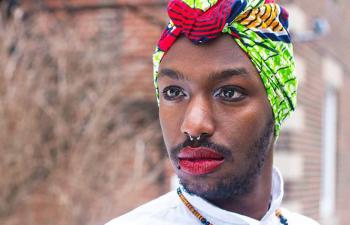 Queer Nigerian photographer to discuss new book in SF
Queer Nigerian photographer Mikael Owunna will be discussing his new book, "Limitless Africans," Thursday, October 10, from 6:30 to 8:30 p.m. at the Museum of the African Diaspora, 685 Mission Street (at Third) in San Francisco.

As a gay African immigrant who grew up in Philadelphia, Owunna has spent most of his life feeling rejected by American society due to his blackness and immigrant status and by African circles because of his sexuality and the commonly held belief that it is "un-African" to be gay.

According to a news release, Owunna began work on his book in 2013. For four years, he traveled to 10 countries across North America, the Caribbean, and Europe on a journey to learn about himself by documenting the LGBTQ African immigrant experience of others. Taking photos and interviewing dozens of LGBTQ African immigrants and asylum seekers he found that every individual he met had experienced a similar sense of rejection from all sides.

On National Coming Out Day, October 11, over 30 of the narratives Owunna produced during his travels are being published by FotoEvidence in "Limitless Africans," which is listed at $45. Owunna describes the book as "a collaborative response between me and my community to redefine what it means to be an immigrant, African, and queer at this time."

For more information, visit https://www.moadsf.org/

LGBT film screening in Sonoma
Sonoma Valley LGBT Seniors and OutWatch LGBTQI Film Festival are partnering to show the film "Snapshots" Friday, October 11, at 7 p.m. at Vintage House, 264 First Street East in Sonoma.

The movie, directed by Melanie Mayron and starring three-time Oscar nominee Piper Laurie, is the story of three generations of women coming together for a weekend at the family's lakeside cabin. It is a film about families and secrets, love and taboos, choices and legacy. The ensemble delivers authentic, emotional performances.

Sonoma Valley LGBT Seniors is an all-volunteer group committed to creating community for older LGBT seniors. The group provides monthly discussions every third Friday morning at 10 a.m. at Vintage House, as well as a variety of social activities including walks, lunches, holiday parties, and an annual Pride celebration.

Tickets for the film screening are $10 at the door. For more information, call (415) 608-5792.

LGBT center's Queer Marketplace
The San Francisco LGBT Community Center will hold its Queer Marketplace event Saturday, October 12, from 11 a.m. to 4 p.m. at the center, 1800 Market Street.

The pop-up marketplace showcases LGBTQ-owned small businesses.

To be a vendor, contact sbconsultant@sfcenter.org

Richmond Pride film screening
Richmond Rainbow Pride will hold a film screening Saturday, October 12, from 5:30 to 9 p.m. at Bridge Art Space, 23 Maine Avenue, in Richmond.

Featured films for the "Remembering History, Making History" event include "Gamers," by Searit Huluf; "Engaged," by David Scala; "Trans Justice," by Michelle Prevost and Ilena Ferrer; and films by the Queer Women of Color Media Arts Project.

The event is free. There will be food, followed by the screenings and panel discussion.

For more information, visit www.richmondrainbowpride.org
Comments on Facebook