Online Extra: Q Agenda: 'Straight' pride may come to Modesto
Tuesday Jul 30, 2019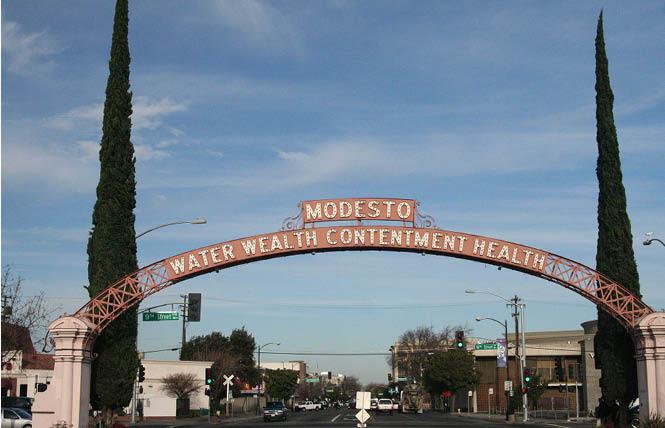 News of a planned straight pride event in Boston made headlines recently as organizers announced their intention to hold the first-ever straight pride parade in that city. Public response has included puzzlement, derision, and one epic trolling cease-and-desist letter from Trip Advisor lawyers demanding that the organization behind the planning stop using the company's logo on its "prospective sponsors" page.
Boston may not be the only city where heterosexuals bravely parade their lifestyle before an oppressive populace, however. CBS reported earlier last week that another group, the National Straight Pride Coalition, has applied for a permit for a similar event in Modesto, California.
Britni Hodge, manager of the Central Valley Pride Center in Modesto, spoke with the B.A.R about the possibility of this event happening just a mile away from the center's location.
"It's upsetting that they're having a straight pride, first of all. I went to their website, and it's more than just straight pride. They list their core value of whiteness and western civilization, so it's much more a white supremacist organization than a hetero pride one," said Hodge, a pansexual woman who is 28 years old.
The National Straight Pride Coalition's website does indeed list values including heterosexuality, the supremacy of the nuclear family and gender binary, and singles out whiteness as "the mass majority biological racial component of the developers of western civilization." The leader of these efforts indicated by the website is Don J. Grundmann, a Bay Area man and failed candidate for U.S. Senate from California in 2018.
During that election, Grundmann unleashed a diatribe of hate directed at the trans community in his official candidate statement.
"There is no such thing as 'transgender," Grundmann wrote. "It does not exist. What does exist are broken people who pretend to be the opposite sex and even mutilate themselves in the attempt."
An open Facebook group page for the California Straight Pride Coalition holds ongoing discussions about this event, as well as many other posts from Grundmann positing the LGBTQ agenda will destroy Christianity, insisting on a connection between vaccines and autism, iterating on the importance of outlawing abortion, and deriding former first lady Michelle Obama.
Grundmann, 67, spoke with the B.A.R. by phone, discussing the meaning behind the parade.
"Our vision boils down to a religious war between two different factions. One side is Christianity and the other is humanism/Satanism. Our standard-bearer is Christ, and our opponent's is the Marquis de Sade," he said.
When asked whether straight people in Modesto are being prevented from obtaining marriage licenses or being evicted from their homes to necessitate a gesture on this scale, Grundmann said no, but said "heterosexuality is generally under attack." He was unable to provide any specific examples of these attacks. He confirmed that the group has not yet received its permit.
Grundmann said the planned Modesto parade is not affiliated with the event in Boston, and is primarily motivated by concerns about ongoing drag queen story hours for children, which he referred to as "spiritual warfare."
The Modesto center is prepared to respond in case the event actually takes place, according to Hodge.
"The board held an emergency meeting ... to hear from the community on how they would like us to proceed. The parade is proposed for August 24 in Graceada Park. In response, we're offering extended hours, safe space for people, and some activities," she said. "We know that other groups are organizing a protest, and the center is not a part of that but we're available to offer any help they need if it turns violent or if they need safe space, too."
Hodge said they've appealed to the City of Modesto, and that city representatives told her they don't support the event but they can't block it from happening. The B.A.R. contacted the permitting office and noted an elevated tone of anxiety once the issue of the straight pride parade was mentioned. However, a question posed about whether the permit has been granted and what the city plans to do about security have not yet been answered.
When asked whether this was a surprising development in her community, Hodge considered the issue carefully.
"Modesto still has a very conservative element, but this is more just upsetting than surprising," she said. She suggested that anyone else who feels upset by this possibility go to the City Council meeting August 7 and register their feelings to elected officials.
For more information on the Central Valley Pride Center's programming for this event, visit https://www.mopride.org/.
NAACP votes unanimously in favor of 3 pro-LGBTQ resolutions
This week, the NAACP voted unanimously at its annual convention in support of three pro-LGBTQ resolutions with far-reaching impact on the organization's chapters across the country in their local efforts.
The resolutions all focused on pressing issues for black LGBTQ people: ending murders and violence against transgender women and supporting the transgender community in general, prevention and earlier detection of HIV, and enacting or continuing LGBTQ diversity and sensitivity training for all NAACP chapters.
The NAACP was a champion for marriage equality and currently supports the Equality Act on a national level. The adoption of these resolutions marks a commitment by the long-standing civil rights organization to taking action to doing deeper work locally.
Addressing the way in which LGBTQ and black identity has often been at odds, David Johns, executive director of the National Black Justice Coalition, added his voice to an NAACP news release about this development.
"Too many people think that the gains made by the white lesbian, gay, bisexual, transgender, and queer community are eroding civil protections for black people and these people miss the fact that as long as there have been black people there have been black LGBTQ and same gender loving (SGL) people," Johns wrote. "Black LGBTQ/SGL people are vulnerable to discrimination and dying at a disproportionate rate and this does not have to be our reality."
Speaking by phone with the Bay Area Reporter, Johns was open to expanding on issues of intersectional identity.
"The question came up when the coalition was co-launching our gender justice toolkit recently," Johns said. "The assumption that comes up is that the population that people imagine when they think of LGBT is white cis gay and lesbian men and women. Legacy positions in those spaces are usually staffed by those very people, and it can erase the fact that there are those of us who sit in the overlap of the Venn diagram.
"From there, progressive, mostly white-led policy organizations tend to focus on the needs of white people: marriage equality and ending conversion therapy," he added. "Black LGBTQ people don't have the luxury of coming out and moving to a gayborhhood while drawing power from being white. Most gay black people live in the South with other black people. Monolithic surface-level conversations that don't get into these issues overlook the reality that most of us live."
When asked how he identified, Johns, 37, took the opportunity to point out how even that is a question that typically excludes a black experience in queer discourse.
"I don't identify as LGBTQ," Johns said. "I use same gender loving, a term coined by Cleo Monago [an African American activist and social architect] to center my Africanness. Coming out is itself heteronormative, and it is not applied equitably. The exchange centers and normalizes their point of view. My intersectional identity requires me to remember that 'gay' is a white identity."
Johns noted that this unanimous vote is significant as the NAACP is a highly bureaucratic organization and it has taken a lot of energy to get to this point. He added that he is excited to continue these discussions and develop resources.
Others also praised the move.
"It definitely feels historic to me," said Victoria Kirby York, deputy director for the advocacy and action department of the National LGBTQ Task Force.
"I hope that this betokens a future when violence against our community occurs, that black folk see us as a part of the community," York, a 32-year-old lesbian, said. "When a black trans woman is murdered, a black person is murdered. With these resolutions in place, NAACP chapters on the local level can push the justice system to get justice for these lives that are taken. When chapters leverage local power in their communities, to say they won't stand for this, then we might get justice. The movement for black lives was focused on murders of straight black men, but that movement has been led and supported by black queer women like me, and we want the same back. This is a big step."
Commenting on the difficulty LGBTQ black people often face with law enforcement, York got personal.
"Often police — I've seen this with my own wife — we get pulled over because the cops think she's a black man. It's clear to me that she's just been targeted. This is something that happens at the intersection of racism and sexism and homophobia, and I want to see it end. I want my daughter to not grow up in a world where she sees that happen," she said.
York also spoke to the specific challenges black queer communities face with respect to HIV prevention and care.
"HIV/AIDS is still a crisis in our community because of poverty, stigma, and lack of knowledge [which] all play a role of people who continue to fall victim to the plague," she said. "The NAACP [is] taking the step to say they want prevention and the continued work to support people with the virus. The fact is that they have a staff member specifically for that work, and I'm really grateful."
Representatives from local NAACP chapters did not respond to requests for comment. The text of the resolutions have not yet been posted to http://www.naacp.org.

Q Agenda is a new online column that appears weekly, usually on Tuesdays. Get updates on the latest LGBTQ national news by following Q Agenda reporter Meg Elison on Twitter at http://twitter.com/megelison.
Got a tip on queer news? Call Meg Elison at (415) 875-9986, or email m.elison@ebar.com.
Comments on Facebook