Sci-fi writing program helps queer youth of color
Wednesday Apr 20, 2022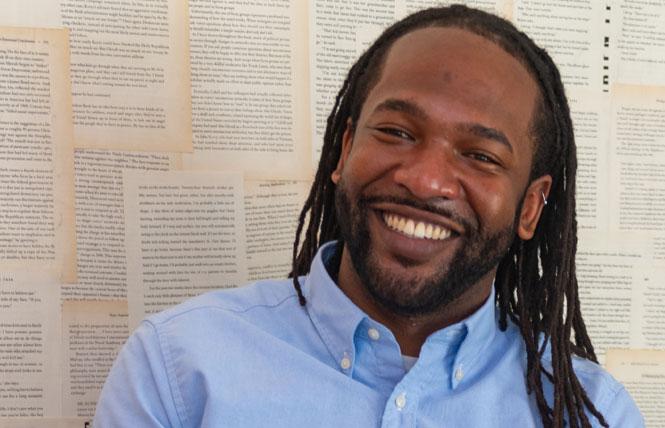 A group of queer youth of color is putting its imagination into words at an inaugural science fiction and fantasy workshop in Oakland.

Earlier this year, Chapter 510. launched a first-of-its-kind science fiction and fantasy workshop for LGBTQ sixth and seventh graders called New Origins.

Jahan Khalighi, director of programs at Chapter 510, told the Bay Area Reporter that the organization developed New Origins to create more space for Black and Brown queer middle school-aged youth to connect with each other.

The organization created a space where youth "can utilize their imagination" to connect, build community, and gain confidence and joy "in their capacity to imagine themselves into the future and also write the stories that feel most compelling to them," he said.

The creative writing and bookmaking organization based in Oakland has a budget of $850,000. It focuses on raising young people of color's voices and stories. Queer youth are a part of the community, said Khalighi.

The organization is also celebrating the grand opening of its new Writing Center on Write Your Roots Day, April 29.

Khalighi, a 41-year-old ally, pointed to the importance of the New Origin's workshop, pointing to Black science fiction legends, such as Octavia E. Butler, and a recent Afrofuturism exhibit at the Oakland Museum of California as examples of the importance of the genre to people of color.

He added, "There's some incredible Black, Brown, and queer fantasy writers in the Bay Area."

There are seven queer students currently crafting science fiction and fantasy stories in a 10-week workshop led by teaching artist Duane Horton.

Horton, 29, is a gay Oakland-based fantasy and science fiction writer. His short fantasy story, "Summer Land," was published in an anthology by Green Mountains Review and other stories have been published by Sapphire Hues Press. He is working on his first Black queer fantasy novel.

He also works at the Academy of Art University as an admission and outreach administrator.

Love of fantasy
"I have always been a fan of fantasy," Horton said, talking about how his mother instilled a love of fantasy and science fiction and storytelling in him, his twin brother, and their older sister from an early age. He then fell in love with Marvel comics, particularly the X-Men, and the character, Storm, portrayed by Halle Berry in the movies. He loved the fact that they were "ragtag outsiders" who banned together through their superpowers and created a community.

At the same time, he didn't see himself in the media or in the places he went to. "I didn't see anybody like me," he said.

"I never had a clear image of this is who you can be. Work toward that," he said. "I always was creating my own [path] ... what I felt was right for me."

That path led him to New Origins after teaching middle school in New Jersey and coming to Oakland in 2017. He earned his undergraduate degree in English and minored in women's studies. He received his master's degree in creative writing at Mills College.

There remains a dearth of Black and Brown people in fantasy and science fiction. Three and a half decades ago, "Star Trek: The Next Generation" led the way with Whoopi Goldberg, LeVar Burton, and Michael Dorn on the show. It was a long stretch since the original "Star Trek" in the 1960s that featured a Black character on TV: Communication Officer Lieutenant Nyota Uhura, played by Nichelle Nichols in her groundbreaking role. Berry came later in the Marvel's "X-Men" franchise. Storm Reid played Meg Murry in the 2018 film adaptation of "A Wrinkle in Time," which also starred Goldberg and Mindy Khan.

It wasn't until Oakland native and director Ryan Coogler's "Black Panther," in 2018 — starring the late Chadwick Boseman — that Black science fiction and fantasy fully came to life for fans.

"What 'Black Panther' did for us as a society was it brought Blackness to fantasy. Superhero fiction is fantasy in so many ways," said Horton. "We got to see this Black man participate in this fantasy world that also highlighted aspects of African culture — and in some really important ways. That impact will never be lost on me."

Black science fiction authors such as Butler, W.E.B. Du Bois — also a civil rights leader — and many others have been a part of the genre for generations, just not fully recognized by wider audiences.

Writing the future
Horton's goal is to give his students everything that he didn't have during his development as a Black, queer, science fiction and fantasy writer: access to stories that reflect Black and Brown people and role models from history.

He wants to validate and notate his student's experiences "through the lens of fantasy," he said.

"Fantasy really has the power to give us imaginative alternatives," Horton said, pointing out that "imaginative alternatives" can potentially "blueprint the future."

He believes fantasy and "the work of imagining and being in conversation with whoever you imagine yourself to be when you're older, but also having someone who you can imagine yourself to be when you're older is really important for queer youth."

The students are loving the class, Horton said, as he is too.

"I cannot say how amazing this program has been just for me and the students," Horton said, talking about how the students have embraced the opportunity to show their imaginations from one student who personified the moon while another student told an elaborate fairy tale made up on the spot in one exercise.

Some New Origins students sent statements about the workshop to the B.A.R. anonymously to protect their privacy.

One queer youth participant wrote they enjoyed the workshop because they were learning with other kids, but more so "I can get more information and specifics on how to write a story and what makes a story good."

Another young person in the program stated they liked that there were "no rules."

"There may be made-up rules but you can decide them," the youth wrote.

Another youth added, "There are no limits to what you can write."

"The students are really tapping into their imagination," Horton said, using the media they've already consumed to help them create personification, metaphors, and voice "to really create the stories that they want to write."

"It's been truly transformative and just amazing," Horton added. "I'm really excited to support them on this journey."

Only a few weeks into the program, Horton said he hopes the New Origins workshop will continue.

The program also connects the students with Bay Area writers who mentor them as they prepare their stories to be published in an anthology, Horton and Khalighi said.

The grand opening of Chapter 510's Writing Center is Friday, April 29, from noon to 7 p.m. at 546 Ninth Street in Oakland.

Help keep the Bay Area Reporter going in these tough times. To support local, independent, LGBTQ journalism, consider becoming a BAR member.