Recent headlines scream that "Meth is back" but we know that methamphetamine never left the LGBTQ community, at least not here in San Francisco.
On August 18, the Palestinian Authority Police Force issued a statement banning the activities of alQaws for Sexual and Gender Diversity in Palestinian Society and encouraging Palestinians to police, criminalize, and report on alQaws activities.
"My name is Jeff Freitas, I am an American Federation of Teachers vice president, the president of the California Federation of Teachers, and I am a gay teacher."
This month marks the 40th anniversary of the "invention" of domestic partnerships policy. On August 21, 1979, I delivered two letters to my employer, the City of Berkeley.
What is the cost of inaction to me and the people I love? This is the question I ask myself each time I find myself with a bullhorn and a group of people marching and protesting for change.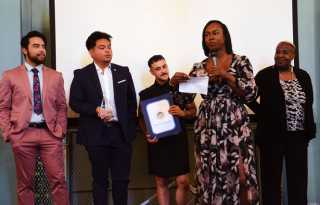 Everyday, my staff and I at TGI Justice Project work tirelessly to find a safe place to call home for our transgender, gender variant, and intersex community. It keeps me up at night. It should keep us all up at night.
Ever since I announced my retirement from Pacific Center, people have been asking, "What's next?"
Another Pride, another year of people expressing frustration about the large corporate presence at the parade.
Jose Sarria has been called the "Rosa Parks of the gay rights movement" of the 1960s. His history is important and now there's an effort underway to induct him posthumously into the California Hall of Fame.
Although I was firmly planting roots in San Francisco, I was also itching to see other parts of the world. I was in the prime of my life and I wanted new experiences, new faces, new surroundings.
It was in early 1984 when I picked up the Sunday San Jose Mercury News and read an opinion piece by a local state Assembly member stating that homosexuals should have no legal, social, or political standing in society.
Pride Month is here! And with it comes a monthlong excursion navigating coast-to-coast parades to celebrate community, self-affirmation, and a true gathering of family with every facet of the LGBTQ2+ prism.