We've made incredible progress in the fight against HIV and AIDS over the past several decades, but the fight is far from over.
Viewing 1 thru 12 of 690 Stories
We see around us every day that what's happening on our streets isn't working.
We San Franciscans are blessed to live in a city that celebrates our rich diversity, where we find sanctuary with one another.
Gay state Senator Scott Wiener makes the case for Kamala Harris for president.
When it comes to homelessness, car break-ins, and police accountability, the San Francisco District Attorney's office has been part of the problem — I'm running to make it part of the solution.
When I was in diapers, my parents drove the getaway car in an armed robbery that tragically took three lives. My mother spent 22 years in prison.
Recent headlines scream that "Meth is back" but we know that methamphetamine never left the LGBTQ community, at least not here in San Francisco.
On August 18, the Palestinian Authority Police Force issued a statement banning the activities of alQaws for Sexual and Gender Diversity in Palestinian Society and encouraging Palestinians to police, criminalize, and report on alQaws activities.
"My name is Jeff Freitas, I am an American Federation of Teachers vice president, the president of the California Federation of Teachers, and I am a gay teacher."
This month marks the 40th anniversary of the "invention" of domestic partnerships policy. On August 21, 1979, I delivered two letters to my employer, the City of Berkeley.
What is the cost of inaction to me and the people I love? This is the question I ask myself each time I find myself with a bullhorn and a group of people marching and protesting for change.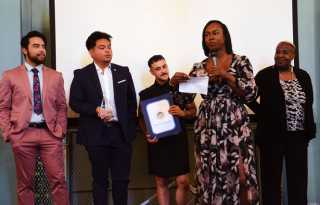 Everyday, my staff and I at TGI Justice Project work tirelessly to find a safe place to call home for our transgender, gender variant, and intersex community. It keeps me up at night. It should keep us all up at night.
Ever since I announced my retirement from Pacific Center, people have been asking, "What's next?"
Viewing 1 thru 12 of 690 Stories