Here's a pro tip for all LGBTQ nonprofits: If you're going to lay off a majority of a department's staff without concurrently issuing a formal explanation about why this is happening, don't be surprised when you get press inquiries.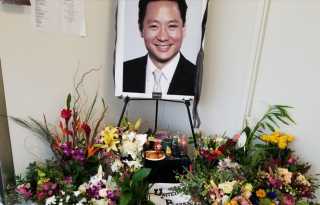 San Francisco Public Defender Jeff Adachi's unexpected death last week leaves a huge void in city politics and the criminal justice system.
The decision by the state Department of Motor Vehicles to reject a gay man's "LTHR DDY" — short for leather daddy — vanity plate for his motorcycle reeks of homophobia, as state Senator Scott Wiener (D-San Francisco) wrote out in a sharply worded letter.
LGBTQ nonprofits looking for new leaders should be proactive in soliciting candidates who are women, trans, people of color, or a combination of those.
Last week, Mayor London Breed outlined how she would like to spend the $185 million windfall that the city became aware of a few months ago: for homelessness, behavioral health, and affordable housing services.
San Francisco Mayor London Breed made an outstanding choice by naming Dr. Grant Colfax to lead the sprawling Department of Public Health.