Editorial: Supes should reject Dikas for preservation panel
Wednesday Apr 7, 2021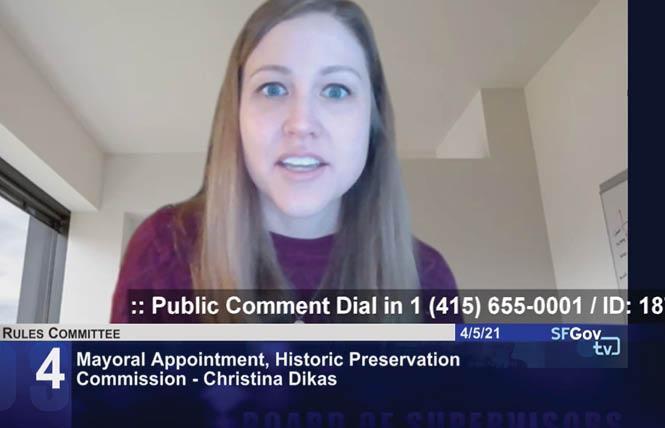 The San Francisco Board of Supervisors should reject Mayor London Breed's nominee, Christina Dikas, to the Historic Preservation Commission. While Dikas is a qualified architectural historian, as the seat is designated, her appointment would leave the commission without LGBTQ representation. Breed had an opportunity to rescind Dikas' nomination — and in fact we called on her to do just that in March — but it moved forward with a hearing before the supervisors' rules committee April 5. The committee, chaired by Supervisor Aaron Peskin, unanimously rejected her nomination, but it will go to the full board April 13. The Board of Supervisors recently approved three straight members to the preservation commission. In February, Breed did not reappoint the Historic Preservation Commission's two gay members, Jonathan Pearlman and Aaron Hyland, who had been serving as the commission's president. Pearlman's Seat 3 is to be filled by an architectural historian, and LGBTQ community leaders had encouraged Breed to name Hyland to it; instead, the mayor nominated Dikas, a straight woman.
Gay District 8 Supervisor Rafael Mandelman, who is vice chair of the rules committee, was eloquent Monday in stating his objection to Dikas as he recalled Harvey Milk, the late gay supervisor who once represented the Castro. "Harvey Milk believed really strongly and said frequently it is important not just to have allies in positions of power but to have queer people as it was important for all minorities to be represented on commissions and elected bodies," Mandelman said.
During their remarks, Mandelman and committee member Supervisor Connie Chan affirmed that Dikas is qualified for the seat. Nonetheless, they felt it important that a member of the LGBTQ community serve on the commission, which will be considering several queer-related items in the coming months, from landmarking of LGBTQ historical sites to designating queer-owned legacy businesses.
"I was disappointed and saddened, without saying anything negative about Ms. Dikas and I believe she would be a fine commissioner. I do not think her history of allyship means that she will be able to step in and do the work Commissioner Hyland was," said Mandelman. "Regretfully, and with sadness and no bad feelings, I don't think this is the right appointment and I am not planning to support it."
Chan said the issue is about representation.
"For me, being a good ally means supporting Supervisor Mandelman," she said at the committee meeting.
During her remarks, Dikas did state that she worked on an oral history project involving the Polk Gulch eatery Grubstake Diner, which catered to the transgender community in the 1970s.
Shayne Watson, a lesbian and architectural historian who co-authored the citywide LGBTQ historic context statement, also opposed Dikas' nomination in a letter to the committee.
"The 'Citywide Historic Context Statement for LGBTQ History in San Francisco' was adopted in 2015 by a Historic Preservation Commission that included three members of San Francisco's LGBTQ communities: Andrew Wolfram, Aaron Hyland, and Jonathan Pearlman," Watson wrote. "With San Francisco's LGBTQ population hovering around 12%, lack of representation on the Historic Preservation Commission could be detrimental to our progress as an underrepresented minority community."
The Harvey Milk LGBTQ Democratic Club also sent a letter to the rules committee.
"In light of the important role the commission plays in recognizing and memorializing our community's history, having no LGBTQ representation on this body is unacceptable," the club's political action committee and executive board wrote. "As the organization tasked with upholding the political legacy of the first openly gay person elected to public office in California, it is our responsibility to call out politicians who claim to be our allies, marching alongside us in corporate sponsored Pride parades, only to deny us a seat at the table."
But the club also pointed out that someone who is LGBTQ must bring more than that identity to the job on the preservation commission.
"In the same breadth, we emphasize that LGBTQ representation is not enough if that LGBTQ representative has not demonstrated a commitment to the work of elevating the Citywide Historic Context Statement for LGBTQ History in San Francisco," the club stated. "There are no shortage of LGBTQ historians in San Francisco with the expertise, qualification, and availability to serve in this capacity, and we urge you to appoint someone to this seat who will honor the city's investment in the preservation of queer space and queer heritage in San Francisco. We would be happy to work with you to identify appropriate candidates for this position."
Should the Board of Supervisors not be convinced that an LGBTQ person needs to be named to the Historic Preservation Commission, there is another aspect of Dikas' nomination that is concerning and was brought up by several speakers during public comment at the rules committee meeting. Dikas works for architecture and design firm Page and Turnbull, which has done many projects in the city. That would be a potential conflict of interest for Dikas if she were seated on the preservation commission when the firm's projects come before it.
But the bottom line to us is about queer representation on a city commission that regularly decides on LGBTQ-related projects. At a minimum, one person on the seven-member panel should be from our community. We strongly urge members of the Board of Supervisors to send that message to the mayor by rejecting Dikas' nomination.
Help keep the Bay Area Reporter going in these tough times. To support local, independent, LGBTQ journalism, consider becoming a BAR member.