San Jose queer spaces looking for new home
Wednesday Mar 31, 2021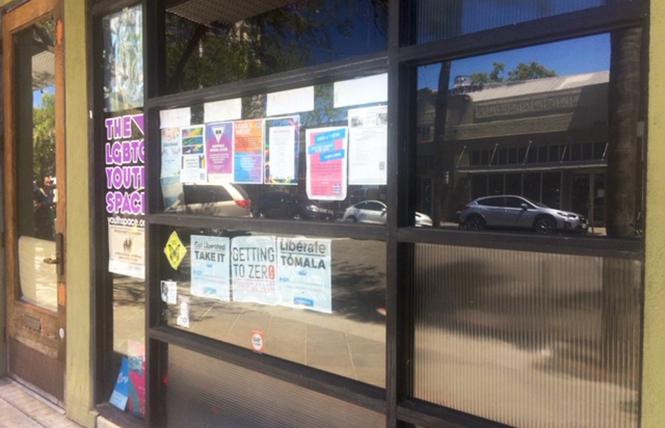 The LGBTQ Youth Space and LGBTQ Wellness programs in San Jose are searching for a new home.
Adrienne Keel, director of LGBTQ programs at Family and Children Services of Silicon Valley, a division of Caminar, announced the youth space's impending move on its Facebook page March 26. The agency's LGBTQ programs department oversees the two community services, which are both currently housed at the youth space's downtown San Jose location at 452 South First Street.
This will be the youth space's third home since launching in a small room in the Billy DeFrank LGBTQ Community Center in 2009. The youth center moved to its current location in July 2012.
"We are committed to finding you the best new space possible," the Facebook announcement stated. "We can't wait to start our next chapter with y'all!"
Keel, a lesbian, said the decision to leave the program's longtime home was bittersweet, but it's also an opportunity as its lease ends in June.
The youth space's staff members provide mental health, support groups, events, and community outreach services for 50 young people, ages 13 to 25, monthly. It moved all of its services online at the beginning of the coronavirus pandemic.
The physical location has been temporarily closed for a little more than a year. The youth space has hosted four weekly online groups. The wellness program has hosted six weekly and six monthly online groups.
In an interview with the Bay Area Reporter March 23, Keel said she saw some youth who moved away or who were unable to go to the space due to distance and transportation issues return when it went virtual.
Last summer, the space briefly emerged with some outdoor, socially distanced in-person programming until it was forced to go online again when the virus surged in the fall and winter.
"We are trying to find whatever ways we can to make the program still engaging and still accessible for as many people as possible," Keel said. However, virtual access has not worked for all youth, who depend on the space as a safe place to be out and express themselves.
Keel expressed hope that the in-person program model established last summer can resume soon and be able to return to normal as more people get vaccinated. Santa Clara County returned to the orange tier of California's COVID-19 restriction guidelines March 23.
"We are looking ahead where we can drop anchor," said Keel of the search for a new location.
She said the program has not lost any of its behavioral health contracts due to the pandemic's economic fallout but would not disclose the program's annual budget.
"We are fortunate that we are not going to see any huge cuts to our current contracts," she added.
In addition to her position, the program employs a part-time psychiatrist; two mental clinicians; three outreach coordinators, including one stationed in the south county; and one part-time peer intern. The LGBTQ Wellness program includes one program coordinator and one mental health peer support worker.
The relocation announcement reiterated the youth space's stability during these uncertain times and its reasons for moving in the Facebook post.
"We just didn't want folks to feel like the program was going away if we were in sort of limbo for a while," Keel said about the staff's intentions announcing the move to its 2,030 Facebook followers.
The youth space's search for a new location has been quietly underway, but now a public effort to find a new home is launching. Keel and her staff are looking for an affordable, centrally located commercial building. The building needs to be compliant with the Americans with Disabilities Act, include spaces for clinicians to meet privately with clients, be easily accessible by public transportation, and potentially include parking.
Keel is also focused on cutting costs to sustain and grow the youth space and wellness programs into the future. She would like to remain in San Jose, if not in the newly designated Qmunity District in the city's downtown area, then possibly along The Alameda near the DeFrank center.
She is looking to stay in San Jose due to its central location and also because she does not want to compete with Outlet, the north county's LGBTQ youth program in Mountain View. The youth space is already established in the south county.
However, she is open to other cities as long as it meets accessibility — both public transportation, parking, and ADA compliance — and space requirements, Keel said.
"That's been the beauty of being downtown because a lot of our [public transportation] culminates downtown," she said. "But then the other thing is parking too. We might be able to find some places that we actually have parking that will increase access. Paying for parking would no longer be a barrier."
If the youth space does find a new home by June, Keel said it will continue serving youth virtually with its pandemic-adjusted in-person programs through the fall when she hopes to be settled in the space's new home.
Keel is open to hearing from the public about possible locations and can be reached at akeel@fcservices.org
Help keep the Bay Area Reporter going in these tough times. To support local, independent, LGBTQ journalism, consider becoming a BAR member.