Editorial: Yes, Collins should resign
Wednesday Mar 24, 2021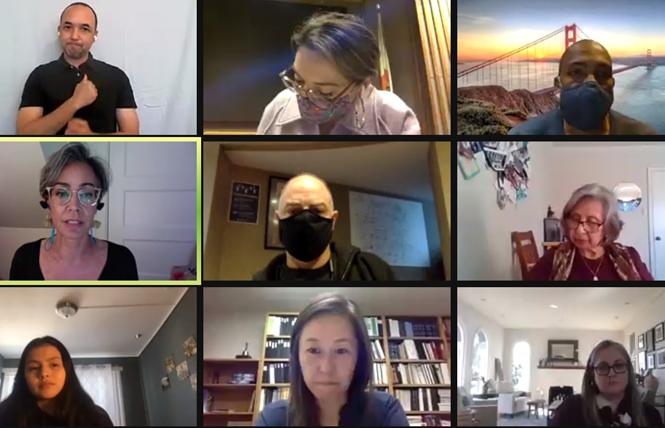 Listening to some San Francisco Unified School District students speak at Tuesday's Board of Education meeting was a lesson in humility — or at least it should have been for embattled Commissioner and board Vice President Alison Collins. Racist tweets that Collins posted in 2016 were recently unearthed and they show a shocking disregard and prejudice toward Asian American and Pacific Islander people. Written prior to her 2018 election to the school board, they nonetheless prohibit her from being an effective leader today. She wrote that "many Asian Am. believe they benefit from the 'model minority' BS." And "In fact, many Asian American Ts (teachers), Ss (students) and Ps (principals) actively promote these myths. They use white supremacist thinking to assimilate and 'get ahead.'" In another tweet, Collins, a Black woman, referred to Asian Americans using the N-word. "Do they think they won't be deported? profiled? beaten? Being a house n****r is still being a n****r. You're still considered 'the help,'" she wrote.

Only two of the board's trustees who are also the only AAPI members, Jenny Lam and Faauuga Moliga, have called on Collins to resign (along with nearly all of San Francisco's elected leaders, including Mayor London Breed). The rest of the school board members have buried their heads in the sand, babbling about restorative justice — without providing a plan for Collins to engage in that — and refusing to acknowledge the obvious: they have a colleague who made many racist public statements via social media. At the very least the trustees should have removed Collins as vice president; that they took no action speaks to this board's problems with decisive leadership and effective policy. Trustee Kevine Boggess asked the public "to give me and my colleagues as much space as possible." Mark Sanchez, a gay man who's the only LGBTQ member on the board, said he was making his first public comments on the matter. He condemned Collins' tweets but doesn't believe she's a racist. "I'm deeply sorry for everyone in this situation," he said.

At the outset of the meeting, Collins offered "my heartfelt apologies" without ever stating what she was sorry for. She said she was engaged with her colleagues to work with students, "especially Black students," indicating she had no idea of the pain she's caused AAPI students, who make up about 44% of the district. Previous to the meeting, she stated that the tweets were taken out of context, which has befuddled AAPIs who have spoken with her, according to Mission Local.

Board members noted that 1,000 people attended the March 23 online meeting, the first since Collins' tweets resurfaced. President Gabriela Lopez, acting on advice of legal counsel, opened public comment to students and then the general public, limiting the latter to 20 minutes each for those opposed to Collins and those supporting her. It was the students that really hammered home the message that Collins is now an ineffective representative. One lambasted many of Collins' colleagues, saying they were shallow and hypocritical. Student Amy Chang said she "felt disgust and pain. Call it what it is — racist tweets."

A District 3 Democratic Club (Chinatown) official expressed regret that the club had endorsed Collins in 2018 and the president of the Lowell Alumni Association criticized Collins for her failure to acknowledge or take responsibility for the tweets.

Several of those in support stated they believed the outrage was politically motivated by those seeking to recall Collins, Lopez, and Moliga and those opposed to the board's decision to end merit-based admissions to Lowell, the district's elite high school. But these deflections do not absolve her of culpability. The tweets "show her true belief," as one speaker said.

Collins should resign from the school board. Like many elected officials before her, Collins' comments and actions have disqualified her from holding the public's trust. Her political career is over, and she should take responsibility for her own words and put the district's students ahead of her incendiary views.

Help keep the Bay Area Reporter going in these tough times. To support local, independent, LGBTQ journalism, consider becoming a BAR member.