Editorial: Return to an inclusive US foreign policy
Wednesday Feb 10, 2021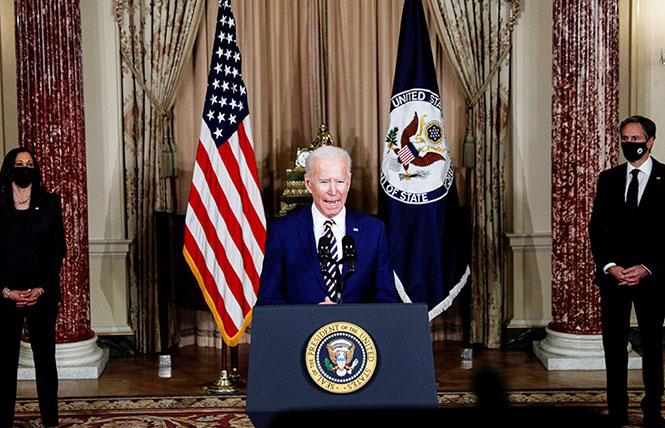 During his first visit to the State Department February 4, President Joe Biden wasted no time in making clear that global LGBTQI+ rights would be front and center of his foreign policy agenda. Biden, accompanied by Secretary of State Antony Blinken, announced in his address to the agency's staff a memorandum on advancing the rights of LGBTQI+ people.
The memorandum, issued later the same evening, unequivocally stated that, "it shall be the policy of the United States to pursue an end to violence and discrimination on the basis of sexual orientation, gender identity or expression, or sex characteristics, and to lead by the power of our example in the cause of advancing the human rights of LGBTQI+ persons around the world."
Outright Action International stated on its website that the memorandum "directs all departments and agencies involved in diplomacy and foreign assistance to combat criminalization of same-sex relations, protect LGBTQI+ refugees and asylum seekers, and combat violence and discrimination. The memorandum outlines concrete actions agencies should take, including working with like-minded nations and international organizations to advance LGBTQI+ equality."
This restores past foreign policies after LGBTQIs were abandoned and purposefully targeted over the last four years. Fewer queer refugees and asylum seekers were able to enter the U.S., and those living abroad lived in a constant state of fear and uncertainty.
"We appreciate its affirmation and expansion of its 2011 predecessor, for the first time naming discrimination based on 'gender expression' and 'sex characteristics,' including 'queer' and 'intersex' rights, and recognizing violence by non-state actors as central to the policy's scope of concern," stated Jessica Stern, executive director of OutRight, referring to former President Barack Obama and then-secretary of state Hillary Clinton's foreign policy that did much to advance LGBTQI+ rights abroad, but that Biden and his team are taking further.
It's important for the world to see the new administration reprioritize an inclusive foreign policy. As Biden's memo noted: "All human beings should be treated with respect and dignity and should be able to live without fear no matter who they are or whom they love. Around the globe, including here at home, brave lesbian, gay, bisexual, transgender, queer, and intersex (LGBTQI+) activists are fighting for equal protection under the law, freedom from violence, and recognition of their fundamental human rights."
And Biden pointed out that the U.S. should stand as an example to other nations. "The United States belongs at the forefront of this struggle — speaking out and standing strong for our most dearly held values," the memorandum stated.
Of particular interest is a section in the memorandum addressing LGBTQI+ people in other countries. Biden promised a "swift and meaningful" U.S. response to human rights abuses of LGBTQI+ persons abroad. The State Department will lead a standing group responsible for monitoring and coordinating an interagency approach to these violations.
"When foreign governments move to restrict the rights of LGBTQI+ persons or fail to enforce legal protections in place, thereby contributing to a climate of intolerance, agencies engaged abroad shall consider appropriate responses, including using the full range of diplomatic and assistance tools and, as appropriate, financial sanctions, visa restrictions, and other actions," the memorandum stated.
Biden also intends on removing former President Donald Trump's policies where they conflict with his new policy. The agencies involved will report back in 100 days on their progress in implementing the memorandum.
The Trump years were a disaster in so many ways, particularly in regard to foreign policy. Mike Pompeo, his last secretary of state, went so far as to establish the bogus Commission on Unalienable Rights that was stacked with anti-LGBTQI+ members and, as Human Rights Watch pointed out, endangered everyone's human rights. The panel asserted a dogmatic version of religious liberty to justify restrictions on reproductive rights and LGBTQI+ rights, as HRW Executive Director Kenneth Roth noted in an op-ed in Foreign Policy. Thankfully, its work was done with the release of its final report last August, which predictably took aim at abortion and LGBTQI+ issues for vilification.
The Biden administration has a heavy burden ahead repairing relations with many countries, and not all of them will be receptive to his inclusive foreign policy with respect to LGBTQI+ people. But countries that outlaw same-sex relations (69), punish same-sex conduct by death (nine), have anti-LGBTQI+ propaganda laws (three) must be put on notice that the U.S. values all lives. Many countries still prohibit same-sex marriage, which is legal in only 29. The U.S. is again willing to fight to ensure that every person is able to live free and equal, as Human Rights Campaign President Alphonso David recently stated.
This is not the end, however, and as Stern noted, it's not the ceiling, it's the floor. After four years of Trump making disparaging, racist remarks, and his administration officials detaining immigrant children in cages, Biden and Blinken can, by their example, at least offer fair-minded countries guidance and support. The policy also needs to be fully funded, no sure thing in a divided Congress, though it has a better chance with Democrats controlling the House and Senate. Blinken also must implement the policy and it seems that he's committed to the task, judging from his comments during his confirmation hearing and alongside Biden last week.
Help keep the Bay Area Reporter going in these tough times. To support local, independent, LGBTQ journalism, consider becoming a BAR member.
Comments on Facebook