LGBTQ Agenda: Spanish-language podcast 'De Pueblo, Católico y Gay' starts 6th season
Tuesday Feb 9, 2021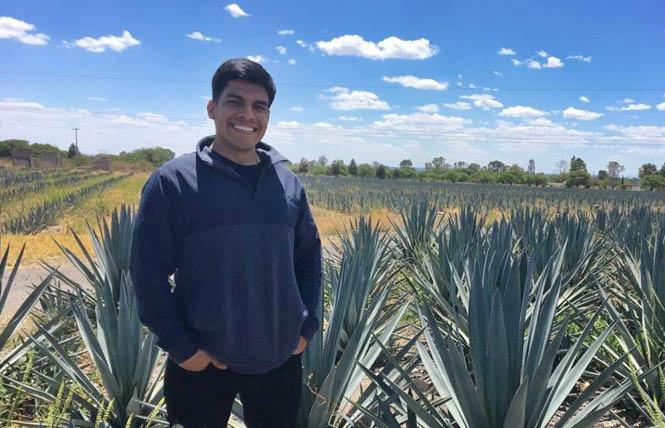 The newest season of a Spanish-language podcast exploring the intersection of LGBTQ+, Latino, and Roman Catholic identities premiered online February 8.
"De Pueblo, Católico y Gay" is the brainchild of Eder Díaz Santillan, a 35-year-old gay man who is a lecturer at California State University, Northridge. He spoke with the Bay Area Reporter on the occasion of the sixth season's launch.
The podcast has had 99 episodes since 2018 (the seasons align with the semesters of the academic year) wherein Santillan has interviewed dozens of people about how the LGBTQ, Latino, and Catholic communities have shaped their lives.
Santillan came to the United States almost two decades ago as a high school sophomore from Encarnación de Díaz, a town in the central Mexican state of Jalisco. When he came out of the closet, after coming to the U.S., he said he "had a really fortunate, positive reaction from my family."
"I was aware that I was in a very privileged situation," Santillan said.
Only years later, during a conversation with his dad, did Santillan find out it hadn't been so easy for him.
"My dad started telling us how he couldn't sleep for months when I came out," Santillan said. "After that conversation, I told my dad that 'I want to know what it was like for you. How you processed it.' And so I interviewed him, and he is the first episode."
Santillan said one of the most impactful episodes he recorded was with a young man from Tijuana, Mexico who'd been sent to a form of conversion therapy after coming out to his parents.
"The process of those sessions led him to try to take his own life," Santillan said, which led the young man to go back into the closet. "The only way he can have a relationship with his parents is if that part of his life is put away again. That episode lives with me; it continues to live with me."
In another episode, Santillan interviewed a man in his late 40s who is living with HIV in Columbia.
"He doesn't want to take medication," Santillan said. "What I felt from our conversation is that he feels he deserves what he's going through.
"I experienced, and have a lot of privilege being in LA, through Zoom in a pandemic, and I see people who don't have the resources to really be heard," he added.
Santillan said that the Catholic Church, which officially teaches that both homosexuality and gender-affirming surgeries are sinful and that LGBTQ people should remain celibate, has a role to play in the homophobia and transphobia many people experience because of how respected its priests are in Latin American society.
"A lot of priests in Latin America preach homophobia and transphobia from the altar," Santillan said. "There has to be an acknowledgement of that. When priests have so much power over how people are able to live — how women control their own bodies, [for example] — they control the queer narrative and often preach hostile narratives."
Santillan said that the church's involvement with government policies toward sexual and family issues is something that "has to be acknowledged and amended" because narratives that stigmatize LGBTQ people often "result in hostile violence, sometimes death."
Most of the reaction to Santillan's podcast however has been positive, he said.
"There are comments here and there saying God is looking down on this, but the majority are embracing the message," Santillan said.
One fan is the Reverend James Martin, an American Catholic priest who is a consultant to Pope Francis on the Roman Dicastery for Communication. Martin, who advocates that the church take a less hostile stance toward LGBTQ people, met with Santillan in 2019 at a book signing for Martin's book "Building a Bridge: How the Catholic Church and the LGBT Community Can Enter into a Relationship of Respect, Compassion, and Sensitivity."
"Eder's efforts to reach out to the LGBTQ Catholic community and, more specifically the Spanish-speaking community within that community, is a breath of fresh air in the church," Martin stated to the B.A.R. "Latinx Catholics make up an immense part of the U.S. church and among them are many LGBT people who deserve to know that God loves them and that the church cares for them. Eder's efforts are helping more and more people feel welcome in what is, after all, their church, too."
When asked for his thoughts, Francis DeBernardo; the executive director of New Ways Ministry, which advocates for LGBTQ people within the church, sent the B.A.R. a statement the ministry published two weeks ago.
"'De Pueblo, Católico y Gay' has already been a much-needed resource for many. Catholic spaces are often places where queer people are talked about rather than listened to. It is a gift to be able to hear stories of other queer Catholics who are learning how to live their faith in authentic ways — even when that isn't recognized by the institutional church," the statement, authored by Chicago-based writer for New Ways Mac Svolos, reads.
"The need for connection is even more acute for queer Catholics who are marginalized in other ways. Santillan's personal experience points to the need for queer Catholic spaces to be intersectional in their approach," Svolos stated. "Many of these spaces in the U.S. are dominated by white, cis gay men. Anyone who does not fit that description can have a harder time finding community. But like the church at its best, we need to seek to be universal in our inclusion."
Santillan said his ultimate goal is to turn the stories he has been able to facilitate sharing through the podcast into a book.
"I want to find a way to make it a book," he said. "When I came out of the closet, the first thing I wanted to do was to find a book. I'd like to have a collection of short stories in a book, and to empower different gender and sexual identities to tell their own stories. ... I only try to speak for my own experience."
LGBTQ Agenda is an online column that appears weekly. It will be off next week due to the Presidents Day holiday. Got a tip on queer news? Contact John Ferrannini at j.ferrannini@ebar.com
Help keep the Bay Area Reporter going in these tough times. To support local, independent, LGBTQ journalism, consider becoming a BAR member.
Comments on Facebook