Inclusive family life educator EB Troast dies
Wednesday Feb 3, 2021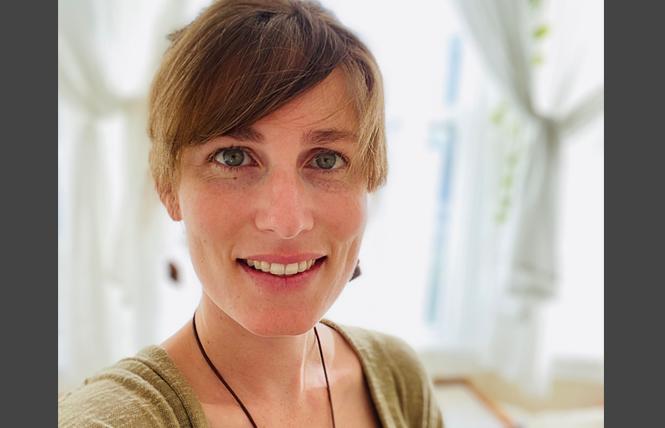 EB Troast, a queer educator in Petaluma who specialized in LGBTQ-inclusive family life and sex education curriculum, died January 11 after she collapsed during a Zoom meeting. She was 37.
Ms. Troast, who used female pronouns, was rushed to a hospital after going into cardiac arrest, according to an article in the Petaluma Argus-Courier. She had been pregnant with her third child, who was stillborn.
Ms. Troast had been a member of Amor Para Todos (love for everyone), a Petaluma-based organization that supports LGBTQIA+ youth in schools and the community, said Renee Ho, the founder of APT.
Ms. Troast's partner, Kawai Carvalho, who also identifies as queer, told the Bay Area Reporter that the couple practiced gender open (neutral) parenting and had not assigned genders to their 3- and 1-year-old children.
"Her career as an educator had a wide reach, especially in the Bay Area," Carvalho wrote in an email.
Ho stated that Ms. Troast was "the most knowledgeable human being in regards to family life/sex ed. curriculum around."
"She was my 'go-to' person while APT has been advocating to get gender-neutral family life/sex ed. curriculums into school districts in Petaluma," Ho added.
Ms. Troast worked for Planned Parenthood of Northern California for over a decade in various positions, including senior education manager, education manager, program manager, and senior health educator. She wrote grant proposals and tracked programming data across a 20-county service area, according to her resume, which Carvalho provided.
Several years ago, before moving to Petaluma, Ms. Troast lived in San Francisco. Ho said that Ms. Troast co-wrote a family life/sex ed. curriculum Be Real, Be Ready, which was adopted by the San Francisco Unified School District.
"EB deeply touched each and every life of those she was in contact with, whether an acquaintance, co-worker, friend, or family member," Ho wrote.
Ms. Troast was an instructor, grader, and course monitor in the MPH program at San Jose State University, where she taught master's level public health students the basics of epidemiology, both in-person and virtually.
From 2005-2007 Ms. Troast was the lead sex educator at Good Vibrations in San Francisco.
She served as a volunteer trainer for San Francisco Sex Information and provided workshops for Gender Spectrum's conference.
Ms. Troast received her MPH, with a concentration in community health education, from San Jose State in 2016. She earned a bachelor's in psychology from San Francisco State University in 2005 and graduated summa cum laude. She also received a certificate in American Sign Language from Berkeley City College.
A GoFundMe campaign has been set up to help with expenses for Carvalho. As of Tuesday it had raised over $95,000 of a $100,000 goal.
Help keep the Bay Area Reporter going in these tough times. To support local, independent, LGBTQ journalism, consider becoming a BAR member.
Comments on Facebook