Some patients upset after dentist departs UOP
Wednesday Feb 3, 2021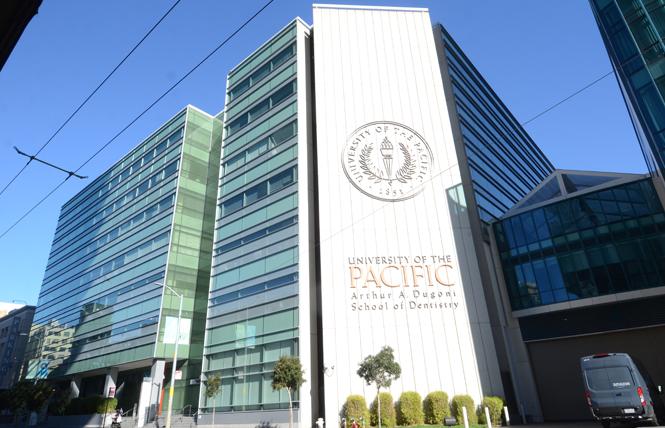 The University of the Pacific Arthur A. Dugoni School of Dentistry in San Francisco's South of Market neighborhood is answering questions about recent changes in its care for people living with HIV/AIDS following the departure of a dentist who volunteered services.
David Varela, a 61-year-old gay San Francisco man who had been a patient of the care clinic, told the Bay Area Reporter that care had been temporarily suspended at the beginning of the COVID-19 crisis early last year, and in the fall the patients were informed that Maria Flores, DDS, who'd been having appointments at the school, would not be returning.
Then, last month "a letter from the school was sent and it states that for continued care, we would be scheduled with 'students' and or we have the option of going to another dentist," Varela stated in an email to the B.A.R.
Varela told the B.A.R. in a subsequent interview that the problem with students instead of faculty-staff dentists is that it is difficult to establish a long-term relationship with them as care providers. To see faculty-staff, instead of students, patients would have to pay out of pocket, Varela said.
Further, Varela said that the other dentists offered wouldn't necessarily accept Denti-Cal — the state's dental insurance program — or clean teeth free-of-cost more than once a year.
The UOP School of Dentistry website states that it is funded by the Ryan White Federal CARE grant, and that "services are provided at no charge to eligible patients."
Liam Connolly, the senior director of media relations for UOP, stated to the B.A.R. that the university is still receiving Ryan White funding. Connolly said that Flores saw patients from the care clinic on a volunteer basis.
"Patients were only able to see her without paying out of pocket because she was volunteering her time to see them," Connolly said. "It was a special case and it is no longer available since she concluded her practice. ... the funding is only available for the patients to be seen at the main clinic."
According to Varela, he first met Flores on Webster Street, and her office was later moved to the site of the dental school campus on Sixth Street.
"Dr. Flores was assigned an operatory in the Faculty Practice Clinic area on the second floor in our building to see her patients on Tuesdays," Connolly stated. "We had to utilize all the chairs in the clinic for our students."
Flores did not respond to a B.A.R. request for comment.
"My understanding is that Dugoni is complying with [Ryan White] and in terms of funding, the funding is through the main clinic," Connolly said.
Connolly said that the school does not anticipate hiring a new faculty-staff member, since Flores' role in dental care was a volunteer position.
"I believe the community who trusted Dr. Flores deserves an apology from the school and what led to the decision for not having a care clinic provided by another staff member," Valera stated to the B.A.R., when asked his reaction to Connolly's answers.
Connolly said that the UOP care clinic will continue to accept Denti-Cal, and it will clean teeth once every six months for covered eligible patients at the clinic.
Connolly clarified after the initial publication of this story that patients receive $1,800 per fiscal year for eligible treatments covered under the Ryan White program.
Varela stated that Flores "never stated she was a volunteer."
"All instruments were part of the school, so I can't imagine that a full-fledged doctor would volunteer once a week for free; maybe it's possible," he continued.
The Ryan White HIV/AIDS Program, administered by the U.S. Department of Health and Human Services, was funded nationally at $2.3 billion in Fiscal Year 2019-2020. It provides primary HIV care and other services through the form of agency grants to help people living with HIV, particularly those who are low income. According to the Health Resources and Services Administration website, for Fiscal Year 2020, San Francisco was awarded a total of about $14 million in Ryan White Part A funds.
Updated, 2/5/21: This article has been updated to clarify that patients through receive $1,800 per fiscal year for eligible treatments covered under the Ryan White program.
Help keep the Bay Area Reporter going in these tough times. To support local, independent, LGBTQ journalism, consider becoming a BAR member.
Comments on Facebook