Bay Area AIDS advocate William Hershon dies
Friday Jan 29, 2021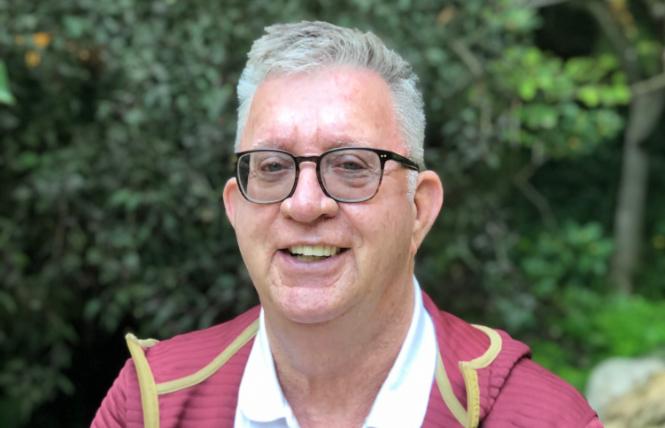 William M. Hershon, a gay man and longtime San Francisco AIDS advocate and attorney, died January 29. He was 67.
Mr. Hershon died at his home in Alameda, his longtime friend Jonathan Joiner, Esq., told the Bay Area Reporter Friday evening. He was surrounded by friends, family, and his beloved 15-year-old orange tabby, Cheddar.
Mr. Hershon, known widely as Bill, had planned to take advantage of the state's end of life option, he told the B.A.R. in several phone calls and emails last fall. Ultimately, however, Joiner said that he did not use that method and passed away naturally.
Mr. Hershon contacted the B.A.R. the day before his death, stating that he did not have much time left but had hoped for a couple of more weeks.
"His life's work was rising up to bring help during the beginning of the crisis in the 1980s," Joiner said in a phone call, referring to the AIDS epidemic.
"He was a beautiful man," Joiner added. "He saw a lot and didn't think he'd make it past the age of 30."
Prior to his passing, Mr. Hershon discussed his decision to end his own life and said he felt at peace with it, though it did not turn out that way.
"Having witnessed the decimation, heartbreak, and suffering in our community since 1981, and having volunteered at Coming Home Hospice from 1987-1989, then serving on the board of directors of another AIDS hospice for six years, I felt well acquainted with the dying process," he wrote to the B.A.R. of his decision. "Burying hundreds of friends and bearing witness to their unimaginable ordeals I chose to face the inevitable with a modicum of dignity and grace."
Joiner said that Mr. Hershon "did it exactly the way he wanted."
Mr. Hershon himself tested positive for HIV in 1985. In recent years, however, he suffered from idiopathic pulmonary fibrosis combined with chronic obstructive pulmonary disease and emphysema.
He said that five physicians assured him that there was nothing else that could be done.
"I feel it a blessing to pass on at home, with friends and family at a time of my choosing with some degree of serenity," Mr. Hershon wrote of his decision last fall.
'Walked the walk'
A longtime community leader, Mr. Hershon "walked the walk" for over 38 years, he wrote in an obituary he prepared before his death.
"He may not have 'talked the talk' particularly well, except when speaking 'truth to power,'" he wrote.
Mr. Hershon served on the former Mayor's HIV CARE Council in the 1990s. That body developed priorities for spending the millions of dollars in federal Ryan White CARE Act funds allocated to San Francisco, Marin, and San Mateo counties. (Today, it has merged with a similar HIV prevention body and the amount of federal money has decreased dramatically.)
He went on to establish the HIV Re-Entry and Empowerment Project, a nonprofit that provided full scholarships to over 60 people living with HIV to finish college and graduate school programs. He noted that of the graduates — all LGBTQ people — over half were people of color. The project received millions of dollars in donations and garnered national attention, he wrote in his obituary.
Mr. Hershon was a long-term non-progressor, meaning that he maintained a CD4 count greater than 500 without antiretroviral treatment with a detectable viral load. He took part in a five-year volunteer study under the auspices of Dr. Anthony Fauci, director of the National Institute of Allergy and Infectious Diseases. This involved multiple surgeries and Mr. Hershon was featured in the New Journal of Medicine.
Additionally, he participated with Dr. Jay Levy, a co-discoverer of the HIV virus, at UCSF for over 30 years. Mr. Hershon also took part in numerous other life-saving treatment studies still employed today, he wrote in his obituary, and co-authored a paper for Nature magazine.
Early life
Mr. Hershon was born June 19, 1953 in Andover, Massachusetts. He graduated from Lake Forest College in Lake Forest, Illinois and went on to John Marshall Law School in Chicago.
"Answering the call of Harvey Milk 'to come out of the closet and come to San Francisco,' Mr. Hershon packed up his VW bug and arrived in the city in July 1980," his obituary stated. Barely one year later, the New York Times reported on July 3, 1981 of a new rare cancer afflicting gay man. That was Kaposi's sarcoma.
Mr. Hershon began as a volunteer for Coming Home Hospice in 1987, and continued volunteering throughout the Bay Area until his death.
After testing positive, he dedicated the next 35 years in the never-ending battle that consumed his life, his lover (whom he declined to name), his friends, and virtually all he loved.
His law career was largely consumed by pro bono work on behalf of the gay community and for people living with AIDS.
Mr. Hershon was the recipient of numerous community service awards and other recognition over the years, including the one he was most proud of: having his name engraved in the Circle of Friends at the National AIDS Memorial Grove, a decision made by the grove's leadership. He received two mayoral proclamations declaring "William Hershon Day" by former mayor Willie Brown; six certificates of honor from the San Francisco Board of Supervisors; a certificate of recognition from the California Assembly; and a number of other honors.
A "Friend of Bill's" for over 18 consecutive years, Mr. Hershon wrote that he was "grateful to the many who helped" him along the way.
Mr. Hershon is survived by his brothers, Dr. Jim Hershon and Peter Richard Hershon, M.Ed; nephew, Wyatt Hershon; and close friends Joiner; Raymond Kong; Dr. Mark Higgins; Tony Gargiulo; Brian Worhl; Michael Blegen; and Jeff Baker.
Help keep the Bay Area Reporter going in these tough times. To support local, independent, LGBTQ journalism, consider becoming a BAR member.
Comments on Facebook