LGBTQ Agenda: Sacramento queer center expands leadership team
Tuesday Dec 8, 2020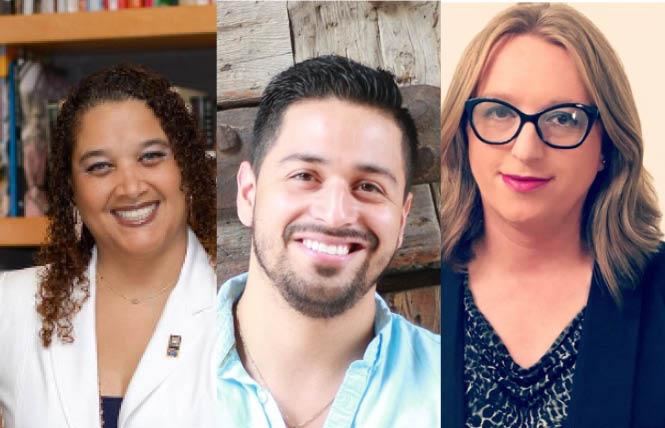 The Sacramento LGBT Community Center expanded its leadership team with four new staff members last month who are eager to address the broad challenge of bringing people together while remaining physically distant due to COVID-19.
The hires were announced in a news release from the center November 17. Allison VanKuiken, a trans woman, has been named the agency's first chief development officer; José Emmanuel Vega, a gay man, has been hired as director of health services; Robynne Rose-Haymer, a lesbian, has been hired as director of housing services; and Valerie Mayweather has been hired as the grants and sustainability manager.
"Our community continues to face unprecedented challenges during the pandemic in addition to those disparities in health, homelessness, and employment that existed before the crisis began," David Heitstuman, a gay man who is the executive director of the center, stated to the B.A.R. "Bringing on highly experienced professionals into key leadership roles is part of our strategic growth plan that will ultimately improve services for the entire LGBTQ+ community.
"We welcome these exceptional new leaders to our team and I am very excited to work with them to amplify the center's mission in creating a region where all LGBTQ+ people not only feel safe and welcome but are able to thrive," he added.
The Bay Area Reporter had the opportunity to speak with VanKuiken, Vega, and Rose-Haymer about their backgrounds, interest in the positions, and plans for the future of the organization. The quartet started in October, VanKuiken said.
"We're like a freshman class," she quipped.
VanKuiken, who has past work for the Human Rights Campaign and Equality California on her resume, said she wanted to shift to focus on policy implementation.
"A law on the books doesn't fully implement equality," she said. "It takes relationships, and the best place to learn is California."
VanKuiken said she is passionate about workforce development — having served as executive director of Trans Can Work, a transgender workers' advocacy organization. She wanted to work at a center that shared her interest in that topic, and that is also committed to housing programs for LGBTQ people.
"It just so happens the Sacramento LGBT center was looking for exactly that," she said.
The capital city's center — which, as the B.A.R. reported last year is in the midst of an expansion — serves as a model for what centers can look like in medium-sized cities, VanKuiken said, where services to the LGBTQ community are not as readily available as in larger cities.
"Sacramento isn't New York; it isn't L.A.," VanKuiken said. "It's like the cities where I grew up in the Midwest. But the Sacramento center is making phenomenal progress and has good movement."
VanKuiken, who oversees community events, said that she is excited for outreach when the COVID-19 pandemic ends. (McKinsey & Co., a company that provides guidance to corporations and governments, recently stated herd immunity through vaccination to the novel coronavirus is most likely in the summer or fall of 2021.)
"There's a sacred trust between our organization and the communities we serve. I'm excited, when we're through this pandemic, to engage people and to get involved in people's lives," VanKuiken said. "In the meantime, I was absolutely impressed with the building of relationships within this pandemic — using technology to bring people together and break down the walls of isolation."
Health services
Vega, the new director of health services, has to deal with the effects of COVID-19 and its attendant shutdowns on LGBTQ people. He recently moved to Sacramento from Tulsa, Oklahoma, where he was a commissioner for the city's human rights commission, chair of the Hispanic/Latinx Affairs Commission, and deputy director of the Dennis R. Neill Equality Center, a resource for LGBTQs operated by Oklahoma Equality.
"LGBTQ people are less able to access health insurance, STD screening, prescription drugs, or even find friendly and inclusive providers," Vega said, referring to sexually transmitted diseases. "In the LGBTQ community, we already face isolation and abandonment, and losing communication [due to the pandemic] leaves a mental health toll on our community."
Vega touted that the center provides mental health services for free, and COVID-19 testing through Sacramento County on Mondays and Tuesdays from 5 to 8 p.m., in addition to the STD screening the center already offers.
The center will begin to market its mental health services, which will be via telehealth, this week, Vega said.
Post pandemic plans
After the end of the pandemic, Vega plans to continue to draw attention to "the importance of mental health and health disparities in our community" and to "try to recover the community."
"A lot of folks came out during COVID and still have to be in isolation," he noted.
Rose-Haymer, as the housing director, will be in charge of the center's homelessness interventions as well as the host homes, transitional living, and Short-Term Transitional Emergency Placement Programs, or STEP. Her work at the center fits in with her studies at the University of the Pacific.
"I'm getting a doctorate in education and the interests of transitional age youth, so this fits in with the work we've been doing," she said, referring to youth between the ages of 16-24. "José and I had a conversation earlier today about all the things we wanted to do. My desire is for progressive integration, particularly for transitional age youth; it's about many intertwining situations, many of which have to do with health and wellness."
Integration looks like transitional age youth "living a life they desire to run after, not just living, as [the] goal," Rose-Haymer said, and "making sure youth understand the importance of taking care of themselves."
The center is not done tabulating how much money it raised during the December 1 Giving Tuesday, the day dedicated to supporting nonprofits in the run-up to Christmas, VanKuiken said December 2, though she estimates that when all is said and done it will be around $20,000-$25,000.
According to the organization's 2019 IRS Form 990, the center's total revenue was $4.3 million, compared to $1.9 million the previous year. According to an impact report for 2019 on the center's website, 431 clients accessed the center's HIV and hepatitis C testing and 1,473 clients accessed support groups.
For more information on the Sacramento LGBT Community center, click here.
LGBTQ Agenda is an online column that appears weekly. Got a tip on queer news? Contact John Ferrannini at j.ferrannini@ebar.com
Help keep the Bay Area Reporter going in these tough times. To support local, independent, LGBTQ journalism, consider becoming a BAR member.
Comments on Facebook