Political Notebook: Revived South Bay Dem club gears up for November election
Wednesday Sep 16, 2020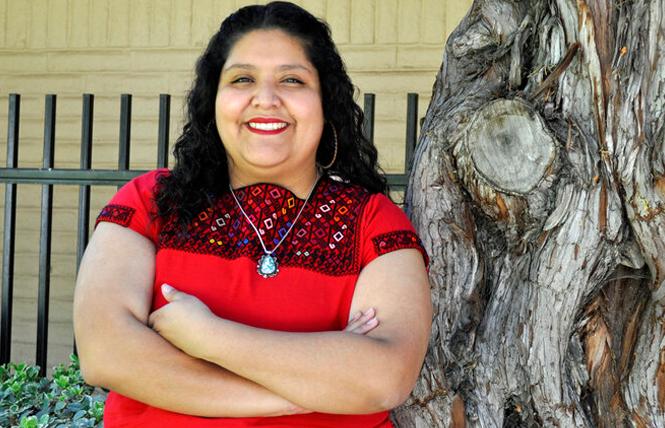 LGBTQ residents of Santa Clara County in 2003 first came together to form the Silicon Valley Stonewall Democrats. The partisan political club ebbed and waned over the years, and largely went silent after the election of Barack Obama as president in 2008.

"It went into hibernation during the Obama years," said Michael Vargas, 35, the club's current co-president.

Then came the election of Donald Trump as Obama's successor in 2016, putting Republicans back in control of the White House. The Trump administration soon started chipping away at the LGBTQ rights gained during the previous eight years.

It prompted renewed interest in having an LGBTQ Democratic club in the South Bay, said Vargas, an attorney who splits his time between his home and practice in San Jose and the apartment he and his husband, Brent Burfield, rent in Sacramento's The Pocket neighborhood.
"The most recent iteration of the club was founded in 2017 with Donald Trump doing a lot of anti-LGBTQ stuff," said Vargas, who married Burfield last month. "There was a need for the club to really exist again."

Vargas, who joined the club that year, was elected to help lead it in February alongside Co-President Ray Mueller, who is currently working for the US Census Bureau on the 2020 count. They have focused on growing the Stonewall club's membership — annual dues cost $25 — with an eye toward building it up into the largest Democratic club in the county.

It currently has 45 members. It needs to reach 60 to become one of the South Bay's biggest, said Vargas.

"Both Ray and I would like to see 200 or more members by the time we get to the 2022 election."

Another key goal of theirs was having the club endorse in this year's elections. Stonewall differs from the other local South Bay LGBTQ political group, the Bay Area Municipal Election Committee, in that its members vote on endorsements while BAYMEC's board determines who it endorses.

Stonewall was unable to endorse ahead of the March primary but kicked off its endorsement process in time to weigh in on the fall races. Vargas told the Bay Area Reporter in an interview this week that the club wasn't expecting the response it received. Particularly since, in previous elections, it had only endorsed in a handful of races.

"We did maybe half a dozen endorsements, but it was very targeted," recalled Vargas. "This is really the first time we had an open, full process. We reached out to every candidate and invited everyone to request our endorsement. We got an avalanche of requests that we weren't expecting."

This month, the club announced endorsements of a diverse group of 15 openly LGBTQ candidates, along with 60 other candidates running for office in Santa Clara County. Among the out contenders it is backing are five city council candidates and Ketzal Gomez, a queer woman of color vying to join the county board of education.

The club also endorsed five out school board candidates including Ali Sapirman, who would be the first nonbinary officeholder in Santa Clara County if elected as a San Jose Evergreen Community College trustee. Four of the city council candidates are also newcomers, while the fifth is gay Morgan Hill City Councilman Rene Spring, who is seeking reelection.

The only other known out councilperson in Santa Clara County, gay Mountain View City Councilman Chris Clark, is term limited from seeking reelection this year. J.R. Fruen in Cupertino and Anthony Becker in Santa Clara are vying to be the first gay men elected to their city councils. Raven Malone, who is bisexual, is running for a seat on the Palo Alto City Council, while Alysa Cisneros, who is queer, is aiming to join the Sunnyvale City Council.

Stonewall also endorsed gay former state Assemblyman John Laird's bid for a state Senate seat in the Santa Cruz region and South Bay Assembly candidate Alex Lee's campaign to become the first bisexual person to serve in the state Legislature. Both are expected to easily defeat their Republican opponents in November, as is gay Assemblyman Evan Low (D-Campbell), who was also endorsed by the Stonewall club.

Laird, who had served as the state's secretary for natural resources under former governor Jerry Brown, is aiming to succeed state Senator Bill Monning (D-Carmel), who is termed out of office this year. Lee is running against GOPer Bob Brunton to succeed Assemblyman Kansen Chu (D-San Jose), who is vying in November to become a county supervisor, in the 25th Assembly District that includes parts of Alameda and Santa Clara counties.

"As a progressive activist, I'm happy to see a progressive LGBTQ+ group forming in Silicon Valley and thrilled to have their support," stated Lee.

To see the Stonewall club's full list of endorsed candidates, visit http://www.svstonewalldems.com

Those interested in becoming a member can email mailto:svsd.president@gmail.com

Web Extra: For more queer political news, be sure to check http://www.ebar.com Monday mornings for Political Notes, the notebook's online companion. This week's column reported on an effort to see historic LGBTQ appointments in the next presidential administration.

Keep abreast of the latest LGBT political news by following the Political Notebook on Twitter @ http://twitter.com/politicalnotes

Got a tip on LGBT politics? Call Matthew S. Bajko at (415) 829-8836 or e-mail m.bajko@ebar.com

Help keep the Bay Area Reporter going in these tough times. To support local, independent, LGBTQ journalism, consider becoming a BAR member.
Comments on Facebook