City College board votes to name facility after late gay SF supervisor Harry Britt
Thursday Jul 30, 2020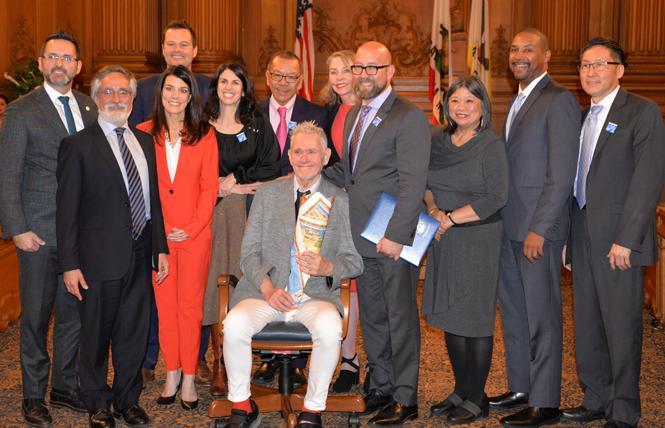 The City College of San Francisco Board of Trustees unanimously passed a resolution to rename a facility at the community college for Harry Britt, the late gay activist who succeeded the city's first gay supervisor, the late Harvey Milk, on the San Francisco Board of Supervisors.
As the Bay Area Reporter previously reported, Britt died last month at the age of 82 at Laguna Honda Hospital. In 1979 then-mayor Dianne Feinstein appointed Britt to the Board of Supervisors following the November 1978 assassination of Milk.
Britt won election four times to his seat and served as the board's first gay president. He opted not to seek reelection in 1992 and stepped down in early January 1993.
Which facility will be named for Britt was not specified in the resolution and will be decided by a pre-existing process for naming buildings, according to trustee John Rizzo. The resolution directs the college's chancellor to begin that process. It will be the second educational facility in the city named after a gay leader, as the San Francisco public school district in 1996 renamed an elementary school in the Castro after Milk, as he had represented the LGBTQ district at City Hall.
The idea for the resolution came from gay former Assemblyman and San Francisco supervisor Tom Ammiano and gay former City College trustee Tim Wolfred, Ammiano told the B.A.R. in an email Friday morning.
"It's great," he wrote of the trustees passing the resolution.
Ammiano and Wolfred were two of the people who assisted Britt over the years as his health declined.
The community college district two years ago renamed a street that runs through its Ocean campus after the internationally renowned bisexual Mexican artist Frida Kahlo.
The resolution to honor Britt was introduced by the three LGBTQ members of the college's oversight body: Board of Trustees President Shanell Williams, a bisexual woman; Vice President Tom Temprano and board member Alex Randolph, who are gay men.
"Many of us had the privilege of getting to know Harry Britt and learn first-hand about tremendous work he did on behalf of the queer community and all marginalized communities in San Francisco," Temprano stated. "By naming a building at City College after former Supervisor Britt, we are creating a lasting tool to teach future generations of students and visitors about who he was and how he changed our city and our LGBTQ movement."
Randolph praised Britt in a statement to the B.A.R. early Friday morning.
"The progressive values of civil rights, protections for those often left behind, and seeing education as a pathway to a better life Harry Britt fought for his entire career are exactly what we strive for at City College of San Francisco," he said. "I can't think of a better way to honor Harry and at the same time inspire future generations of students, staff, and faculty to pursue those goals as well."
Williams wrote in an August 1 text message that Britt "will always be remembered as a social justice champion."
"He exemplified the values of City College of San Francisco and I am proud to showcase leaders like him across our campuses," she added.
During the meeting, which was held virtually via Zoom, several people spoke in favor of the building naming proposal during public comment, including Sue Englander, a bisexual former leader of the Harvey Milk LGBTQ Democratic Club.
"Harry was a friend of mine. Harvey passed the torch to Harry in a tape recorded will before his 1978 assassination," said Englander, a historian who helps convene an annual conference about LGBTQ aging issues. "We, as former students and current faculty and engaged citizens, ask you to honor our mentor."
Trustee Brigitte Davila said of the resolution, "hopefully this is not too controversial."
Randolph said he was "proud to introduce this with our other queer trustees." He added that his "hope is by the November-December board meeting we will have a building identified."
Student trustee Vick Van Chung offered an amendment asking that Britt's name be alongside the name of a Black transgender woman on whatever facility is renamed.
"Black trans women may not have had the same recognition or opportunity to hold office," Chung said. "The movement for LGBT rights, too often, has been whitewashed."
Randolph said that a resolution calling for something else at the college to be named for a Black trans woman could be considered at a future date and the amendment was withdrawn.
Updated, 7/31/20: This article has been updated with comments from Tom Ammiano and Alex Randolph. Trustee Shanell Williams also responded.
Editor's note: If you liked this article, help out our freelancers and staff, and keep the B.A.R. going in these tough times. For info, visit our Indiegogo campaign. To donate, simply claim a perk!
Comments on Facebook