News Briefs: Pink triangle will be lit Saturday
Monday Jun 22, 2020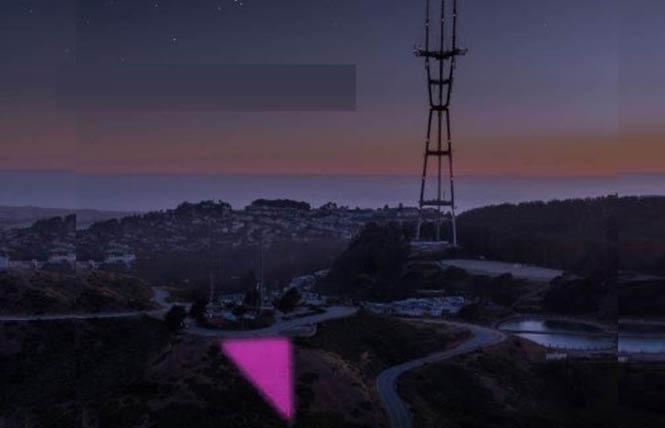 This year's 25th annual pink triangle installation atop Twin Peaks will be different due to the novel coronavirus pandemic, but there are a few opportunities to help out, and people are invited to watch the lighting ceremony from afar.

This year's installation will consist only of the outline of the triangle. It will be lighted Saturday, June 27, with 2,700 LED nodes of pink light, which will be unveiled by pink triangle co-founder Patrick Carney and Ben Davis, founder and CEO of Illuminate, the nonprofit behind the Bay Lights.

The pink triangle originally was used to brand suspected homosexuals in Nazi concentration camps. It was revived in the 1970s as a symbol of protest against homophobia, and has been used to symbolize LGBTQ+ pride ever since.

This year the triangle will remain lighted through July 11, the conclusion of AIDS 2020, the International AIDS Society's conference that will be virtual. It was to have been held in San Francisco and Oakland. (See related story, page 1.)

Carney wrote in an email that about eight volunteers are still needed to install the triangle's outline Thursday, June 25, beginning at 1:30 p.m. People will be widely distanced and wear pink triangle masks, he explained.

Prior to the lighting on Saturday, there will be a multi-city pink torch procession. Oakland Mayor Libby Schaaf is expected to be at the start of the procession, with San Francisco Mayor London Breed welcoming the torchbearers who arrive at the base of Twin Peaks. Participating partners include Oakland Pride, the Oakland LGBTQ Community Center, and San Francisco Pride.

The torchbearers will be escorted by socially distanced volunteers and several members of Dykes on Bikes.

According to a news release, the procession will start at Lake Merritt in Oakland around 2 p.m., heading to the Bay Bridge. At 6 it will go from the San Francisco Ferry Building to Twin peaks.

Participants will be physically distanced and wear masks. The pink torch was designed by Burning Man artists Josh Zubikoff and Srikanth Guttikonda. The duo run the Looking Up Arts Foundation and were behind the Rainbow Bridge, a 75 foot long, walkable sculpture built of 15,000 pounds of steel and covered in over 25,000 addressable LEDs.

Breed will be on hand for the 9 p.m. lighting, and people can watch from their rooftop, balcony, window, Market Street, or any high point in San Francisco or beyond, Carney said. It will also be livestreamed. There will not be a ceremony audience this year.

Carney is glad that the pink triangle will be part of this year's 50th San Francisco Pride, despite the changes made necessary by the public health emergency.

"Part of commemorating any Pride weekend is remembering where we have been," Carney stated in a news release. "The pink triangle on Twin Peaks is a highly visible, yet silent reminder of inhumanity. It recalls the darkest chapters of human history, yet it has been reclaimed to become a powerful symbol of hope, inclusion, love, and resiliency."

For volunteer opportunities, click here.

Give OUT Day coming up
Horizons Foundation will hold its annual Give OUT Day online fundraiser for LGBTQ nonprofits Tuesday, June 30. The "early giving" period started June 1, and people can make donations now or on the official day.

The foundation, which took over Give OUT Day a few years ago, made the decision earlier this year to postpone the spring event, due to the novel coronavirus pandemic. Nonetheless, organizers believe that queer nonprofits will be able to raise funds during Pride Month.

"With many Pride celebrations across the country at risk of cancellation, Give OUT Day can serve as an important way for us to be in community supporting our critical LGBTQ organizations during Pride Month," the organization previously noted.

One of the many nonprofits participating will be the San Francisco AIDS Foundation. In an email to supporters last week, Russell Roybal, chief advancement officer at the foundation, wrote that it's in solidarity with the worldwide protests expressing "the anger and pain of racial injustice and inequality."

"We are united with the diverse sea of people demonstrating the power of a movement to disrupt oppression," he wrote. "Our fight for health justice is a fight against the systems of oppression that hold our communities back."

Many nonprofits, like SFAF, were "founded in the crucibles of protest," Roybal added. "Give OUT Day will bring together hundreds of those organizations from across the country, empowering donors to take bold action for the causes closest to their hearts — and for the vital health care and support services that are needed now more than ever."

For more information about participating nonprofits and to donate, visit http://www.horizonsfoundation.org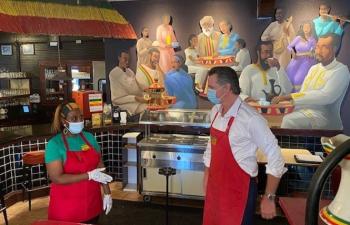 SF food delivery for at-risk seniors extended
San Francisco Mayor London Breed has announced that the Great Plates Delivered program will be extended through July 10.

Governor Gavin Newsom announced state funding for locally administered programs in April and officials recently said that it would be continued. It was to have ended June 10.

Great Plates is a free, temporary food initiative that delivers three restaurant-prepared meals a day to eligible older adults, including LGBTQs, during COVID-19.

Breed's expansion of the San Francisco programs means an additional several weeks of service, according to a news release. To date, more than 1,400 San Francisco seniors have benefitted from the program, receiving a total of 80,000 meals from various local restaurants.

Given that seniors are at heightened risk of COVID-19, the program is for older adults who live alone or with another senior and are unable to prepare or obtain meals while sheltering in place.

The city is partnering with Off the Grid and San Francisco New Deal to coordinate local food providers and eateries to provide the meals.

Seniors who currently receive state or federal food assistance such as CalFresh or home-delivered meals should contact the Disability and Aging Services' helpline at (415) 355-6700 to understand their eligibility for this program or other assistance. San Francisco residents seeking additional information about Great Plates Delivered SF can visit http://www.sfhsa.org/GreatPlates


Updated, 6/22/20: This article was updated to include times for the torch procession.

Editor's note: If you liked this article, help out our freelancers and staff, and keep the B.A.R. going in these tough times. For info, visit our Indiegogo campaign. To donate, simply claim a perk!
Comments on Facebook