News Briefs: Abrams to discuss Fair Fight in digital reception
Wednesday Apr 22, 2020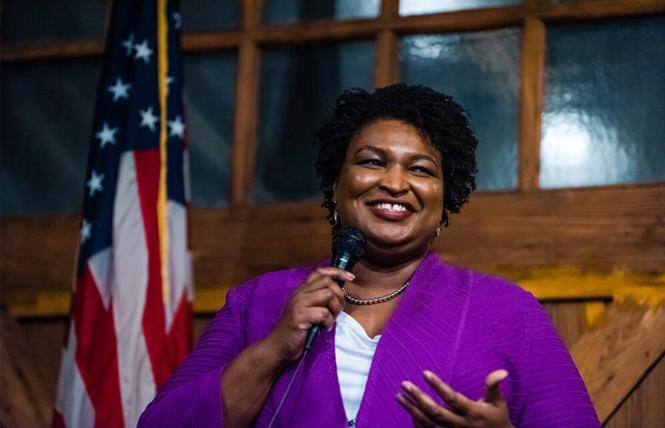 Manny's, the gay-owned event space in the Mission, will host a virtual reception for Stacey Abrams (D), who now runs Fair Fight to promote fair elections in Georgia and elsewhere after she lost the Peach State's 2018 gubernatorial election amid charges of voting irregularities.
The Fair Fight political action committee has initiated programs to support voter protection programs at state parties around the country and is engaging in partnerships to support and elect pro voting rights, progressive leaders, according to its website.
The event takes place Tuesday, April 28, at 5 p.m. Pacific time. Funds raised will go to the Fair Fight PAC.
Manny Yekutiel, the owner of Manny's, wrote in an email to supporters that Fair Fight is a critical organization as the country heads toward the 2020 presidential election.
"She's holding up the mantle in a time where voter access is paramount to us winning in November," he wrote of Abrams.
To RSVP, go to https://bit.ly/2K0iEVV
Tickets for the digital reception start at $25.
LYRIC moves open house online
The Lavender Youth Recreation and Information Center will move its annual spring open house online due to stay-at-home orders because of the coronavirus outbreak.
In an email to supporters, LYRIC staff said that the event will take place Wednesday, April 29, from 5:30 to 7:30 p.m.
Called "My Identity; Our Hxstories: A Celebration of LYRIC's 32 Years," this online celebration will feature the voices and artwork of LYRIC youth leaders as they explore the complexities of their identities and revisit history through an intersectional lens.
LYRIC's UndocuWorkforce Spring 2020 interns chose the theme for this celebration, making visible the voices of undocumented LGBTQQ youth who tend to be silenced or unrecognized by general community, organizers noted.
"It is especially important during this time to center and elevate the leadership of marginalized youth," the email reads.
To RSVP, visit the event's Facebook page at https://bit.ly/3bBo7yR
Editor's note: If you liked this article, help out our freelancers and staff, and keep the B.A.R. going in these tough times. For info, visit our IndieGoGo campaign.
Comments on Facebook