Online Extra: LGBTQ Agenda: Advocates call for ICE to release undocumented immigrants, citing COVID-19 outbreak
Monday Mar 30, 2020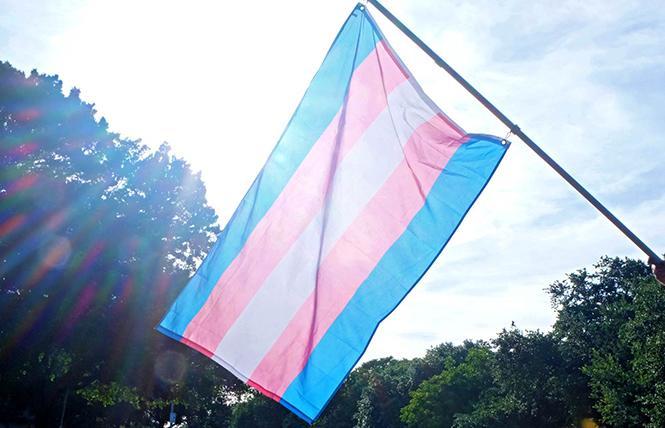 A growing number of immigrant rights advocates are calling for U.S. Immigration and Customs Enforcement to release undocumented immigrants in its custody, considering the potential for widespread cases of COVID-19 (the illness caused by the novel coronavirus) in detention facilities.
In a March 19 letter to ICE, San Francisco Public Defender Mano Raju asked for the release of detainees at the Yuba County Jail and the Mesa Verde Detention Center. The public defender's office represents clients in federal immigration court proceedings.
"Yuba County Jail and the Mesa Verde Detention Center — the two ICE detention centers where most of our immigrant clients are being held — are not equipped to keep detainees or staff safe during this public health crisis," Raju stated in a news release. "For over 40 years, Yuba has been under court-ordered consent decree due to its failure to provide detainees with adequate medical care. The Mesa Verde Detention Facility is a privately run, for-profit facility that houses up to 400 non-citizen detainees in congregate settings who are in civil detention."
ICE has congressional authorization to release people for humanitarian reasons and can use its discretion as to whether someone should be incarcerated or be released on their own recognizance.
"Detainees can be released to federally-approved alternatives to detention such as telephonic reporting requirements or even electronic monitoring," Raju said.
Efforts to have trans people released from immigration detention precede the U.S. coronavirus outbreak, of course.
On January 14, House Judiciary Committee chairman Representative Jerrold Nadler (D-New York) joined 40 members of Congress in calling for transgender people in detention to be released — citing statistics that LGBTQ immigrants are almost 100 times more likely to be sexually victimized in detention. At least two trans women have died in ICE custody.
Tuesday, March 31, is the International Transgender Day of Visibility. Observances will be online. For more information, visit https://tdov.org/ and https://www.translatinacoalition.org/
"For too long, immigration detention has been overly harsh, callous, and punitive toward migrants generally, and transgender individuals in particular," Nadler wrote in a letter endorsed by the Los Angeles LGBT Center. "Unfortunately, transgender migrants are particularly vulnerable to sexual harassment, physical and mental abuse, and medical neglect while in ICE detention. Rather than protect this vulnerable population, ICE detains them and places them at risk of abuse, medical neglect, and sexual harassment in ICE custody."
As the Bay Area Reporter previously reported (https://www.ebar.com/news/latest_news//288104), trans woman Kelly Gonzalez Aguilar, 23, has been in ICE custody for two and a half years while her asylum case is pending. She came to the United States from Mexico (she had fled there from Honduras), where she was a victim of sex and labor trafficking.
The TransLatin@ Coalition, based in Los Angeles, has been advocating for Gonzalez Aguilar's release for some time.
In a letter to ICE dated March 21, the coalition said that Gonzalez Aguilar, who is being held in Aurora, Colorado, should be released because having an underlying health condition puts her at particular risk of developing a coronavirus infection.
"We have just been informed that Kelly has been diagnosed pre-diabetic, and has been neglected of her significant dietary and medication needs. Kelly can feel her health is deteriorating," the letter states. "At this rate, given the widespread ICE raids and arrests that are continuously happening despite the quarantine, Kelly's conditions will likely get worse and detention centers will further get overcrowded.
"Kelly is met with the dangerous decision of self-deporting and risking her life in a country that threatens her existence or choosing to stay in a detention facility that will potentially never release and leave her to die slowly," the letter continues.
In a separate letter, the coalition demanded California Governor Gavin Newsom take particular actions on behalf of transgender, gender-nonconforming, and intersex people in light of the COVID-19 outbreak — including the release of anyone who is TGI and "does not pose a serious safety risk to the community upon release."
"Jails and prisons already do not provide adequate medical care to TGI people, especially in regard to gender affirming medical care," that March 20 letter states. "Because of the inadequate care provided in jails and prisons, TGI people are suffering in overcrowded facilities and without the needed resources to combat the virus."
A spokeswoman from Newsom's office responded to a request for comment March 26 with a brief statement.
"The federal government has exclusive authority over immigration law, but as we continue to grapple with the COVID-19 outbreak, we want everyone in the state to know that their health and welfare is our top priority," she wrote in an email to the B.A.R.
Meanwhile, at the federal level, Senator Dianne Feinstein (D-California) has called for all immigration court proceedings to be halted during the outbreak.
"Health experts are recommending adherence to social distancing guidelines and several state governments and federal agency officials have ordered workers and their families to stay home," Feinstein wrote in a letter to U.S. Attorney General Bill Barr. "Despite this, the Department of Justice continues operating more than 50 immigration courts all over the country. This forces judges, court personnel, and immigrants, including countless children and refugees, to put their — and the general public's — health at risk."
San Francisco Deputy Public Defender Hector Vega wrote in a March 25 email to the B.A.R. that he wants to see his client released, too.
As the B.A.R. previously reported, Lexis Hernandez Avilez, 41, lost her fight to be moved back to California from an ICE facility in Texas.
"Ms. Avilez is still detained in Texas," Vega wrote. "I'll be working on a request for her release based on COVID-19. The habeas remains pending but unsure how it will be moving forward due to COVID-19 delays."
Immigrant returned from Chad still in ICE custody
As the B.A.R. previously reported, the gay San Francisco man whom a federal judge ruled was erroneously deported to Chad last year returned to the United States in the beginning of March, but is now in ICE custody.
Edwin Carmona-Cruz of Pangea Legal Services said that Oumar Yaide, 32, is at the Yuba County Jail near Sacramento and is encouraging people to call a senior detention and deportation officer at the ICE field office in Fresno at (209) 547-3728 and ask that it use its discretion and ask for his release.
"Oumar is in good spirits and has been ready to be released since last August when he was initially detained," Carmona-Cruz wrote in an email to the B.A.R. March 25. "Oumar's chosen family has ensured that upon release, Oumar will keep his apartment in San Francisco and will have some money to get him back on his feet.
"We hope that ICE understands the severe health risk that Oumar and so many people are in while being detained. There has already been one confirmed case of COVID-19 in a detention facility in New Jersey. Oumar and many more should be released immediately," Carmona-Cruz added.
Yaide (known in court documents as Abderman Yaide) had intended to reopen his asylum claim on the basis of his sexual orientation when he was deported by the DHS shortly after Thanksgiving.
Yaide had been in ICE custody since August. On December 18, Judge Charles Breyer of the U.S. District Court for the Northern District of California ruled that Yaide had to be returned by DHS, which he was in early March.
ICE officials did not respond to a request for comment.
LGBTQ Agenda is an online column that appears weekly, usually on Tuesdays. Got a tip on queer news? Contact John Ferrannini at j.ferrannini@ebar.com
Comments on Facebook