Online Extra: Political Notes: A few laughs from the B.A.R. email inbox (and one good gift idea)
Friday Mar 27, 2020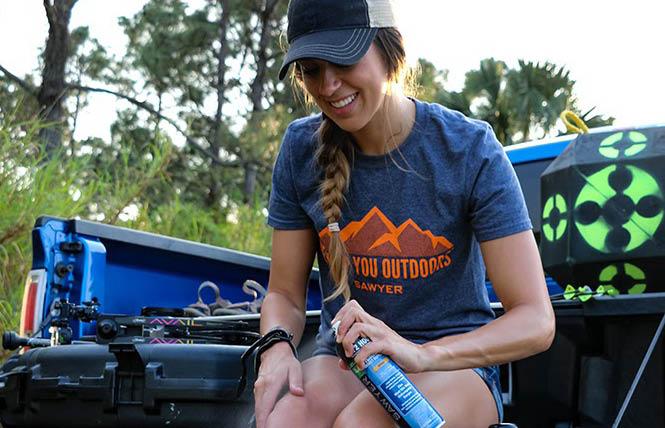 And now for something completely different, to steal a catchphrase from the Monty Python's Flying Circus troupe.
This weekly online column focuses on LGBT political topics, normally with an eye toward items of a more national or statewide concern. But in this time of a worldwide pandemic, with people hunkering down at home while their economic lifelines implode and social circles go virtual, a bit of levity is needed now more than ever.
So here are some of the emailed story pitches I have received in recent weeks that brought our newsroom a good laugh since San Francisco and then California officials ordered people to stay home and non-essential businesses to close. (And at the end of the column is a pretty good gift idea considering the state of things.)
This list is not meant to cast aspersions on the public relations professionals behind the entreaties for coverage, as they too are trying to remain working in these dystopian days. But it does offer a lifting-of-the-curtain peek behind the newsgathering process, and hopefully some humorous distraction, however brief, for you, the reading public. After all, these pitches are really meant to reach your eyeballs.
Needless to say, potty humor is involved. And a hat tip to those PR people who know journalists are always looking for trending items and latched on to the meme of the moment about the nation's disappearing shelves of toilet paper.
Thus, this March 18 pitch with the subject line, "Sales of Alpha Dog puppy pee pads spike as people seek relief from empty toilet paper shelves."
According to the Las Vegas-based online pet products company, one "ingenious solution" for those who can't find TP is to use its puppy pee pads.
"Puppy pee pads have always been one of our most popular pet products. But suddenly, we noticed a huge spike in orders," stated Alpha Dogs CEO Ramon van Meer. "In fact, suddenly customers — many of them new to us — were placing hundreds of orders all at once."
The release actually screwed up the name of the company, it is Alpha Paws, which van Meer founded two years ago. Van Meer, who lives in Danville, California but runs the business out of Nevada, told the Bay Area Reporter that he happened to see someone post a video about using his company's dog pads instead of toilet paper —https://www.youtube.com/watch?v=SP_9ks9XOBw — after noticing a spike in sales of the item.
"I can't confirm people are using it as toilet paper," he said. "But after I saw the video, I thought, that is genius. But I think the majority of people are stocking up on it for their dogs because pet stores are closed."
It may also be because he cut the price for a box of 80 pee pads by 20% to only $29.99. Two boxes gets customers free shipping.
Van Meer has a knack for gaining media attention via scatological means. The Los Angeles Times in 2012 noted he had accrued some buzz for his travel agency with a fake pitch about airlines purportedly offering "flushable potty economy seats" to passengers looking to fly on the cheap.
As for his dog pee pad pitch, van Meer said he tested out using the canine TP himself.
"It does work," he told the B.A.R., but he stressed he did not flush it down the toilet. "I threw it out in the trash."
As a reminder — the only thing one should be flushing down the toilet are the three Ps: pee, poop, and (toilet) paper.
In a similar vein was this helpful notice from Ballsy about its products that will keep a man's "prized jewels and nether regions fresh, clean and smelling great — no harsh chemicals or heavy cologne required!"
Its website at https://ballwash.com/ includes an array of products, including the Ballwash, Nut Rub and Sack Spray.
"As more and more cities are enforcing rules for staying home, many of us are spending more quality time with our significant others than ever before! Whether you've been married for 20 years or only dating a month, this can be a serious test to any relationship!" noted the release. Duly noted.
Another pitch using the run on TP to gain attention was a March 19 missive equating European brands of canned tomatoes as a similar must-have item.
"Canned tomatoes are once again proving to be a kitchen essential disappearing from grocery store shelves. Why? Because canned tomatoes are so beloved," according to the pitch.
It included a link where people could find recipes online — https://greatesttomatoesfromeurope.com/recipes — that is part of a website for ANICAV, the Associazione Nazionale Industriali Conserve Alimentari Vegetali, Italian for National Association of Industrial Canned Food Plant.
"Let's cook. Did you know cooking is a good psychological tool: while cooking your mind is distracted and that helps diminish anxiety. Invite the kids to join in and you'll have some fun and enjoy something scrumptious to eat!" touted the release.
In the jumping-the-gun category now that county, state, and federal parks and campgrounds have been closed or are restricting access to discourage too many people from showing up and potentially spreading the novel coronavirus was a news release about Sawyer bug repellant. It markets its Picaridin Insect Repellent for people as an alternative to sprays made with DEET and its Permethrin Insect Repellent for use on clothing, camping gear, and tents.
"As many outlets are reporting on the added importance of daily hikes and walks during this 'social isolation' period, we still have the elements of nature to contend with ... like bugs!" warns the company's pitch.
For when it is advisable to again head out into the wilderness, dog owners will likely be glad to know the company says its sprays are safe to use around canine charges and can be used on them to ward off mosquitoes and fleas. Check out www.sawyer.com/dogs for more information.
Raising the question will any of them actually take advantage of this (or even have the energy to do so once at home) is this announcement from adult gay content provider Say Uncle Network, part of Charged Media, that it's offering all medical personnel nationwide free access to its videos. The choices include productions from Latin Leche, Young Perps, Missionary Boys, and others.
"For the heroes on the front lines battling the spread of COVID-19, they deserve the best of the best, and nothing reduces stress while simultaneously strengthening the immune system better than an orgasm," argued the release.
Those interested should contact PR@Charged-Media.com
The prize for best double entendre brand name goes to Sandy Bumz — https://mysandybumz.com/ — an outdoor picnic ground cover that families here in the Golden State and elsewhere can utilize at beaches once they reopen.
A gift to foster connections
To end with, here is an idea that could be of use for those with friends or loved ones whose birthdays are coming up and can't celebrate with them in person. The company 4ever Bound will bind together pictures and personal letters to the person into a book to gift them for their birthday or another occasion.
The Tucson, Arizona company's handiwork has also been touted as a unique Mother's Day gift or a way to bundle together children's artwork. Robyn and Peter Pomonis launched the idea after cleaning out their garage and finding paper keepsakes they had collected over the years made by their children that they didn't want to throw away.
The company says it can turn around the material submitted to become a bound book within two weeks. To check out its book binding options and see how to order, visit https://4everbound.com.
Keep abreast of the latest LGBT political news by following the Political Notebook on Twitter @ http://twitter.com/politicalnotes
Got a tip on LGBT politics? Call Matthew S. Bajko at (415) 829-8836 or e-mail m.bajko@ebar.com
Comments on Facebook