Political Notebook: LGBT leaders adjust to new virtual world
Wednesday Mar 25, 2020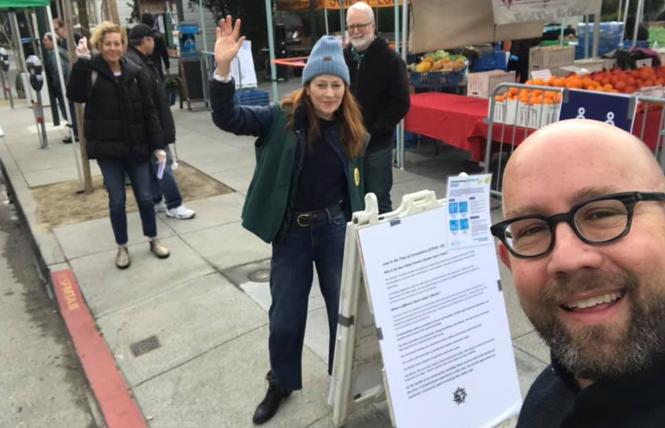 Being social is baked into the job description for local politicians, who in addition to attending numerous meetings have a full calendar of civic engagements, neighborhood events, and constituent outreach. All of that has been thrown out the window under the shelter-in-place orders instituted to help stop the spread of the novel coronavirus.

To adhere to the guidelines their constituents are expected to follow, LGBT elected leaders across the Bay Area have been hunkering down at home, canceling their own meetings, and conducting their political business virtually. Due to social media, it is easy for politicians to maintain regular communication with their constituents about how to protect themselves and their loved ones, and in some cases offer a bit of levity during these challenging times.

For gay San Francisco District 8 Supervisor Rafael Mandelman, juggling his duties representing the city's LGBT Castro district and other central neighborhoods and his own health is a particular challenge. As a Type-1 diabetic, Mandelman is among those with an underlying health condition medical experts advise should be taking extra precautions so they do not contract COVID-19, the respiratory illness caused by the coronavirus.

"I would say if I were not an elected official I would probably be trying to absolutely minimize my contact with other people and stay at home indoors," Mandelman told the Bay Area Reporter by phone Monday from his office in City Hall. "As an elected official the reality is I have a job to do and part of that is going out, so I am trying to balance that."

With his staff working mostly from home, Mandelman said he is pretty much alone in the office and heads there most days as it is easier to access his online meetings and answer constituent phone calls and emails. The Board of Supervisors has canceled most committee meetings and went to conducting a virtual board meeting Tuesday afternoon.

"It keeps us out of the chamber," he noted. "Last week we were all in the chamber for nine hours. That was probably not ideal."

For now his Friday happy hour events at bars in his district and Saturday community office hours in neighborhood coffee shops are on hold, but he does check into the city's emergency operations center. He is trying to limit his personal trips to buy groceries and visit the pharmacy.

"I do go out running and to take some long walks," said Mandelman.

Over the weekend he did venture out to the Noe Valley Farmers' Market Saturday morning, as the organizers had called him last week to discuss whether they should remain open or shut down. Since it is providing a vital resource to the neighborhood, Mandelman advised they keep holding the weekly market.

"I wanted to show my support for folks trying to keep that going," said Mandelman, who also used it as an opportunity to post a photo to his Facebook page highlighting how to social distance while in line.

He has been posting daily updates on what local, state, and federal officials are doing to address the pandemic, as well as sending out emails to his constituents with such information. And he and his staff are monitoring issues that pop up, like stepping in to reverse an initial city order that marijuana dispensaries had to close down or ensuring businesses forced to shutdown that board up their windows are not fined for doing so.

"We are certainly getting a ton of incoming email and voicemail. There is no lack of communication coming from my constituents," said Mandelman, who will hold his first online town hall meeting Monday with merchants in the Castro. "It makes sense to try to get us into 2020 in terms of virtual communication."

Asked what life has been like in recent weeks, Mandelman said, "It is very weird. The days are busy and long but politics is generally a pretty social activity and this is a very anti-social time."

Via his Facebook page Rene Spring, a gay man on the Morgan Hill City Council, has been regularly posting messages and updates for fellow residents of his Santa Clara County city. Among his near daily posts about the latest emergency orders and ways to seek assistance, Spring has been sharing snapshots of his feline fur babies and latest culinary creation using the hashtag #cookingcouncilman.

"When you're asked to social distance yourself — you bake! Today — my first attempt at baking a bread named after the Swiss Canton (State)! of Ticino bordering Italy," wrote Spring, who immigrated to San Francisco 22 years ago this month from Switzerland, last Friday, March 20.

Gay Emeryville City Councilman John Bauters has been a prolific user of Twitter during his time in office, using the platform for both work-related reasons and more comedic purposes, such as regularly posting videos of himself ice skating while addressing a specific topic. While sheltering in place he has been tweeting up a storm on all manner of topics, even sharing his personal phone number for those who don't have family or friends they can call and socialize with.

Amid Bauters' serious tweets are the more comical ones, such as this March 16 query, "What are the instructions for how to socially distance/not kill people you have to work at home with for 3 weeks who apparently have an affinity for singing the fucking Lion King soundtrack? #askingforafriend."

Sheltered at home since March 12, Bauters told the B.A.R. his twitter usage has increased because he "is a captive audience" working from home. He has been posting blog updates with information and resources for people impacted by the pandemic, and he expects to send out a recorded phone message to registered voters in Emeryville next week.

Seven trips he was set to take, including one this month to ump at a gay softball tournament, were canceled due to the pandemic. To keep active he goes on long bike rides in the morning along the Bay Trail.

"I avoid the park and where people are congregating in ways they are not supposed to," said Bauters, whose council held a mostly virtual meeting March 19 and won't meet again until April 7.

Another frequent twitterer is queer BART board member Janice Li, who represents parts of San Francisco on the oversight body for the regional transit agency. Among her updates this month about the transit line's schedule changes and need for economic support from state and federal officials, Li has peppered her Twitter feed with more personal updates about how she is sheltering in place and her mom's confusion about what that entails.

"I think my mom (who lives in Buffalo, NY) thinks that 'shelter in place' is a physical shelter where I can have a fun sleepover party with friends," Li tweeted March 16.

Gay state Senator Scott Wiener (D-San Francisco), the city's lone LGBT representative in the state Legislature, has been self-isolating at his home in the Castro since the night of March 16, having returned from Sacramento once the Legislature went on an extended recess through at least April 13. He ventures out for shopping and to go on runs in city parks if they are not too crowded, like the polo fields and Kezar Stadium in Golden Gate Park.

"I typically take a walk through the neighborhood but avoid central areas and focus on residential streets. It is easy to avoid people," said Wiener.

But for the most part he is hunkered down at home, conducting work virtually. He has held five town halls in the last week on various social media platforms, with each viewed 2,000 to upward of 4,000 times. He prefers using Twitter over Facebook as he tends to reach more people on it due to a change Facebook made to its algorithm years ago that led fewer people to see his posts via his political page.

"It is different but it's what we have to work with," said Wiener. "One of my favorite parts of being in elected life is being out and about in the community interacting with my constituents, talking to people, being at community meetings and staying connected."

The online town halls help, and they tend to draw people who would not normally attend a community meeting, noted Wiener. And he does find himself talking a lot more these days to his family and friends.

"You got to make lemonade out of lemons," he said.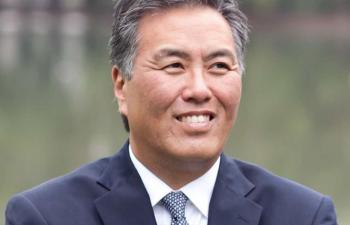 Victory Fund endorses California candidates
The LGBTQ Victory Fund announced a host of new endorsements of out candidates Tuesday, including for three men running for office in California. The organization, whose aim is to elect LGBT people to elected office across the country, named gay Congressman Mark Takano (D-Riverside) one of its 2020 Game Changer Incumbent endorsed candidates.

It also endorsed Alex Lee, a Democrat who advanced out of the March 3 primary race for the open Assembly District 25 seat that includes parts of Alameda and Santa Clara counties. He will face off against Republican Bob Brunton to succeed Assemblyman Kansen Chu (D-San Jose) in the heavily Democratic district, and if he wins, Lee would become the state's first out bisexual legislator.

As Lee turns 25 years old this summer, the Democratic legislative policy adviser would also be the youngest state lawmaker since 1938 if he wins. His campaign has said if elected Lee would be the first state legislator from Generation Z, though others would consider him to be part of the millennial generation. (The dividing line between the two differs between 1995 and 1996, depending on which definition one uses.)

The Victory Fund also endorsed gay BART director Bevan Dufty, who is running for reelection in November to his District 9 seat representing parts of San Francisco on the regional transit agency's oversight body.

Web Extra: For more queer political news, be sure to check http://www.ebar.com Monday mornings for Political Notes, the notebook's online companion. This week's column reported on the contest for seats on the panel that oversees the Alameda County Democratic Party.

Keep abreast of the latest LGBT political news by following the Political Notebook on Twitter @ http://twitter.com/politicalnotes

Got a tip on LGBT politics? Call Matthew S. Bajko at (415) 829-8836 or e-mail m.bajko@ebar.com
Comments on Facebook