Online Extra: CA Gov Newsom issues order to stay at home
Thursday Mar 19, 2020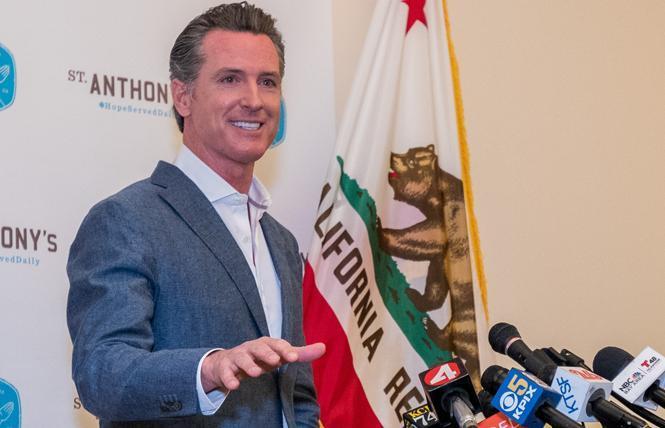 California Governor Gavin Newsom issued an order Thursday, March 19, for the state's nearly 40 million residents to stay at home to limit the spread of coronavirus.
The order, set to go into effect later that evening is similar to public health orders in the Bay Area and elsewhere. People are asked to stay at home and practice social distancing when they go outside.
The directive is open-ended, Newsom said. He added that 21 of the state's 58 counties already have similar orders in place, affecting 21.3 million people.
In response to questions about the different verbiage in the state and the city's shelter-in-place orders, early Friday morning San Francisco Mayor London N. Breed issued a statement to explain that the governor's order is complementary to the local one. The determination was made in consultation with City Attorney Dennis Herrera and Director of Public Health Dr. Grant Colfax.
"These orders work together to ensure that everyone in San Francisco, the Bay Area and across the state minimizes risk while allowing them take care of themselves and their loved ones, and while allowing essential businesses and services to function," stated Breed.
Breed urged all residents to comply with the restrictions in both San Francisco's order and the state's order since the dual directives aim to "help flatten the curve to protect all Californians by helping our hospitals and caregivers not become overwhelmed. San Francisco applauds this bold step by the state."
The state projects 25 million residents will become infected over an eight-week period, based on modeling by public health officials
"We need to adjust our thinking and adjust our activities," he said in a televised address a little after 6:30 p.m. "We need to bend the curve in the state of California."
He stressed the need for enough hospital beds to meet the anticipated number of people — a surge, he said — of 19,000 who state officials expect will need them.
As for enforcement, Newsom did not indicate authorities would be out checking people.
"I don't believe people need to be told by law enforcement," he said in a televised address. "But do so by social distancing themselves."
"We've been doing pandemic planning in California for over a decade," he said. The data shows a spread that matches their models.
Vast majority of Californians who test positive will be fine, he said. But for vulnerable populations, they need hospital care.
Newsom said the state has the capacity to "meet this moment," but implored people to cooperate.
"It's difficult to be the bearer of these messages," he said, adding that the state started with asking seniors over 65, but now needs to broaden it by including all residents.
Comments on Facebook