Online Extra: BART to reduce hours as ridership plummets amid virus outbreak
Thursday Mar 19, 2020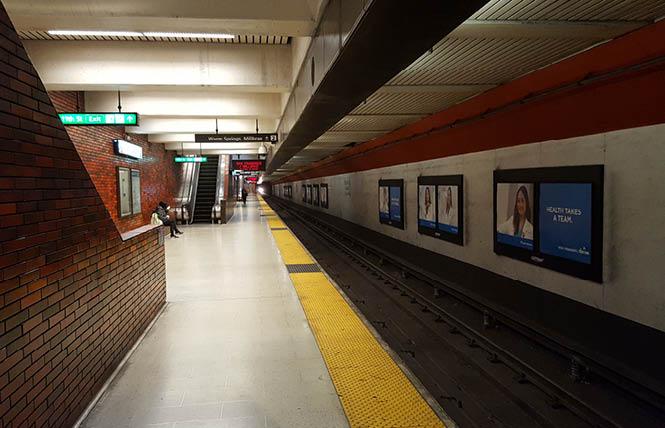 BART, which has been running a regular schedule all week even as ridership plummeted after Tuesday's shelter in place orders went into effect in the counties it serves, will reduce operating hours come Monday.
In a March 19 news release, the transit agency said that the changes were the result of "an exhaustive review of ridership and train car loads this week."
The shelter in place orders in the counties served by BART: San Francisco, Alameda, Contra Costa, and San Mateo, went into effect at midnight March 17. (Marin and Santa Clara County also instituted shelter in place orders the same day.)
"BART is taking swift action to reduce operating costs as ridership levels have declined by 90% as a result of the COVID-19 pandemic and shelter in place orders," the release stated.
Until further notice, the following changes are in effect:
Starting Monday, March 23, BART will provide service Monday-Friday from 5 a.m. to 9 p.m. (currently service is 5 a.m. to midnight). Current weekday train frequency will remain.
Starting Saturday, March 28, Saturday and Sunday service will be from 8 a.m. to 9 p.m. (currently Saturday service is 6 a.m. to midnight and Sunday is 8 a.m. to midnight). Current weekend train frequency will remain.
All riders must be in the system by 8:45 p.m. to have a guaranteed ride to their destination.
BART officials said that they will monitor ridership data each day to determine how long these service hours will be in effect.
The agency said the changes were based on data. According to BART, ridership after 9 p.m. has dropped substantially and now represents only 3% of total daily ridership.
"Closing early is a better option than running less frequently or running shorter trains after 9 p.m. because BART will realize immediate cost savings to its operating budget by being able to reassign a significant number of operating staff to capital projects," the release stated. "These are projects that will accelerate our system reinvestment work."
Gay BART board director Bevan Dufty told the Bay Area Reporter in a phone call Thursday that the district hopes the changes are a "recalibration."
"I think we're doing what's responsible," he said. "We're at the forefront of this pandemic.
"After 9 p.m. the numbers tank," he added. "We're really at risk with declining riders, but declining numbers is the best public health response and we recognize that."
The shelter in place orders were instituted to help "flatten the curve" of COVID-19 infections, the illness caused by coronavirus. The orders mandate that people remain indoors unless they are conducting essential activities, businesses, or government functions. (People can go outdoors to take a walk, shop, or walk their dogs.)
Dufty said that the agency is instituting other cost-cutting moves, like transferring engineers to work on Fleet of the Future, the new train cars, and securing government funding.
BART spokeswoman Alicia Trost, who joined Dufty on the call, said that the agency is on pace to lose $60 million a month. BART depends on fares for much of its operating costs. Trost said fares are about 60% of BART's revenue. Parking fees bring in another 5%, and that's dropped too, as riders aren't driving to BART lots since so many are working from home or have seen their hours drastically decreased or have become unemployed by the temporary closure of non-essential businesses.
BART general manager Bob Powers said the agency did not make its choice easily.
"We are taking a data-driven approach to these decisions to ensure as few people as possible are impacted," stated Powers. "These are extraordinary times and we did not take this decision lightly. Our system operates using public dollars and we have an obligation to make financially sound decisions about service levels."
For more information, go to www.bart.gov
Comments on Facebook