Guest Opinion: Help for small businesses
Wednesday Mar 18, 2020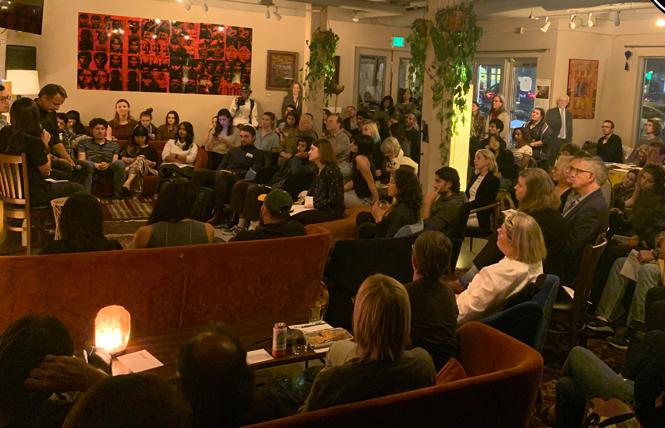 San Francisco is in the midst of one of the most challenging times in recent memory.
Our theaters, schools, bars, restaurants, and places of gathering and community are closed. Opentable has shown a 65% decline in reservations in the last few days with some restaurants showing a 60-80% drop in traffic. Wholesale businesses, catering operations, gyms, yoga studios, and music venues are all buckling under the weight of social distancing.
Our city is at a standstill.
All this at a time when small businesses are already dealing with high rents, the piling on of taxes and fees, skyrocketing payroll costs, and customers moving away from brick and mortar.
It will get worse before it gets better. But it will get better. I repeat: It will get better.
I was at the news conference held by Mayor London Breed and city leaders in Chinatown this past week where she announced the first round of measures to assist small businesses like mine during this time. She reminded us that San Francisco has been through tough times before — from the Loma Prieta earthquake to the AIDS epidemic. Our city has been defined since the very beginning by a shining resilience that emerges from tribulation.
This is in our blood, San Francisco. We are fighters and we are strong.
Small businesses are a major part of the rich cultural fabric of our beloved city and, right now, we need you. We've been here for you and now we need you to show up for us.
So, how can you support your small businesses in the midst of all this?
1)Choose the five (or 10) small businesses you love most in San Francisco. Actually write down their names. Got them written down? Great, now look up each of their websites and see if you can donate directly to them, buy gift cards from them, or become a monthly sustaining member. Message them on Facebook and ask for a link to provide monetary support.
2) If your company has asked you to work from home find out if you get a per diem that you can spend getting delivery from a local restaurant or small business that is continuing to do delivery or take out.
3) Call your representatives and advocate for measures helping small businesses: fee relief, rate reductions for PG&E and Recology, temporary commercial rent abatement, and funds to go directly to support employees who have lost their jobs. Australia, for example, is giving out $25,000 grants directly to small businesses to provide relief right now.
4) When this is all over, our small businesses are going to need us to show up in a big way to bounce back. Get ready for that moment.
The city has already stepped into action, deferring business taxes and business licensing fees (Manny's just got a $789 bill from the city which is now, thankfully, deferred), establishing a $1 million resiliency fund, which will grow, announcing a plan to provide paid sick leave, loan options, legal assistance, and more to come.
Our own state Senator Scott Wiener (D-San Francisco) has already announced legislation to prohibit commercial evictions of small businesses for non-payment of rent, and support from the Federal government is on it's way, likely in the form of low interest Small Business Administration loans.
All of this is good and every bit will help. But, San Franciscans, if we are going to pull through this like we've done before, it will be because of the strength of our community.
This moment is the challenge that will define our time here in San Francisco.
And, when the time comes to return to normalcy, small businesses will be waiting for you, our doors open, our glasses cleaned, our ovens fired up. Ready to bring you through our doors again, together.
Manny Yekutiel is the owner of civic gathering space and restaurant Manny's, at 3092 16th Street, and is a commissioner on the San Francisco Small Business Commission.
Comments on Facebook