Online Extra: Political Notes: Gay SF Dem Party chair set for reelection
Monday Mar 16, 2020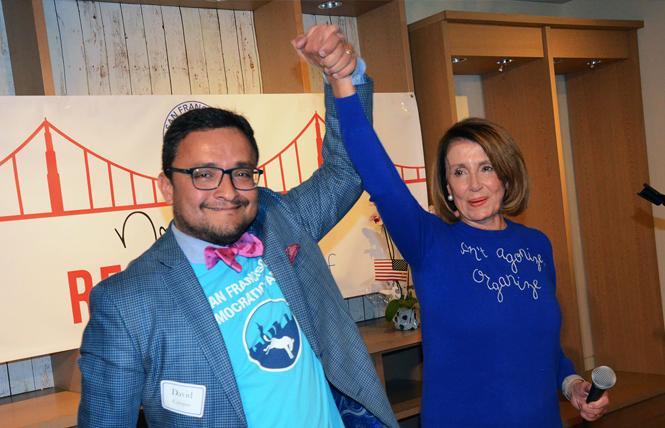 With his slate of candidates nearly sweeping all of the seats on the body that runs the San Francisco Democratic Party, chair David Campos is all but guaranteed to be re-elected to lead the local political party come April.
Campos, a gay man and former District 9 supervisor, took over as chair in summer 2017 and last month had told the Bay Area Reporter that he would seek to remain in the chairmanship should he win reelection to his seat on the Democratic County Central Committee.
Commonly called the D-triple-C, the DCCC's 24 elected seats split between the city's two state Assembly districts were all on the March 3 primary ballot. Fourteen DCCC members were chosen by Democratic voters in the 17th Assembly District and the other 10 by Democratic voters in the 19th Assembly District.
Campos came in second place in the DCCC race in AD 17 behind his former supervisor colleague Jane Kim, who had held the District 6 seat and is now on the presidential campaign of Senator Bernie Sanders (I-Vermont). They were both part of the progressive Social Justice Democrats Slate, which won 21 out of the 24 DCCC seats, according to the unofficial election results.
"It's a clear message that voters want a progressive San Francisco Democratic Party. Thank you San Francisco Democrats for the support," Campos wrote on Facebook March 11. "Congratulations to all the winners and a big thank you to all who ran. Now that the election is over, let's work together to make sure we have a Democratic victory in November. Let's keep the House, win the Senate, and take back the White House!"
As the B.A.R.'s Political Notebook in the March 12 issue reported, City Hall legislative aide Honey Mahogany's election to the DCCC marked the first time a transgender woman had been elected to the Democratic Party's oversight body; Campos had appointed her to a vacant seat two years ago. She is also the first drag queen to win any type of elected post in San Francisco and the first black transgender person to win an elected post in California.
"The Social Justice Democrats had a resounding victory, which goes to show that the people of San Francisco agree that we need to fight for the needs of everyday people over those of large corporations," noted Mahogany, who works for District 6 Supervisor Matt Haney, in a Facebook post.
A member of the progressive slate, Mahogany came in seventh place in the AD 17 DCCC race. She and Campos were among the nine LGBT community members who won election to the DCCC; all were members of the progressive slate.
In AD 17 the out winners included incumbent DCCC members Frances Hsieh (sixth place); Peter Gallotta (10th place); gay District 8 Supervisor Rafael Mandelman (11th place); and gay BART board director Bevan Dufty (12th place). Joining the DCCC will be bisexual community college board president Shanell Williams, who came in ninth place.
The two other LGBT winners were in the AD 19 DCCC race. Current member Keith Baraka, a gay firefighter, landed in second place, while Janice Li, a queer woman who also serves on the BART board, took seventh place.
Rounding out the progressive slate winners in AD 17 were DCCC newcomers former District 11 supervisor John Avalos in third place; District 9 Supervisor Hillary Ronen in fourth place; Haney in fifth place; and eighth place finisher Anabel Ibáñez, the political director for the United Educators of San Francisco union.
The two other winners in the AD 17 contest were progressive Gloria Berry in 13th place, who not part of the slate, and in 14th place Nancy Tung, who was part of a moderate slate for the DCCC and lost her bid to be district attorney in November.
As for the AD 19 DCCC race, the progressive slate winners were District 4 Supervisor Gordon Mar, who came in first place; incumbent Leah LaCroix in fifth; Public Defender Mano Raju in sixth place; school board member Faauuga Moliga in 10th; and party activists AJ Thomas (fourth place), Queena Chen (eighth place) and Li Miao Lovett (ninth place).
The lone moderate slate member elected to the DCCC from AD 19 was Suzy Loftus, who came in third place. Appointed interim district attorney by Mayor London Breed just weeks before last November's election, voters ousted her.
The DCCC winners were all elected to four-year terms and will be sworn in when the oversight body meets in late April. The party posted a message Sunday noting the Wednesday, April 22, meeting, however, "remains tentative and is subject to change based on the public health situation due to COVID-19."
It already canceled its March 25 meeting, and the California Democratic Party announced last week it was canceling it's executive board meeting that was to be held March 20-22 in the Central Valley city of Visalia between Fresno and Bakersfield.
"We know that this is a difficult time for our communities, our city, and our country, but we know that we will get through this together," noted the local party's post on its Facebook page. "The city is taking extensive and proactive actions to prevent the spread of COVID-19, focusing on our most vulnerable populations. We encourage all San Franciscans to stay informed and take personal action about the COVID-19 situation."
Keep abreast of the latest LGBT political news by following the Political Notebook on Twitter @ http://twitter.com/politicalnotes
Got a tip on LGBT politics? Call Matthew S. Bajko at (415) 829-8836 or e-mail m.bajko@ebar.com
Comments on Facebook