Editorial: Why social distancing matters
Friday Mar 13, 2020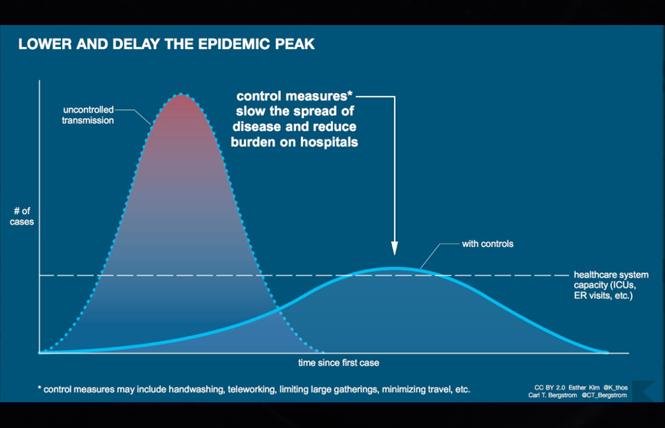 San Francisco and Santa Clara counties have implemented aggressive social distancing measures to slow the spread of coronavirus. Last week, San Francisco Mayor London Breed, Health Director Dr. Grant Colfax, and the Department of Emergency Management announced several recommendations for the public, the most restrictive of which was the request to cancel or postpone scheduled gatherings of more than 50 people. Health Officer Dr. Tomás J. Aragón followed with an order over the weekend banning group events in city-owned buildings. That has effectively canceled ballet performances, plays at the gay-focused New Conservatory Theatre Center, meetings at the main library, and all other events from city facilities. Various LGBT organizations are heeding the city's health advisement by canceling in-person meetings and other functions. (We have a running list on our website.) On Wednesday, Breed issued another order banning large gatherings of more than 1,000 people until at least March 25.

Earlier this week, Santa Clara County Health Officer Dr. Sara Cody issued a legally binding order prohibiting events with 1,000 people or more in the South Bay for the next three weeks. That drastic action was needed, she said at a news conference, because the county had recorded additional cases of COVID-19, the respiratory disease caused by the virus, and its first death. "This is a big decision to issue a legal order," she said. "The last five days, the uptick in cases where we found no link to travel — that is a tipping point for us." (The order does not apply to airports, shopping malls, and other places that may have large numbers of people passing through.)

As of Wednesday, there have been 14 reported cases of coronavirus in San Francisco, according to the Department of Emergency Management, and new recommendations were issued beyond avoiding large public gatherings. Those 60 and over, considered to be a vulnerable population along with those with weakened immune systems, are advised to limit outings. Suggestions for workplaces include suspending nonessential travel, maintaining an arm's length distance from co-workers, and possibly telecommuting. Officials also asked everyone to wash their hands with soap and water often, cover coughs or sneezes, stay home if feeling sick, avoid touching their face, and trade shaking hands for an elbow bump or wave.

Federal, state and city public health officials in other jurisdictions have offered similar information and policies to encourage social distancing, a public health tool that has shown to be effective, experts said. Social distancing means people should not be in close proximity to one another in order to slow the virus from spreading since its containment is no longer a realistic option. Retarding transmission reduces the number of infections and gives hospitals and other health care facilities time to prepare for when more people get sick. Virtually every public health expert has said that we can expect many more cases of coronavirus in the U.S., especially once testing ramps up. (Federal public health workers lost valuable time testing people and implementing a plan because President Donald Trump continues to downplay the seriousness of what the World Health Organization is now calling a pandemic.)

But the Bay Area is not under a lockdown, like Italy, and people should use their common sense when following instructions to keep hands clean and a safe distance from others when doing their regular activities like shopping or stopping for coffee. The Guest Opinion by San Francisco Travel President and CEO Joe D'Alessandro notes that we must strike a balance between good hygiene and supporting our economy when possible. D'Alessandro, a gay man who's led the tourism agency for many years, also criticized the irrational fear of Chinatown because the coronavirus originated in China as simply xenophobic — reminiscent of the ugly scapegoating at the beginning of the AIDS pandemic. Right now, commercial districts all over the city, including the Castro, are hurting and will need our support if we don't want to see more vacant storefronts. This is the dilemma we face between two competing priorities. To shorten the effects of COVID-19 as soon as possible, we must each monitor our health, strike a balance in our daily lives, and contact health care providers if necessary.
Comments on Facebook