Political Notebook: In a 1st, SF trans women win local party posts
Thursday Mar 12, 2020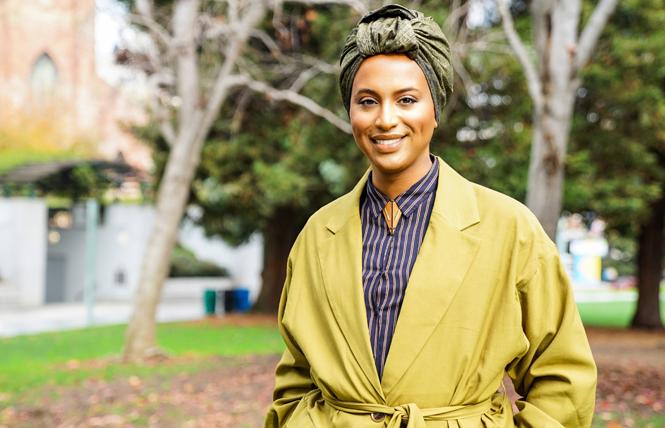 Two transgender women for the first time have been elected to local party posts in San Francisco. Erin Smith took top place in her contest for seats on the Republican County Central Committee, while Honey Mahogany won election to a seat on the Democratic County Central Committee.
The committee members are responsible for the day-to-day management of their respective local political parties and elect their local party chair. Both Smith and Mahogany had been appointed to serve on their respective central committees and ran for election to their seats for the first time on the March 3 primary ballot.
San Francisco voters have yet to elect a transgender person to a municipal office, despite a number of candidates seeking various elected positions over the years. In terms of local party positions, which are decided solely by registered members of the political party, the first transgender man elected to the DCCC was Gabriel Haaland in the early 2000s, which he served on for a decade.
The first transgender woman to win a local party election in San Francisco is believed to have been Mia Satya. In 2016 she was elected a delegate to the Democratic National Convention on behalf of presidential candidate Senator Bernie Sanders, independent of Vermont.
In Mahogany's case, she is also the first drag queen to win any type of elected post in San Francisco and can now claim being the first black transgender person to win an elected post in California. As of Tuesday, Mahogany was in seventh place with 35,533 votes for one of the 14 seats on the DCCC from the city's 17th Assembly District.
"To be the first drag queen elected in San Francisco feels surreal. To be the first black trans person elected in California, is even more surreal!" wrote Mahogany in a Facebook post about her electoral win. "And of course none of this would have been possible without the incredible leadership of David Campos who appointed me to the body 2 years ago."
Campos, a gay man and former District 9 supervisor, is currently chair of the San Francisco Democratic Party. He was in second place with 44,632 votes as of Tuesday behind former supervisor Jane Kim (47,805 votes) and is expected to be reelected party chair for another four-year term in April.
As for Smith, she was appointed to the RCCC last February and is currently deputy vice chair of communications for the San Francisco Republican Party. She had also run against gay state Senator Scott Wiener (D-San Francisco) for his 11th Senate District seat but came in third place in the primary race behind queer Democrat Jackie Fielder and will not advance to the November election.
As of Tuesday Smith was in first place in the RCCC contest for 11 seats from AD 17 with 2,874 votes. As the top-place finisher, it means Smith will serve as the organizational chair when the San Francisco Republican Party elects its new officers this year, though she won't seek the chairmanship.
"I'm deeply humbled to be elected in my own right to the San Francisco Republican Central Committee, and I look forward to continuing to work alongside so many wonderful people I now consider my friends. I'm also honored to have received the most votes of all the candidates, and thus serve as organizational chair for our next election of committee officers," Smith told the B.A.R. "Not only am I one of the first two trans (women) to be elected to a contested seat in San Francisco, I'll also be the first to — at least temporarily — lead a local party, and it's only fitting that it be the Republican one."
(Editor's Note: As the final count in the DCCC race is still to be tallied, see the B.A.R.'s online Political Notes column Monday, March 16, for coverage of the contest to lead the San Francisco Democratic Party.)
Gay SF planning commissioner resigns
Dennis Richards, a gay man who was the lone LGBT community member on the San Francisco Planning Commission, resigned last week. He is in an ongoing legal dispute with the city's Department of Building Inspection over a housing renovation project he co-owns with Noe Valley real estate broker Rachel Swann, a lesbian who recently stepped down as president of Noe Valley's merchants association and opened real estate firm The Agency's new offices in the Castro on 16th Street.
As the website Mission Local has extensively reported, DBI last fall revoked permits for their project at 3426-3432 22nd Street, a four-unit historic Italianate building, due to various zoning violations. Richards had countered the agency acted in retaliation for his repeated complaints about corruption within DBI; last month he filed a federal lawsuit against the city department laying out his various claims.
Coincidentally, the FBI visited DBI's offices as part of a City Hall corruption probe that led to the resignation of the city's former public works director. This week news broke that the city attorney had determined DBI Chief Tom Hui abused his position and Mayor London Breed had placed Hui on paid administrative leave and had asked the DBI commission to fire him.
As Richards is a board appointee to the planning body, several progressive supervisors had called on him to resign in December after news reports highlighted that Richards and Swann had purchased the building for $2.7 million in 2017 and put it on the market for $7.88 million, after fixing it up and buying out longtime tenants.
Richards had said none of the tenants wanted to remain and were fairly compensated for moving out. But critics noted Richards has harangued other developers who pushed out tenants to flip buildings.
Amid the controversy, Richards had taken a leave of absence from the planning commission at the start of the year. He informed Board President and District 7 Supervisor Norman Yee of his decision to resign in a letter dated March 4.
In his letter, Richards said he was able to take care of "family medical issues" during his leave of absence and had come to the conclusion "it is time for me to pass the torch to new commissioners."
He noted his lawsuit against DBI officials and expressed hope "this action will help root out any corruption or abuses and restore confidence in the department. I am very well aware that seeing the lawsuit to a jury trial will take a great deal of my time."
Castro Merchants prez seeks transit seat
In other city oversight panel news, the president of the Castro Merchants business association is seeking appointment to the board of the San Francisco Municipal Transportation Agency. Masood Samereie, who co-owns Aria Properties on 18th Street, took over leadership of the merchant group last spring.
Local business owners are asking Breed to appoint a merchant to the oversight panel for the city's public transit agency since its policies and positions can have serious repercussions on merchants and their customers. SFMTA board member Cheryl Brinkman's last day is March 31, while current board chair Malcolm Heinicke, whose term ended March 1 but can remain for at least 60 days, is expected to step down April 29.
Samereie, a straight ally who was born in Iran and whose family left before the country's revolution in 1978, moved into the Castro last summer. He is seeking a second one-year term as president of Castro Merchants, whose members are expected to reelect him when they vote on the board positions at their April meeting.
He told the B.A.R. he wanted to serve on the SFMTA board to ensure the city's small business community has a seat at the table since in the past the agency hasn't done "enough outreach to merchants."
"They do directly affect all the merchants, so we thought it would be good to have a voice and representation so we can ask in the beginning about some of the information into the projects and also the need to do outreach," said Samereie.
Web Extra: For more queer political news, be sure to check http://www.ebar.com Monday mornings for Political Notes, the notebook's online companion. This week's column reported on updated vote counts in three California primary races with out candidates.
Keep abreast of the latest LGBT political news by following the Political Notebook on Twitter @ http://twitter.com/politicalnotes
Got a tip on LGBT politics? Call Matthew S. Bajko at (415) 829-8836 or e-mail m.bajko@ebar.com
Comments on Facebook