SF man ordered to stay away from gay Apple CEO for 3 years
Tuesday Mar 3, 2020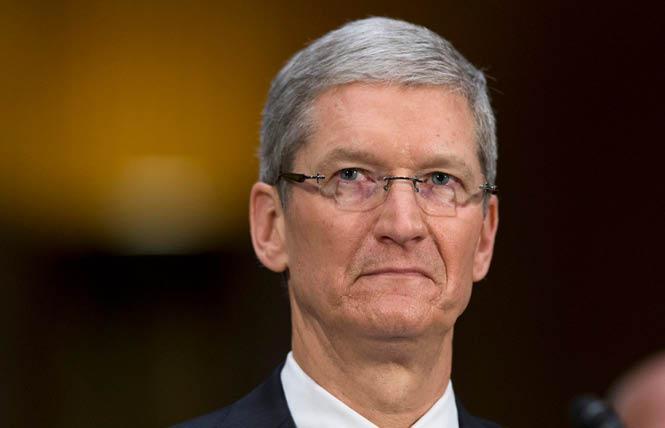 A three-year restraining order was issued by a Santa Clara County Superior Court judge March 3 against a San Francisco man who showed up to the home of gay Apple CEO Tim Cook with flowers and champagne.
Judge Carol Overton of Santa Clara County Superior Court in downtown San Jose, who heard the case of Apple Inc. v. Rakesh "Rocky" Sharma, told Apple attorneys that "based on the information you have provided, the court finds you have met the burden of proof."
Apple's attorneys did not want to give witness testimony other than a sworn affidavit from William Burns, who said his work involves the personal security of Apple executives.
Overton said that the restraining order might be more effective if it actually named Cook and his properties addresses, instead of referring to him as "Apple's CEO" and not listing where he lives.
"I understand you may not want to disclose it if it's unknown, but to the extent you want someone to stay away, you should put that specific place so that they can't say it was happenstance they were there," Overton said.
An Apple attorney addressed that concern saying Sharma "was aware of it because he showed up there twice."
Sharma was not at the hearing, and he was not represented by counsel. He was served with a temporary restraining order February 14 that lasted through the March 3 hearing. The new restraining order will be in effect until March 3, 2023 at 11:59 p.m.
Apple's attorneys declined a request to comment after the hearing. Sharma has not returned the Bay Area Reporter's request for comment.
Sharma, 41, allegedly trespassed at Cook's Palo Alto home on the night of December 4, according to court documents.
"Entering the property through the closed gate without permission ... Mr. Sharma attempted to deliver flowers and a bottle of champagne," Burns stated.
Sharma allegedly entered Cook's property another time, on the night of January 15. Entering through the closed gate again, Sharma rang the doorbell. The police were called but Sharma disappeared before they arrived, according to Burns.
The harassment of Cook and other Apple executives began last September, when he left "disturbing voicemails" on an Apple executive's phone, according to Burns.
Sharma made two phone calls to Apple on February 4. In the first he claimed House Speaker Nancy Pelosi (D-San Francisco) was his attorney (Sharma has posted a picture of himself and Pelosi on his Twitter account).
In the second he claimed "he was being harassed by an Apple employee and provided a name of an individual which Apple confirmed does not work for the company," Burns wrote.
During a February 5 call, Sharma "stated that he knows where members of Apple's executive team live, and stated that 'I don't use ammunition but I know people who do,' that Apple's CEO is a criminal and that Apple tried to have Mr. Sharma killed while Mr. Sharma was in the hospital," the declaration states.
After Apple sent Sharma a cease and desist letter, Sharma forwarded it to the Apple store at 3251 20th Avenue in the Stonestown Galleria (near Sharma's residence, according to court documents), stating that Apple was "protecting" one of its employees, who he alleged sexually assaulted him, according to Burns, although Apple contends the named individual never worked for Apple.
"Based on Mr. Sharma's increasingly threatening comments, including his reference to the use of firearms, (and) his continued threatening conduct ... I strongly believe that Mr. Sharma may physically harm me, another member of Apple's security team, and/or a member of Apple's Executive Team," Burns wrote.
A Twitter account associated with Sharma repeatedly tags Cook in tweets, along with other famous figures such as Pelosi and former President Barack Obama.
Cook became the CEO of Apple in 2011 shortly before the death of the company's co-founder Steve Jobs. In 2014, Cook became the first CEO of a Fortune 500 company to come out as gay.
Comments on Facebook