Online Extra:Updated: Gay SF asylum seeker to arrive in US Sat. and taken into ICE custody
Friday Feb 28, 2020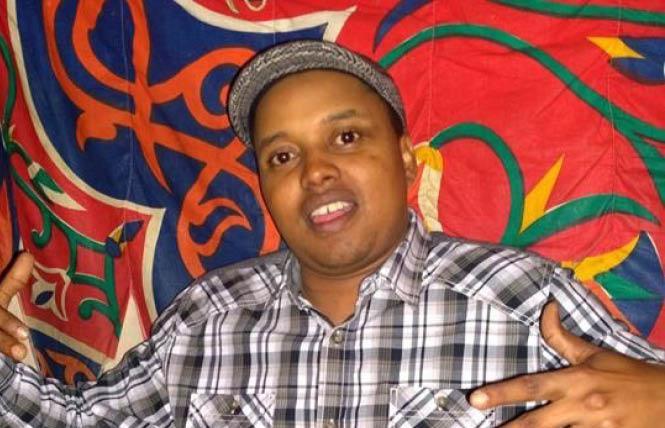 A gay San Francisco man who was deported to Chad in December — and whose case drew attention from city and federal lawmakers — is slated to be detained by Immigration and Customs Enforcement when he returns to the United States Saturday, his attorney's office told the Bay Area Reporter.
Oumar Yaide, 32, was going to return Friday, February 28, but experienced a flight delay, according to Edwin Carmona-Cruz of Pangea Legal Services. He is now arriving in Chicago at 7 a.m. February 29.
Carmona-Cruz told the B.A.R. that ICE is going to detain Yaide when he lands in the Windy City.
Judge Charles Breyer of the U.S. District Court for the Northern District of California said at a hearing in San Francisco Friday that he wanted to be kept abreast of the situation.
He called the hearing two weeks ago to hear what the U.S. Department of State was doing to bring Yaide back, as it was unclear as of February 14 whether Yaide would still be in Chad as of the 28th.
At the time of the February 28 hearing, Yaide had already left Chad, Carmona-Cruz said.
Yaide's attorney, Sean McMahon, said that ICE was being vague about which airport in Northern California that Yaide would be flown into and which facility he will be taken to.
McMahon said that the U.S. Department of Homeland Security can decide to release Yaide from custody as a matter of discretion as he awaits his asylum hearings.
"We are planning to file a request to release him on supervision," McMahon said. "He's a good candidate. He has never been arrested and never tried to abscond."
In a statement February 27, Carmona-Cruz urged elected officials to intervene.
"Elected officials across the country should be outraged and alarmed that after what Oumar has been through, DHS seeks to detain him again," Carmona-Cruz said.
Carmona-Cruz said he was in contact with the offices of Democratic Senators Dianne Feinstein and Kamala Harris, both of California, as well as House Speaker Nancy Pelosi (D-San Francisco) on the situation.
A spokesman for Feinstein said that her office has been in touch with McMahon.
A Pelosi spokeswoman confirmed the speaker's office is making inquiries in support of Yaide, but declined to comment further, due to the office's privacy requirements vis a vis constituents.
Harris' office did not responded to a request for comment at press time.
Yaide (known in court documents as Abderman Yaide) had intended to reopen his asylum claim on the basis of his sexual orientation when he was deported by DHS shortly after Thanksgiving.
Yaide had been in ICE custody since August. But by the time ICE was enjoined by a judge, Yaide had already left U.S. airspace.
On December 18, Breyer ruled that Yaide had to be returned by DHS.
Yaide has been living in the U.S. since 2009, residing in the Mission district. He initially applied for asylum on the grounds that he is a member of the Gorane ethnic group, sometimes called the Dazaga ethnic group, which is a persecuted minority in his native land.
After the first claim for asylum was denied, Yaide came out as gay in 2019 and wanted his case reopened on that basis.
"He was reluctant to talk about it for a long time because he was worried about being sent back to a country where it can get you killed," said Haley Kay, an Oakland woman who has known Yaide for about five years.
Indeed, homosexuality had been legal in Chad until 2017, when it was criminalized. Consensual sexual relations between people of the same sex are punishable with up to three years in prison and a fine of up to 500,000 Central African CFA francs (about $852), according to Chapter II of Title VII of Chad's penal code.
It has taken over two months for DHS to comply with the federal court order.
During that time, Yaide's friends — with the help of Pangea Legal Services — took several actions to ensure that the government would follow through.
As the B.A.R. reported January 21, Yaide's friends delivered a paper copy of a petition that had been hosted on the left-leaning website Daily Kos asking for Yaide's return to the downtown San Francisco office of Feinstein.
The petition — which received almost 30,000 signatures — was received by Philip Abarquez, a staff assistant to Feinstein, as she was in Washington, D.C. at the time.
As the B.A.R. reported January 28, District 9 Supervisor Hillary Ronen (who represents the Mission district) introduced a resolution to the San Francisco Board of Supervisors asking Feinstein, Harris, Pelosi, DHS, "and all interested federal agencies" ensure Yaide's return, "condemns the attacks" from the administration of President Donald Trump on black, Muslim, and LGBTQ asylum seekers, asks for due process in family separation cases, and provides that copies of the resolution be delivered "to federal and state representatives in San Francisco and Washington, D.C."
Friends of Yaide's hosted a fundraiser at the Mission district LGBTQ bar El Rio on January 31, which raised several thousand dollars, according to Haley Kay, a friend of Yaide's.
Chehrzad Shadman, a friend of Yaide's, said at a news conference featuring Ronen February 4 that Yaide was an "asset to the community."
"At the end of the day if we are not going to show up and help our friend, what are we doing?" she asked. "It's important to make a stand."
It was only several hours after that news conference that the Board of Supervisors unanimously passed Ronen's resolution.
Comments on Facebook